Inside Calista Flockhart And Harrison Ford's Marriage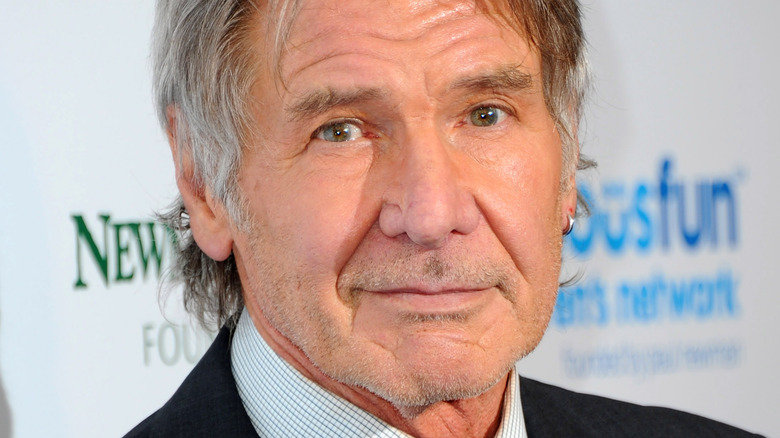 Stuart C. Wilson/Getty Images
Harrison Ford may have a public life on the big screen, but behind closed doors, he's much more private. Married for over 12 years, Ford and his wife, Calista Flockhart, began dating nearly two decades ago after their co-star, James Marsden, set them up. According to People, Ford and Flockhart first crossed paths at the 2002 Golden Globe Awards, noting that Marsden acted as her "wingman" for their dates following the show.
When they started dating, Ford was still legally married to Melissa Mathison, his second wife, after they had separated the year before. In 2003, Ford gushed about his new romance to Hello Magazine, saying, "I'm in love. Romantic love is one of the most exciting and fulfilling kinds of love and I think there is a potential for it at any stage of your life. I was not surprised that I was able to fall in love, and I wasn't surprised that I did."
Finally, in 2009, Han Solo popped the question and the Ally McBeal actress said yes. Shortly afterward, the two married in Santa Fe, New Mexico the following year. At the time, Flockhart had recently adopted a son, Liam, shortly before they started dating. Today, the bond between the three of them is as strong as ever — with flying as their activity of choice.
Harrison Ford and Calista Flockhart have a son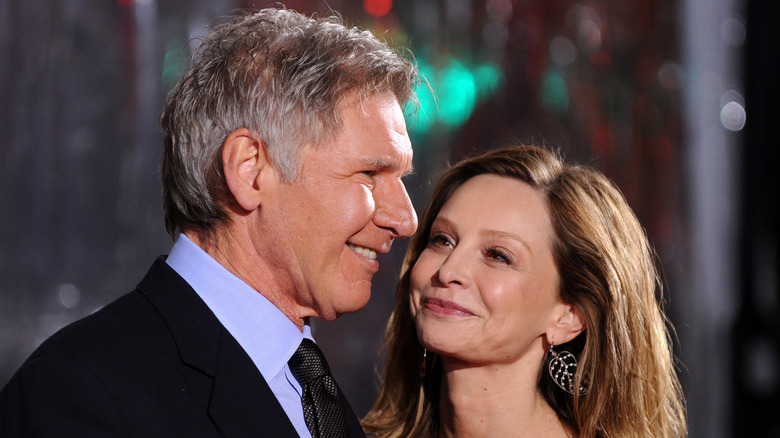 Frazer Harrison/Getty Images
Harrison Ford has been married three times, with four older children from his previous relationships, Yahoo notes, while his wife had never married prior to her nuptials with Ford. The two have raised Liam together — even dropping him off at college after the actor flew the three of them to campus in his plane!
A dangerous business, flying his plane is one of Ford's favorite pastimes, but it still comes with a high level of risk. Most recently, he misheard an instruction from air traffic control and crossed a runway at an inopportune time. In 2015, a plane crash tested their resolve as a couple. People reports that his vintage plane experienced engine trouble which called for an emergency landing on a Santa Monica golf course. After medics rushed him to the Emergency Room, Flockhart was at his side throughout his entire recovery from his injuries.
Prior to the crash, Flockhart and Ford had shared their love of aviation together, with the 72-year-old explaining to People in 2003, "Calista loves to fly, and I'm thrilled because it's so important to me and it's the kind of thing that's so much more fun with somebody who really enjoys it."
While multiple plane crashes and red carpets may not be the reality for many couples, it looks like it's part of the experience for this Hollywood pair. Today, they seem to be focused on each other and their family.