How Shiloh Jolie-Pitt's Style Has Evolved Over The Years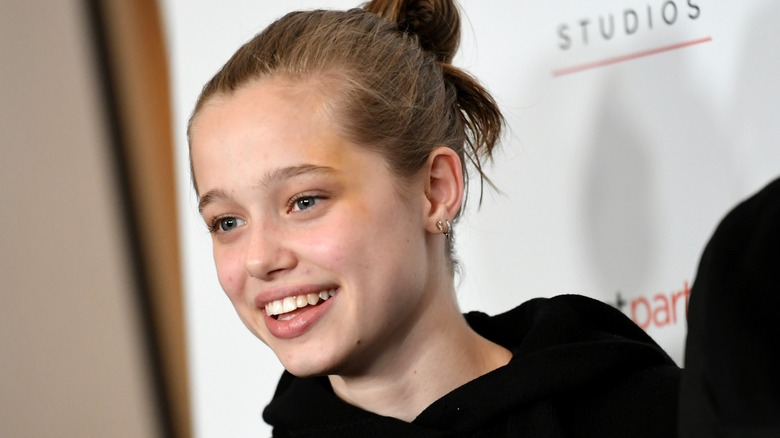 Jc Olivera/Getty Images
Back in 2006, Angelina Jolie sparked a media frenzy during her pregnancy with Shiloh Jolie-Pitt, her first biological child with ex-husband Brad Pitt. Since Shiloh's birth that same year, the media has closely followed the child's every move. Throughout the years, Shiloh, now a teenager, has made a name for herself with her seemingly unexpected fashion choices.
Even as a toddler, Shiloh drew attention for her unique style, with Angelina revealing that Shiloh was the one making her own styling decisions. In a 2010 interview with Reuters, Angelina shared, "I think she is fascinating, the [clothing] choices she is making."
As she continued to grow up in the spotlight, more and more things Shiloh wore were deemed to be boy's clothes by society. Brad Pitt seemingly addressed the topic in a conversation with People, stating that his children are encouraged to express themselves regardless of societal expectations. Angelina also remained unfazed and echoed Brad's sentiments in her Reuters interview, noting that self-expression is crucial for a child. "I would never be the kind of parent to force somebody to be something they are not," the actor noted. Over the years, Shiloh has continued to demonstrate that her fashion choices are truly her own through her evolving style.
Shiloh often opted for gender-neutral clothing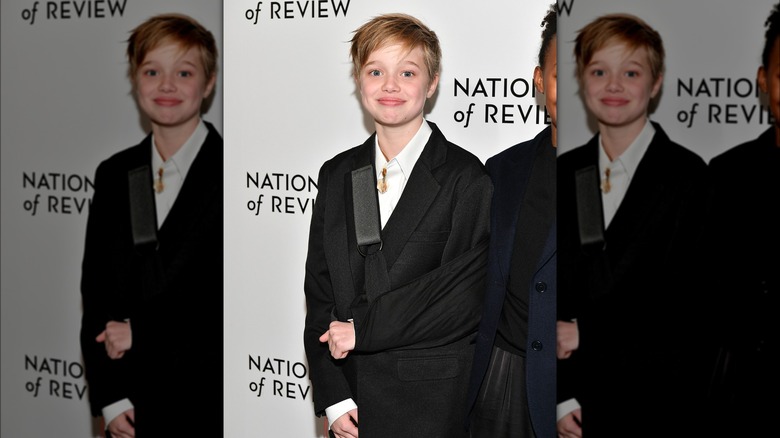 Dia Dipasupil/Getty
From a young age, Shiloh Jolie-Pitt exhibited a clear inclination toward a distinct personal style, often choosing outfits that defied conventional expectations. Even as a child, she often chose clothes perceived as more masculine, favoring hoodies, pants, and t-shirts paired with sneakers or boots. On the red carpet, Shiloh typically wore darker-hued suits, predominantly opting for plain black. Occasionally, she would include a tie. Other than her clothing choices, her short hairstyle further echoed a choice typically associated with boys.
When Shiloh was just over two years old, Brad Pitt revealed she wanted to be called John, as per People. "It's a Peter Pan thing," he explained during a talk with Oprah Winfrey. Angelina Jolie elaborated on the name change in a 2010 Daily Mail interview, noting that it was just Shiloh's way of expressing herself. "Some kids wear capes and want to be Superman, and she wants to be like her brothers. It's who she is," the "Salt" star stated.
As her famous parents never had a problem with her fashion choices, Shiloh continued to opt for gender-neutral clothing. The irony is that her looks, whether casual or more formal, were always low-key as if she truly just wanted to blend in with the rest of the world. Despite her unassuming fashion sense, the public's reaction intensified as soon as she started wearing more feminine pieces.
Her newer clothing choices remain subdued and elegant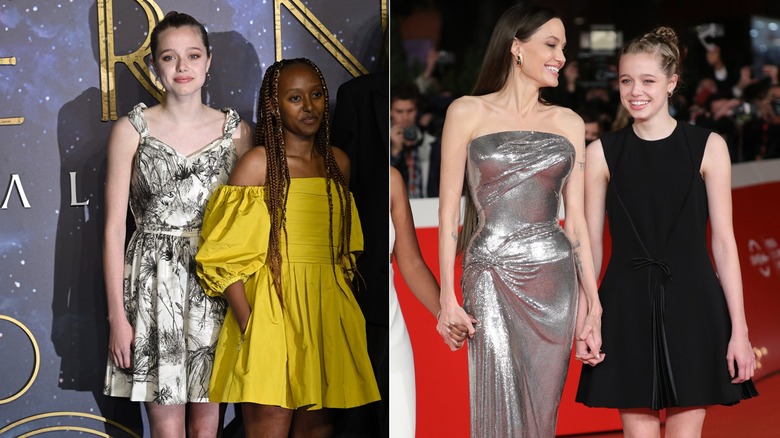 Karwai Tang & Stefania D/Getty
Now much older, Shiloh Jolie-Pitt still managed to shock the world with her fashion when she chose to wear a dress on the red carpet for the first time. Fans immediately started speculating that Angelina Jolie's daughter was changing her style, emphasizing how much people were actually obsessed with Shiloh's clothing choices.
While accompanying her famous mom at the LA "Eternals" premiere in 2021, Shiloh opted for a delicate beige dress featuring an asymmetric hem and spaghetti straps. Complementing the ensemble with subtle jewelry, white ballet flats, and a simple updo, she exuded elegance. Shortly thereafter, she showcased another dress at the Rome premiere — a shorter, A-line black dress with thick straps and a high neckline, paired with colorful sneakers that brought some of her edge to the look. The London screening of "Eternals" saw Shiloh embrace yet another mini dress, this time a silk white number adorned with Dior's jungle print and a subtle V-neck, once again opting for understated jewelry and ballet flats. As the media hypothesizes about her fashion choices, it seems Shiloh simply prefers simplicity over flashiness.
Despite her foray into more feminine formal attire, Shiloh's casual looks have remained similar to her earlier preferences, featuring hoodies and sneakers that reflect her desire for low-key looks. As Shiloh, who is the spitting image of her mother, continues to explore her style, we can only hope she's given the space to do so on her own terms.