Why Fans Think Angelina Jolie's Daughter Shiloh Is Changing Her Style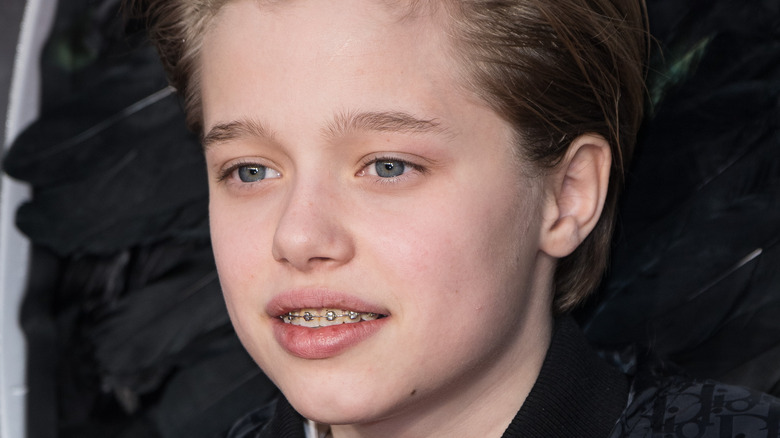 Jeff Spicer/Getty Images
In 2006, Brad Pitt and Angelina Jolie (who are still in the midst of a rather nasty divorce) welcomed their first biological child, Shiloh. Given that much of the world was captivated with Brangelina at that time, their first biological child was a subject of quite a bit of press at the time of her birth, per Us Weekly. Even as one of Pitt and Jolie's six children, Shiloh has remained a fixture of fascination to the public, often seen traveling all over the world with her parents.
Even as young as two years old, Pitt revealed to Oprah Winfrey that Shiloh had asked her family to refer to her as "John" instead of her given name. "She only wants to be called John," Pitt told Winfrey in 2008, per the Daily Mail. "John or Peter. So it's a 'Peter Pan' thing. So we've got to call her John. 'Shi, do you want...' 'John. I'm John.' And then I'll say, 'John, would you like some orange juice?' And she goes, 'No!'"
From a young age, it was also clear that Shiloh was more drawn to androgynous looks that involved wearing tailored suits, skinny jeans, boxy shirts, and athletic shoes and converse and even had her hair cut short. "She wants to be a boy," Jolie told Vanity Fair in 2010. "So we had to cut her hair. She likes to wear boys' everything. She thinks she's one of the brothers."
Shiloh's latest red carpet appearance turned heads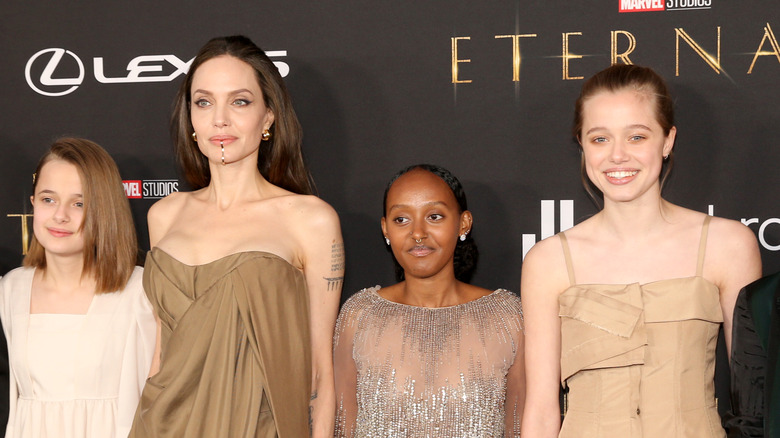 Jesse Grant/Getty Images
On Monday, October 18, 2021, Shiloh, along with her other four siblings Maddox, 20, Zahara, 16, and twins Vivienne and Knox, 13, attended the premiere of "Eternals" with Angelina Jolie, who stars in the latest Marvel motion picture. Now 15 years old, Shiloh shocked many when she showed up at the premiere wearing a dress paired with white leather ballet flats and gold anklets. This look strayed far from her typical premiere getup, which consisted of tailored suits, slacks, casual jeans, and hoodies, according to the Daily Mail. In recent photographs posted to Instagram fan accounts, like @shiloh.jolie.pitt, Shiloh is seen sporting longer hair and more fitted fashion choices.
While speaking with Extra at the premiere, Jolie spoke about her new superhero character and how she hopes to inspire her daughters to embrace some of the same power that she and her character both possess. "It's about teaching them to be their true selves and teaching them to be able to hold on to that," Jolie told Extra. "We are all born powerful, we just get a lot that breaks us down. I hope they are soft, I hope they are kind, and I hope they feel strong enough to protect that."