The Very Specific Reason Twitter Is Comparing Mike Johnson's Wife Kelly To Michelle Duggar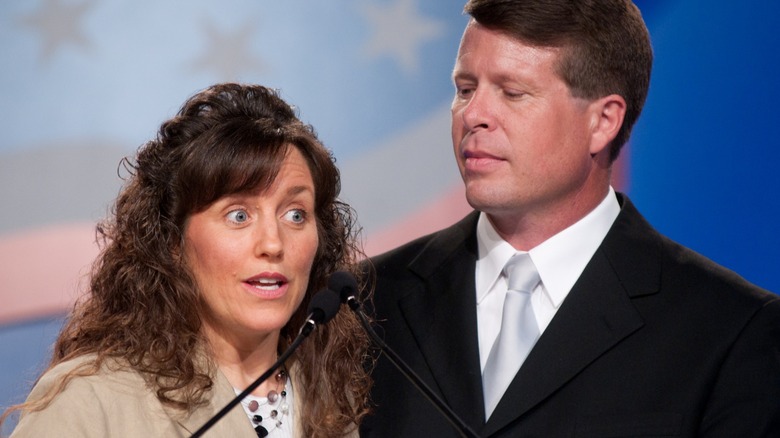 Kris Connor/Getty
What do TV personality Michelle Duggar and the wife of newly minted House Speaker Mike Johnson have in common? Quite a lot, actually. 
On October 25, after a series of combative votes and fiery speeches, Republican Mike Johnson was elected Speaker of the House of Representatives. Before being launched into such a prominent role, the Louisiana congressman had flown under the radar, garnering little attention as a politician. Now that he's Speaker, he's come under intense scrutiny on both sides of the political spectrum, as they wonder what his next move will be.
The story of Jim Bob Duggar and his wife Michelle is eerily similar. Jim Bob is also a religious, conservative politician. He was elected into the House of Representatives in 1999 and served until 2002. He became even more famous — or perhaps infamous — after his family's life became a public spectacle in the reality TV show "19 Kids & Counting." And that often means the politician's spouse gets pulled into the spotlight. Johnson's wife Kelly and Michelle Duggar are both receiving attention, particularly for this shared characteristic: their voices. Social media users are drawing comparisons between the two religious women because their "unnatural" voices sound so much alike. 
Twitter thinks their voices are deceptively sweet
The voice she's using is trained into fundie evangelical women to perpetuate the belief that their minds are childlike, sweet, constantly joyful, and never disobey their husbands. Michelle Duggar was trained to use the same voice. Ask fundie survivors if you don't believe me. https://t.co/666f4I32M8

— Jessica Jewett (@JJ9828) November 3, 2023
Michelle Duggar is famous for her soothing and, according to some, deceptively childlike voice. Even her niece, Amy King (née Duggar), has stated her aunt's voice is an act (via InTouch Weekly). In multiple clips that feature the Duggar matriarch, listeners can't deny she has a very high-pitched voice and her tone has a childlike quality to it. 
The comparison between Michelle and Kelly Johnson came about after a video of Kelly went viral. In the short clip, Kelly and her husband, Mike Johnson, are being interviewed by former White House Press Secretary Kayleigh McEnany. The couple was there to explain controversial remarks regarding Kelly's profession as a Christian counselor. There's no doubt Kelly's voice remains upbeat, cheerful and, yes, childlike throughout the interview. Social media users were shocked by how similar she and Michelle Duggar sound and were quick to share their opinions.
"Michelle Duggar uses a similar baby girl voice. It's a virtue signaler in the ultra-conservative Christian community," one user wrote on X, formerly known as Twitter, before going on to liken their voices to that of the villain in "M3GAN." The horror movie is centered around an AI-controlled doll with an uncanny voice, who is meant to serve and look out for her new family. Another X user pointed out that it was more than just Kelly's meek voice that had people thinking of Michelle. "[I]t's the way she gazes adoringly at her husband whenever he speaks, like she's enthralled," they stated. "Michelle Duggar also does this, it makes my skin crawl."