Meet The Royal Families Of Africa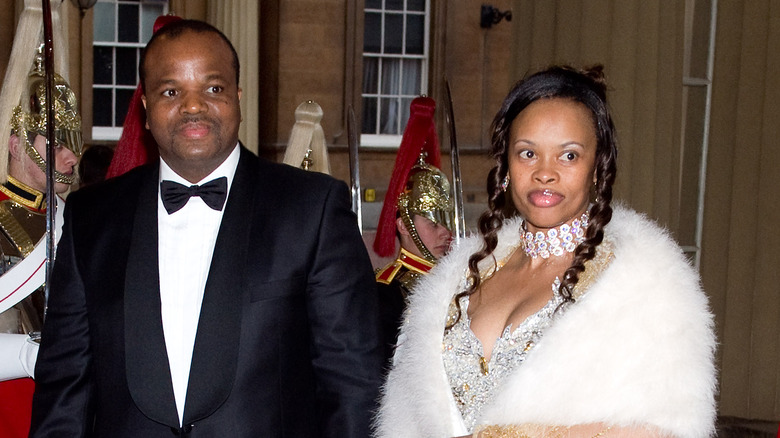 Samir Hussein/Getty Images
We know just about everything there is to know about UK's royal family (or so it seems), but the Windsors aren't the only royals in the world. As of 2023, there are just under 30 monarchies across the world, with most of the seven continents containing countries that have at least some form of monarchy. Unsurprisingly, there are several monarchies in Europe, with the United Kingdom (obviously), Denmark, Spain, the Netherlands, Norway, Sweden, and more having royalty of some kind. There are quite a few monarchs in the Middle East, like King Abdullah in Jordan, Sheikh Tamim bin Hamad Al Thani in Qatar, and Crown Prince Mohammed bin Salman in Saudi Arabia. Asia has multiple monarchies, too, with countries like Japan, Brunei, and Thailand having an emperor, sultan, and king, respectively.
Many of those countries and titles likely rang a bell in regards to royalty — many of them have notable monarchs at the forefront and are talked about often in international news and politics. However, Africa may not be known on a global scale about its monarchies as much. Though not quite as well known as King Charles or Crown Prince Mohammed bin Salman, the royal families of Africa are an important aspect of the culture of the continent and the individual countries, and their stories are just as intriguing as the other monarchs in the world. Meet the royal families of Africa.
There are hundreds of non-sovereign kings and queens in Africa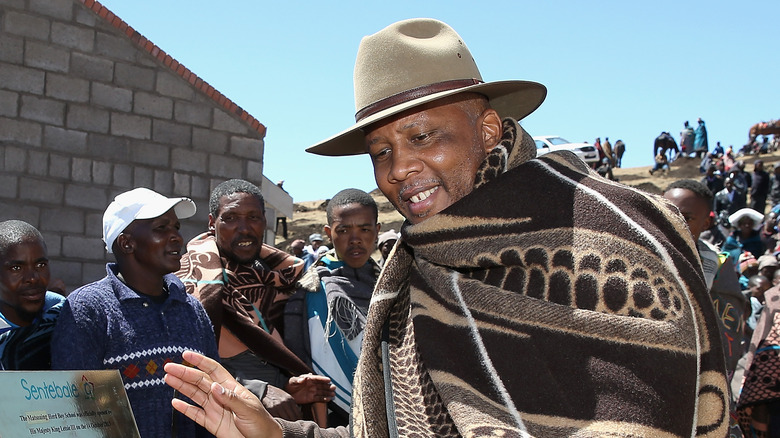 Chris Jackson/Getty Images
Africa is a unique continent for many reasons, one of which is its history with monarchies. For thousands of years, monarchies have existed across Africa. Throughout history, the power that these monarchies have had and their status among and relationships with foreign states has changed. Today, most of the royal families in Africa have no political power at all. Rather, most monarchs are heads of tribes, and their power lies within their influence over their tribal members. "Their power is in spirituality and this makes (African monarchs) so unique," Alfred Weidinger, the artist behind the project "The Last Kings of Africa," said to CNN. "[T]hey still follow the words of the elder or the tribal leader, they are not following what is happening with the politicians in the capital," he added.
There are three countries, however, that do have monarchies as part of their system of government — Morocco, Eswatini, and Lesotho. The latter two countries are near South Africa, and as Nick Wescott, director of the Royal African Society, told the Washington Post, Eswatini and Lesotho kept their monarchies as a means of defense from South Africa. "In both those countries, the royal family was an important element in their assertion of national autonomy," Wescott noted.
Mswati III is the king of Eswatini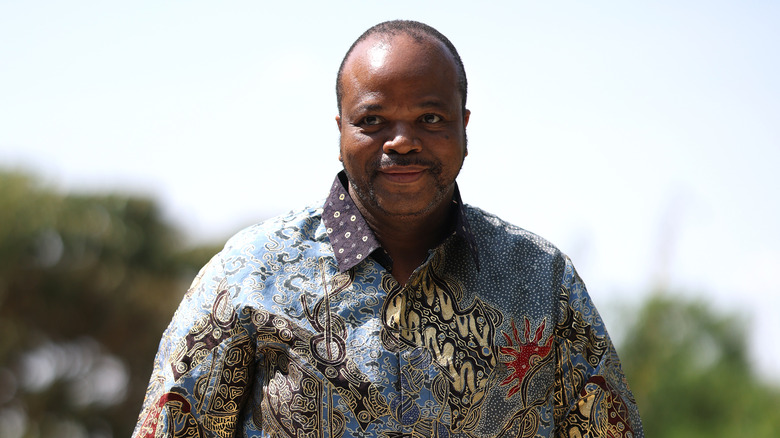 Dan Kitwood/Getty Images
The current monarch in Eswatini is Mswati III. King Mswati III has been the ruler of his country since 1986, starting his reign at 18 years old. The king's time in his position has drawn criticism from both his own people and other world leaders, particularly for some of the policies he has created. King Mswati III is known to be the last absolute monarch in Africa, and he has reportedly used his complete power to establish rules many find archaic and counterproductive. For example, in an effort to combat the AIDS epidemic that has been prominent in Africa for decades, King Mswati III made it law that women under age 18 cannot have sex in 2001.
Another more recent decision made by King Mswati III has come under fire, too. The monarch changed the name of his country from Eswatini to eSwatini. "The king woke up on his birthday, without notice, without informing parliament, without debate, and just decided to change the name of the country [to eSwatini] which grammatically doesn't even make sense," human rights activist Manqoba Nxumalo said to the Harvard Political Review about King Mswati III's decision in 2022. "If there's any symbol of absolute monarchy, it's that," he added. Nxumalo continued that under King Mswati III's rule, the people of Eswatini have suffered from afflictions such as poverty, hunger, and unemployment, but the monarchy has made the world believe that the country is thriving.
King Mswati III has multiple wives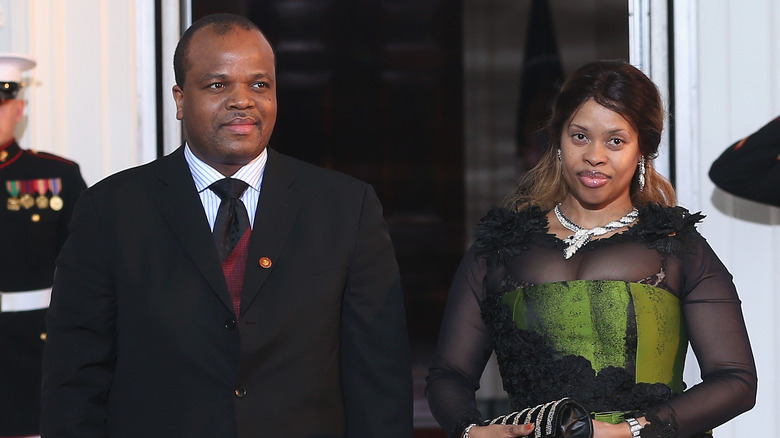 Mark Wilson/Getty Images
On the day Mswati III became king, he also became a husband. The king has since married many women, with reports claiming he has 15 wives and at least 35 children. Mswati III has been scrutinized not only because of his decision to marry so many women, but also because of the practices he has used to obtain his wives. In the early 2000s, Mswati III came under fire for kidnapping an 18-year-old girl from school and making her his wife. After this event occurred, a lawsuit was brought forth in hopes of preventing it from happening again. "The old way of choosing a king's wife is no longer observed, and the king chooses at random wherever his whim directs him," attorney Lomcebo Dlamini told The New Humanitarian shortly after the kidnapping. "The palace elders never seem to realize how their actions are perceived outside. They are isolated and arrogant," she added.
Mswati III has also lost multiple wives. In 2019, Nothando Dube, Mswati's 12th wife, died from skin cancer. She had previously been receiving treatment for the disease in South Africa. A year prior, Senteni Masango, Mswati's eighth wife, died by suicide. The royal family member had reportedly struggled with living as one of Mswati's wives.
If you or someone you know is struggling or in crisis, help is available. Call or text 988 or chat 988lifeline.org
Letsie III is the king of Lesotho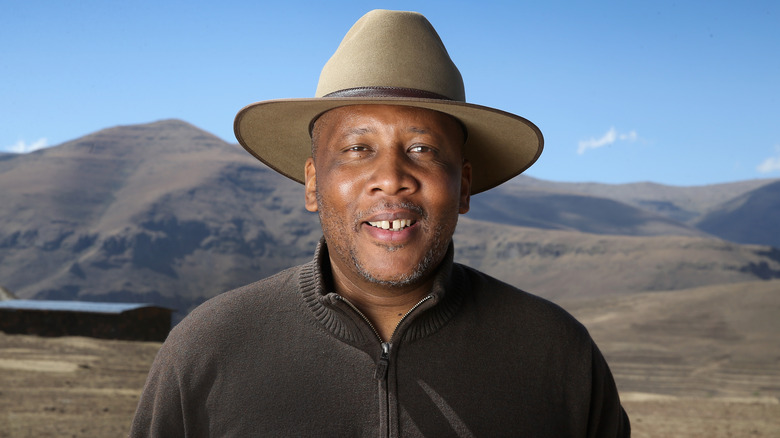 Chris Jackson/Getty Images
Not far from Eswatini on the continent of Africa is another of the three current countries with reigning monarchs, Lesotho. Lesotho's king is Letsie III, a Catholic who succeeded his father as king in 1990, and after extenuating circumstances that led him to abdicate the throne, he became king again in 1996. Letsie III is a constitutional monarch, and therefore does not have political power like King Mswati III. The prime minister is the chief political power in Lesotho, and King Letsie's work is mostly ceremonial. Letsie III is known for being the only African monarch to practice the Catholic faith, and he is passionate about farming and championing the youth to reach their full potential.
Leaders have praised King Letsie III for his commitment to ending childhood hunger in his continent. In 2018, the monarch made public his support for the African Leaders for Nutrition initiative with the goal of ending childhood hunger in Africa by 2025. "Our joint efforts with the African Union Nutrition Champion, His Majesty King Letsie, reinforces our efforts within the African Development Bank through the African Leaders for Nutrition initiative to advance nutrition in Africa and to build and protect Africa's grey matter infrastructure," Oley Dibba-Wadda, director of the African Development Bank, stated, as reported by the African Development Bank. Dibba-Wadda added that while important, the conversation around childhood hunger in Africa is not often had among state leaders.
Letsie III has three children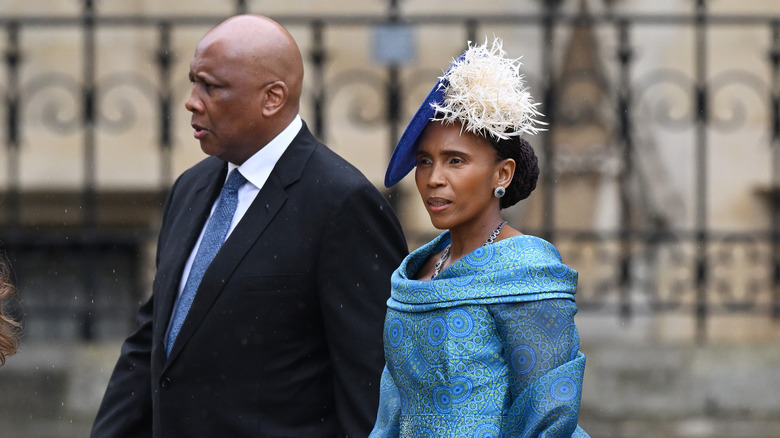 Jeff Spicer/Getty Images
In addition to being a reigning monarch, King Letsie III has a family to which he must attend. Letsie is one of the royals to marry a commoner, and has been married to his wife, Queen 'Masenate Seeiso, since 2000. The couple has three royal children together. In 2007, the queen gave birth to their youngest, Lerotholi, who is positioned to succeed his father as king as he is the first male to be born to the king and queen. Letsie and 'Masenate have two older daughters, their first-born, Princess Senate Seeiso, and their second-born, Princess 'Maseeiso Seeiso. In 2014, Queen 'Masenate shared that she would have liked to have had more children, but she decided that because of her age, she would be stopping with three to avoid potential health risks associated with geriatric pregnancy.
Like other royal children across the world, Princess Senate and Princess 'Maseeiso are public figures in their country. Like her father, Princess Senate has become a champion of various human rights issues affecting Lesotho. While her father champions the end of childhood hunger, Princess Senate champions the end of child marriage. In a 2018 speech, Princess Senate said, "To my fellow age mates, marriage is not meant for us as children. I, therefore, wish to appeal to you to give priority to education in order to achieve a fruitful and healthy adulthood." She added, "Our primary interest should be to strive for a bright future, a future that is full of potential and aspirations."
Mohammed VI is the King of Morocco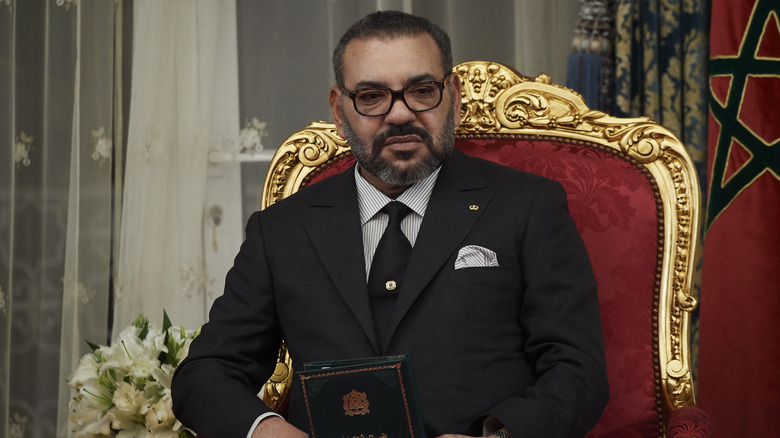 Carlos R. Alvarez/Getty Images
The third current existing monarchy in Africa is miles and miles away from Lesotho and Eswatini — it's in Morocco, which is on the northwestern border of the country. Since 1999, the monarchy has been helmed by Mohammed VI, King of Morocco, and unlike many other monarchs across the world, Mohammed VI is incredibly private. As Moroccan publisher Aboubakr Jamai told The New York Times of Mohammed VI, "We really don't know him. We've never seen him in a situation where he had to answer questions, let alone hard questions. He was always reading from a piece of paper."
Those close to the king have expressed worry over his relationship with Abubakr Abu Azaitar, a professional mixed martial arts fighter. The two met after King Mohammed's divorce in 2018, and some see Azaitar as a negative influence on the king. Moroccan economist Fouad Abdelmoumni said of King Mohammed and Azaitar, "It seems that all the king's entourage is very very unhappy with the time he spends with the Azaitars, the authority he gives them, their behavior toward society and elites and the image this creates around the king and the state." Though Morocco is a constitutional monarchy, Mohammed VI still plays an important role in its official business. Since meeting Azaitar, Mohammed has reportedly been absent quite often, apparently to the country's detriment, with some comparing Azaitar's relationship with the king to Rasputin's with Tsar Nicholas II in early 20th-century Russia.
Mohammed VI's family keeps a low profile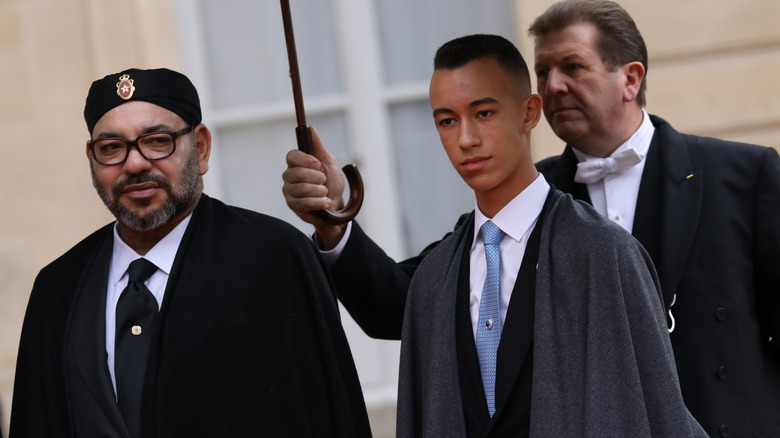 Antoine Gyori - Corbis/Getty Images
Mohammed VI isn't the only Moroccan royal who stays private. His ex-wife and children are very tightlipped, as well — at least in comparison to other people around the world of their ilk. In 2002, Mohammed married Princess Lalla Salma, and in 2018, the couple got divorced. While she was married to Mohammed VI, Princess Lalla Salma started the Lalla Salma Foundation — Cancer Prevention and Treatment, an organization that works to improve healthcare for Moroccan citizens undergoing cancer treatment. The princess was active with her foundation for many years, but Princess Lalla Salma reportedly hasn't been seen publicly since 2017, giving her the nickname Ghost Princess (though other reports claim she has been seen in public since her divorce).
Not much is known about Mohammed VI's children, either. Mohammed and Lalla have two children — a daughter, Princess Lalla Khadija, who turned 16 in 2023, and a son, Prince Moulay El Hassan III, and it is expected that Prince Moulay will succeed his father as King of Morocco in the future. According to some who are close with the royal family, prior to his marrying and having children, Mohammed VI was wild and sought to escape his royal duties, and many encouraged him to settle down and start a family as that's what was expected of him. As a source told The Economist, "He had to produce an heir, a crown prince. He did his job."
Many kings in Africa are not powerful, but they are rich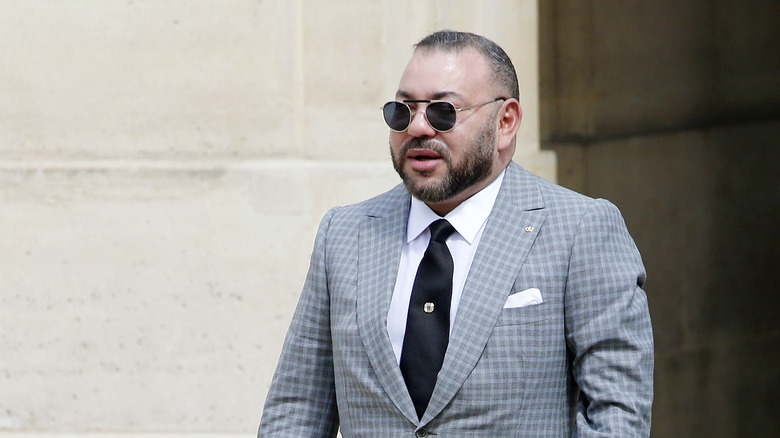 Chesnot/Getty Images
As previously mentioned, most of the kings in Africa do not have any governmental power, but that has not kept them from amassing incredible fortunes. Many African kings are very, very wealthy from oil, real estate, investments, mining, and even income they earn from the people of their tribes and communities. One such wealthy king is Otumfuo Osei Tutu II of Ghana. Osei Tutu II, who is the leader of the Asante people, is reportedly worth $10 million, much of which comes from his mining equipment company, Transpomech Ghana. Another wealthy king is Oba Okunade Sijuwade of Ile-Ife, a city in Nigeria. Slijuwade is estimated to be worth at least $75 million thanks to his success in business. Then there's Oba Obateru Akinrutan, King of Ugbo Land. Akinrutan is an oil-rich king whose net worth is reportedly $300 million.
Not all rich kings in Africa are powerless, though. King Mswati III of Eswatini, who is perhaps the most powerful reigning monarch in Africa, is also very wealthy. Thanks to some fruitful investments, Mswati is said to be worth at least $50 million, despite the majority of the citizens over whom he rules living in poverty. But that $50 million pales in comparison to the net worth of the richest African king, Mohammed IV of Morocco. Mohammed's net worth is an estimated $2 billion, and like Mswati, his fortune is thanks to investments.