A Look At DWTS Star Derek Hough's Sweet Friendship With Steve Irwin's Daughter Bindi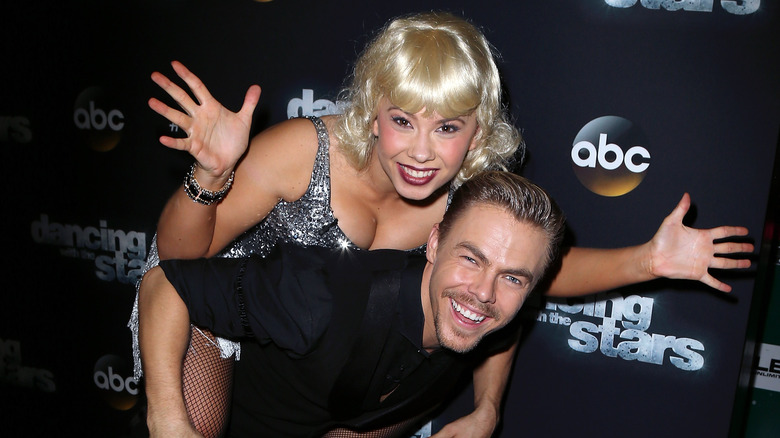 David Livingston/Getty Images
For fans of "Dancing With The Stars," ABC's popular dancing contest, there's a lot to love. Witnessing the mesmerizing, gravity-defying dances performed each week is just one of the reasons viewers can't get enough of the award-winning TV show. There's also the fun that comes from watching a friendship bloom between our favorite recurring professional dancers and their celebrity dance partners. Of course, not all of the partners become the best of friends — we've seen our share of feuds on "Dancing With The Stars" — but when they do become pals, it's always fun to see.
One of our favorite friendships to blossom from "DWTS" is the one between veteran dancer Derek Hough and Bindi Irwin, the daughter of the late and great wildlife expert Steve Irwin. The pair partnered together for Season 21 and were completely in tune with each other throughout the contest. Their close friendship helped them secure their spots as the winners of their season. Here's a look back at Derek and Bindi's sweet friendship which won over millions.
They're like brother and sister
Season 21 was jam-packed with memorable dance routines. Who could forget the fast and fiery dance put on by runner-up pair Shawna Burgess and musician Nick Carter? Seriously, it's hard to tell who's the professional dancer in this clip. However, it was Derek Hough and Bindi Irwin who managed to blow away the panel of judges week after week, leading to them claiming victory by the season's end. The pair was unstoppable. From their classic "Dirty Dancing" routine to the tearjerking tribute dance to Steve Irwin, the pair only seemed to get better and better, and grow closer and closer, with every performance.
Hough agreed that there was something undeniably special about his partnership with Bindi. After they were crowned the winners of Season 21, the pro dancer shared a touching statement about his dance partner backstage. "It's just so special with Bindi. She's a champion of life," he stated (via Glamour). Likewise, Bindi knew her partnership with Hough was destined to become a long friendship. The wildlife conservationist lauded her brotherly connection with Hough when asked about their partnership by reporters after the show.
They still hang out after DWTS
Derek Hough and Bindi Irwin's friendship didn't end once the cameras stopped rolling. After winning the glittering Mirrorball Trophy on "Dancing With The Stars," Derek and Bindi have still made time to hang out with each other. In an absolutely "aww"-inducing photo, the former DWTS contestants were captured hanging out together down under — in Bindi's home country of Australia — at the Australia Zoo in Queensland. And they're not alone in the picture — a very large rhinoceros is standing not even a foot behind them. Derek brought Bindi into his dancing world during her season of "DWTS," but after the show, it was Bindi's turn to share her world of wildlife conservation with her friend.
Bindi shared the photo on her Instagram along with a heartwarming caption. "So happy to get to introduce you to our world here in Australia!" the animal enthusiast penned while tagging her buddy in the post. "You are officially a Wildlife Warrior. Bring on the adventure!" It wasn't the only cute moment the two would share during their trip. Entertainment Tonight also caught Derek giving cuddles to an exceptionally adorable and fluffy koala at the zoo. Bindi informed him that the koala was named "Derek" in his honor. These two are absolute #friendshipgoals.