Matthew Perry's Proposal To Former Fiance Molly Hurwitz Wasn't All That Romantic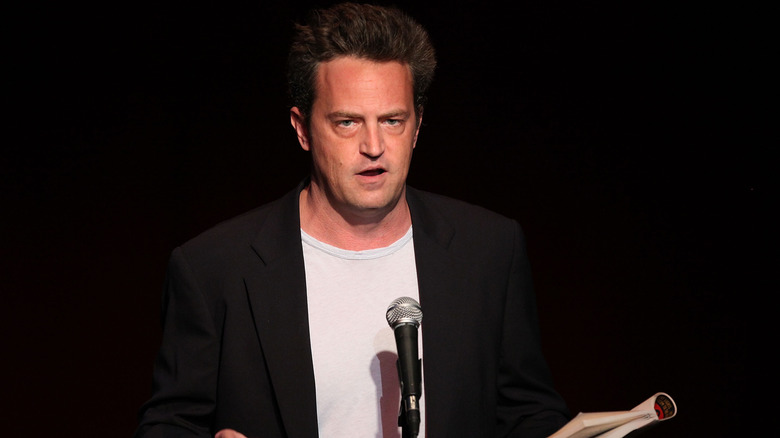 Jesse Grant/Getty Images
Although Matthew Perry never married, he got pretty close twice, once with Lizzy Caplan, whom he planned to propose to but never did, and again with actual fiancé Molly Hurwitz. The future couple originally met in 2018 and started dating shortly after. For the most part, they liked to keep things low-key as they swapped out glamorous red carpets for quieter date nights. But in December 2019, we got our first glimpse into their relationship as Hurwitz reportedly posted a festive snap of Perry to Instagram and called him her boyfriend. 
In the same month, a source offered insight into their relationship to The Sun: "Molly has been seeing Matthew for months, they mix in the same circles and she's originally from New York where they have spent time together." They added, "She has a very quirky sense of humor and they hit it off immediately." The insider also shared that Hurwitz was particularly helpful for Perry's sobriety because she didn't enjoy parties or public attention. 
On paper, it seemed like the couple was thriving and, in 2020, Perry popped the question, later telling People, "I decided to get engaged. Luckily, I happened to be dating the greatest woman on the face of the planet at this time." However, the couple called it quits in 2021. While it's normal for celebrity engagements to end, it's rare to see the proposal contribute to the downfall of a relationship. Sadly, that was the case for Hurwitz and Perry.
Matthew Perry completely forgot that he'd proposed to Molly Hurwitz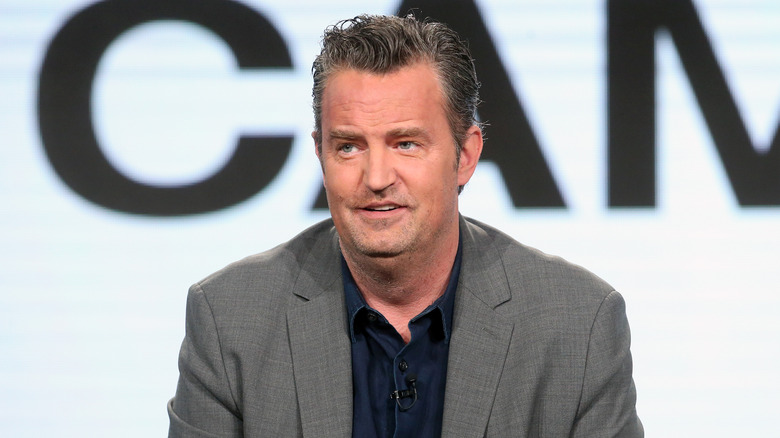 Frederick M. Brown/Getty Images
In 2022, Matthew Perry released his tell-all memoir, "Friends, Lovers and the Big Terrible Thing," which detailed his proposal to Molly Hurwitz in excruciating detail. The "Friends" star began by explaining his ill-fated reasons for popping the question, admitting, "I bought her a ring because I was desperate that she would leave me." He continued, "I didn't want to be this injured and alone during Covid," (via Page Six). To make matters worse, Perry was grappling with a devastating drug addiction at the time, and the actor wasn't fully aware of his actions.
While under the influence, Perry called Hurwitz's parents for their blessing, and then, he got down on one knee and asked Hurwitz to marry him. Perry claims that Hurwitz knew he was high when he popped the question, but she said yes anyway. To make matters worse, the beloved comedic actor eventually forgot he proposed at all. In Perry's book, he recalled how he woke up one day and, in his newfound sobriety, reckoned with what he'd done, writing, "I was slowly beginning to realize that I was engaged, lived with a woman and two dogs."
Notably, "Needless to say, I was not ready for any of this." While he dealt with that shock, Perry also learned that he and Hurwitz had planned a whole life together and even decided on the names of their future children, but he didn't remember any of it, and as a result, they broke up.
Molly Hurwitz wrote a touching tribute for Matthew Perry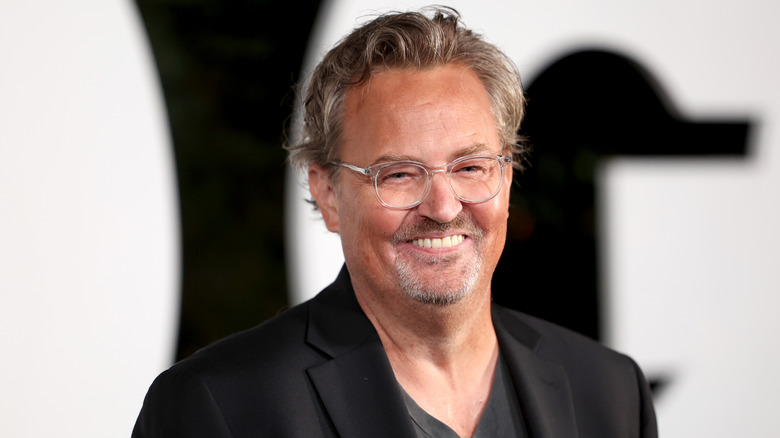 Phillip Faraone/Getty Images
When Matthew Perry spoke to People about his split from Molly Hurwitz, in 2021, he reasoned simply, "Sometimes things just don't work out and this is one of them. I wish Molly the best." And it appeared as though the exes remained on good terms because after news of Perry's death broke, Hurwitz shared a tribute that bared all about their deep connection. She took to her private Instagram page to note that Perry would be thrilled people were talking about his work and that he deserved every ounce of praise.  
Hurwitz also shared that, before the 2021 "Friends" reunion, she and Perry sat down and re-watched several episodes. Even the actor himself was impressed with his demonstrable talents and rewound scenes to share little details about his performance with her. Hurwitz wrote that they bonded over their love for comedy, and she felt incredibly happy watching Perry light up as he rediscovered his comedic genius. 
Although their relationship had loads of highs, it was also full of lows because of Perry's addiction and mental health issues. Hurwitz addressed how she got caught in the crossfire, acknowledging, "While I loved him deeper than I could comprehend, he was complicated, and he caused pain like I'd never known." And yet, "No one in my adult life has had a more profound impact on me than Matthew Langford Perry. I have tremendous gratitude for that, for everything I learned from our relationship," (via CNN).