Matthew Perry's Ex-Fiancée Molly Hurwitz Bares All About Their Deep Connection In First Tribute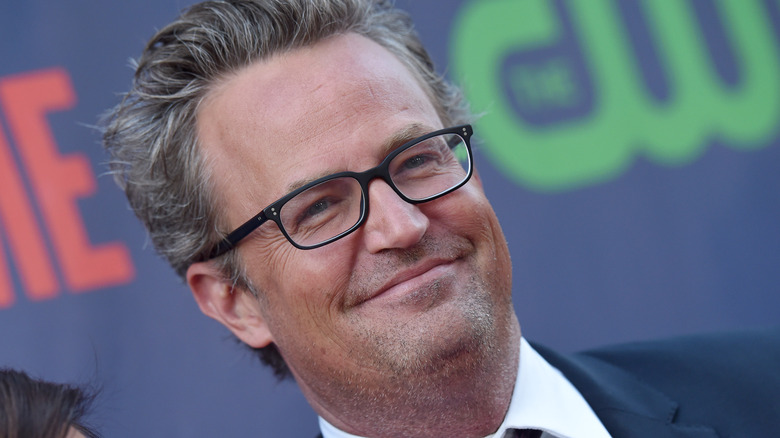 Axelle/bauer-griffin/Getty Images
The world continues to mourn the sudden death of "Friends" star Matthew Perry. Adding to the outpouring of grief and sweet remembrances, producer Molly Hurwitz, Perry's ex-fiancée, shared an intimate tribute on Instagram that sheds light on their deep connection. Hurwitz started by acknowledging Perry's indisputable acting prowess: "He would love that the world is talking about how talented he was. And he really was very talented."
The actor's former paramour also provided an insight into what the "Friends" reunion did for his self-confidence, recalling, "As the 'Friends' reunion was approaching, we rewatched the show together. 'F***, I was so good!!! See what I did there???' We rewound and studied scenes. Our respect and appreciation of humor is something that connected us. Being with him as he rediscovered his brilliance was magical."
Despite the shared moments of joy and laughter, their relationship was far from perfect. Hurwitz continued, "But, I obviously knew that man in a very different way, too. While I loved him deeper than I could comprehend, he was complicated, and he caused pain like I'd never known." However, she clarified that there were plenty of positives from their time together.
Her tribute corroborates Matthew Perry's candid interview about his love life
Molly Hurwitz and Matthew Perry's love story began in 2018, and by November 2020, the happy couple was engaged. However, by June 2021, they'd abruptly ended their relationship. While there were whispers about the real cause of the split, in a 2022 interview with People the actor admitted his insecurity issues were to blame: "That was me afraid. That is what I manifest, something that's wrong with them. And then I break up with them."
This fear of love might have been influenced by Perry's substance abuse, which began when he was a vulnerable 14-year-old. Hurwitz signed off her tribute by heartbreakingly highlighting the challenges of loving someone battling addiction, acknowledging: "I'd be remiss if I didn't mention [Al-Anon], an invaluable resource for those who love someone struggling with this destructive disease. Matty, I feel relief that you are at peace."
What we've learned about Matthew Perry's untimely death is heartbreaking. Still, we can take solace in the fact that during Perry's chat with People, the "Friends" star also highlighted his victory over his fear of love: "I'm not run by the fear I used to be run by so everything's kind of different. I'm feeling more confident and I'm not afraid of love anymore, so the next girl I go out with better watch out."
Perry divulged more information on his proposal to Hurwitz in his book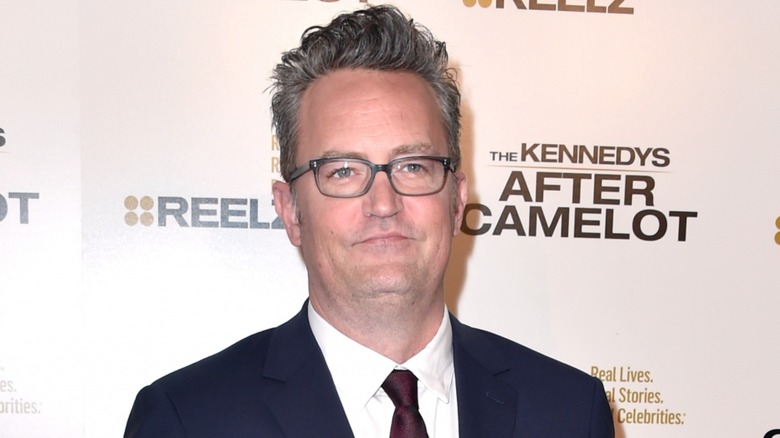 Frazer Harrison/Getty
Matthew Perry's memoir "Friends, Lovers and the Big Terrible Thing" gave more insight into his proposal to Molly Hurwitz while not explicitly identifying her. Perry admitted that at the time, he was in rehab in Switzerland and afraid of being alone. He wrote, "I bought her a ring because I was desperate that she would leave me. I didn't want to be this injured and alone during Covid. I was high on 1,800 milligrams of hydrocodone when I asked her to marry me. ... And she knew it, too. And she said yes" (via Page Six).
When Perry told People about his engagement, he said, "I decided to get engaged. Luckily, I happened to be dating the greatest woman on the face of the planet at this time." However, once he was sober, he realized what he'd done and that he wasn't prepared for it.
"'You went down on one knee to propose, which really hurt your stomach, remember?'" Perry quoted Hurwitz in his memoir, writing, "I didn't remember — needless to say, we broke up." There seemed to be no ill will for his ex because after the engagement ended, Perry said, "Sometimes things just don't work out, and this is one of them. I wish Molly the best."
If you or anyone you know needs help with addiction issues, help is available. Visit the Substance Abuse and Mental Health Services Administration website or contact SAMHSA's National Helpline at 1-800-662-HELP (4357).