Mario Lopez's Daughter Is Growing Up So Fast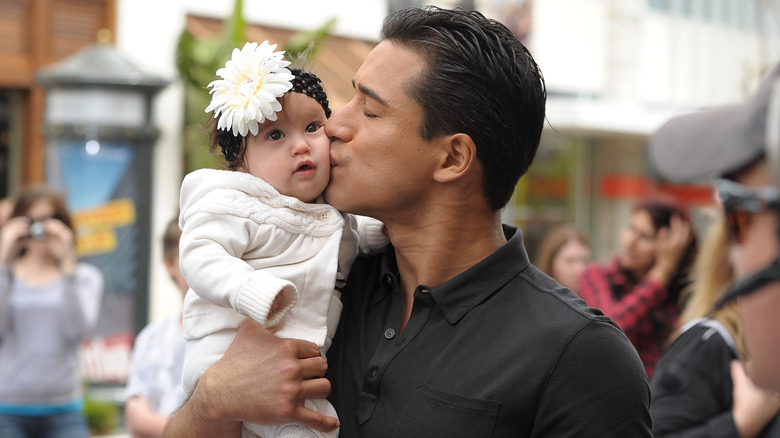 Noel Vasquez/Getty Images
Mario Lopez and Courtney Laine Mazza are the proud parents of three children, but it was their daughter, Gia Francesca Lopez, who made them parents for the first time. She was born on September 11, 2010, and her arrival would change her parents' lives forever. "We are so overjoyed," Lopez told "Extra" at the time. "What an amazing, wonderful, and overwhelming experience to welcome our daughter into the world."
Gia was born two years before her parents married in December 2012, allowing her to play a special part in their Mexican beach wedding — as the flower girl. In 2023, she is a teenager who appears to be getting more comfortable with life in the spotlight. From film premieres to impressive dance performances, Gia is already proving her talent and star power. And she has her dad wrapped around her finger. "The hardest part of my new life as a dad is leaving for work in the morning," Lopez told People. "These kids have totally changed my life. They are simply fantastic!"
Even at a young age she had a strong personality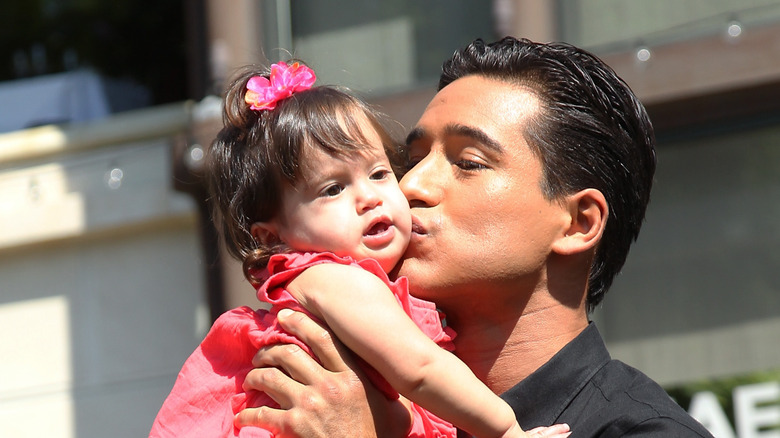 Noel Vasquez/Getty Images
No one can dim Gia Francesca Lopez's light, and even as a little girl, she had a big personality. "My daughter's pretty sassy for a 4-year-old," Mario Lopez said in an interview with Wonderwall (via Mom) in 2015. "She's got her mom's personality, so she's real sassy and very dramatic. She's just full of life. She has no problems coming out of her shell."
Gia may be outspoken, but her dad has set boundaries and rules. In an interview with Yahoo Life in 2022, he discussed his approach to parenting. "I would say I always try to come from a place of love, but sometimes that's tough love," he said. "But I think if you do that, you can't go wrong. There's no democracy in my house. I run a dictatorship, and I'm Castro."
Mario and Gia Lopez share a close bond, and fans have seen a small part of their father-daughter relationship thanks to the sweet posts the proud papa makes on social media. In an Instagram post celebrating National Daughter's Day in September 2023, Lopez shared a photo of his teenage daughter. "Try not to grow up too quick Gigi! I love you & I always will," he wrote in the caption.
She was excited to be a big sister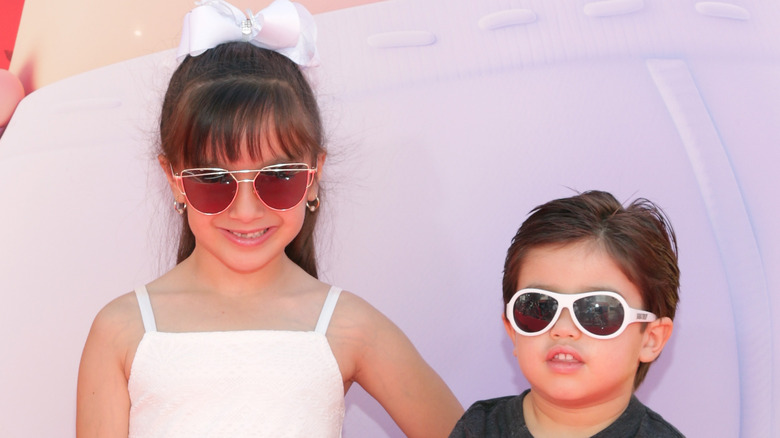 Jerritt Clark/Getty Images
Some children want to be an only child, while others are excited for a sibling. Gia Francesca Lopez fell into the latter category, and there was great excitement around her becoming a big sister. "She's thrilled. She can't wait. We'll see when the baby comes if she acts different, but she's thrilled," Lopez told Parade in a 2013 interview ahead of his second child's arrival.
While she has two brothers, Dominic and Santino, when she was a toddler, Gia wanted a sister. "I [already] have a girl, and to have one of each would be nice," Lopez said before Dominic was born in 2013. "But I'm just really hoping for a healthy baby." But his daughter felt differently. "I think Gia wants a little sister. But she changes her mind. She wants a monkey, really," he shared. "But I think she's going to have to learn some sharing duties once the baby comes."
Gia became a sister for the second time in 2019 when Santino was born. And before his arrival, she and Dominic had been excited to help pick out his name (although it's unclear if they got what they wanted). "They're fighting over names," Lopez told Us Weekly at the time. "They're both fired up! We have some contenders."
Her name celebrates her heritage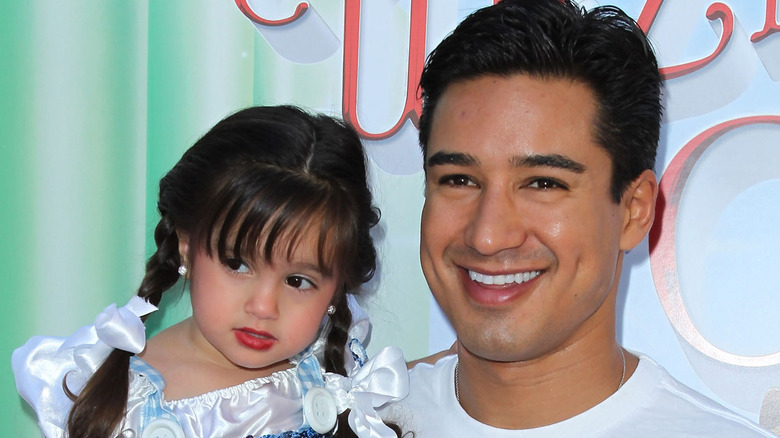 David Buchan/Getty Images
Gia Francesca Lopez has a unique name to reflect her heritage. Mario Lopez's ancestry can be traced back to Mexico, where his parents lived before coming to the United States, while his wife Courtney Laine Mazza is Italian. "We wanted them Italian, and we wanted them Catholic," Mario told "Today Parents" in a 2022 interview. "Their Latin heritage is represented in their last name." Her first name was also picked because of a standout performance by Angelina Jolie in the 1998 film, "Gia."
"Angelina Jolie in that movie totally came to my mind when we were thinking of names," Mario said. "Next time I see her, I need to tell her that. I need to tell her she was a big influence." Their daughter's middle name is Francesa, which is of Italian origin. Gia means "God is gracious," while Francesca is a classic name that means "free."
Lopez also mentioned the importance of Gia's name being associated with Catholicism, and faith has played a part in how her parents have raised her. "She goes to Catholic school, so she's got a nice faith-based education and (Courtney and I) are trying to do our best to raise them right," he told "Today" in a 2017 interview.
Gia grew up with a lot of outdoor activity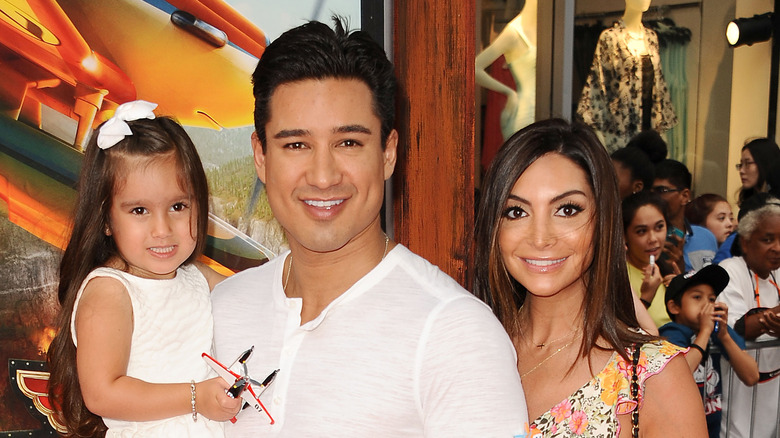 Jason Laveris/Getty Images
Mario Lopez is a hands-on dad, and he has shared some of the activities he likes to do with his children. "I get her to go swimming with her little brother, who has learned to swim before walking," he told People. "We all love summer because we can be outside and get a lot of exercise while having fun." Both Lopez and his wife, Courtney Laine Mazza, place importance on their kids spending time outdoors.
In an interview with Wonderwall (via Mom) in 2015, the "Extra" host spoke again about his favorite way to spend time with his little ones was to be outdoors. "It's always so nice here in L.A., so we'll go on hikes together, which is a lot of fun, or just hang out by the pool. We have a jungle gym in the backyard," he said. In the same interview, he revealed that when he's not working, he makes time for important stuff like "dance parties or hikes."
Gia already has acting credits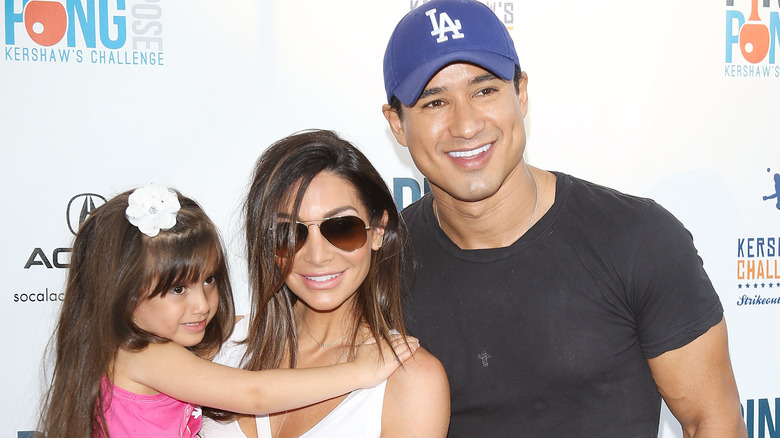 Michael Tran/Getty Images
Would Mario Lopez be a supportive parent if Gia Francesca Lopez did decide she wanted a career in the entertainment industry? He thinks that's a decision best left up to his daughter. "She's got quite the personality. She is [starting to show interest in performing]. I'm not trying to encourage her or discourage her. We'll just kind of see and play it out a little more," the star said in an interview with Wonderwall (via Mom) in 2015. "If they want to do it, I'll be supportive."
But it was not long before Gia started to land roles. "She likes to perform," Mario Lopez told "Today" in a 2017 interview. That same year, Gia made headlines for a voiceover role as Estrella on the Disney series "Elena of Avalor." "I like working with Daddy because when I needed to laugh, my dad helped [by tickling me]," she told People of the experience.
She also was involved in the 2021 Lifetime movie, "Holiday in Santa Fe,' a film where her dad had the lead role, and a part in the 2019 horror flick, "Apparition."
She's got great dancing skills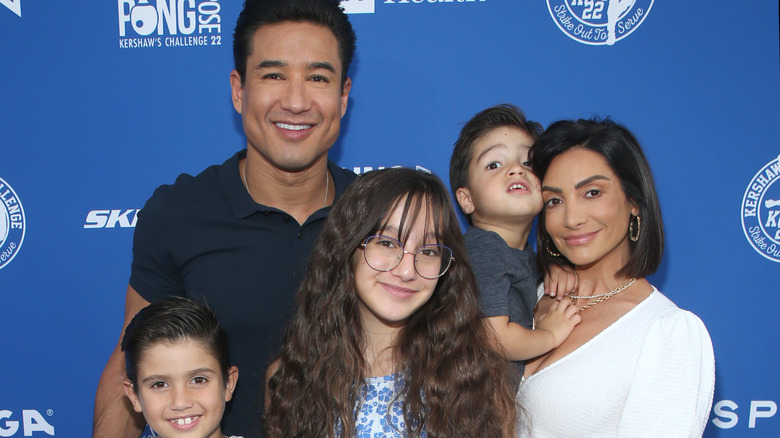 Phillip Faraone/Getty Images
Gia Francesca Lopez has some serious dance moves. And her proud dad has shared videos of their dance routines on Instagram. In one Instagram post from September 2023, Mario Lopez can be seen dancing alongside Gia. "Weekend warmup with my mija..." he captioned the post. In a second video from October 2023, the duo can be seen dancing again in the same location. "Y'all know what time it is..." Mario captioned the Instagram post.
Gia has been dancing since childhood, with her dad revealing in an interview with People that she did ballet lessons. His fans will know he is also passionate about dance, even joining the cast of "Dancing with the Stars" in 2006 (he and his professional partner Karina Smirnoff placed second). The actor may know something about dance, but he is seriously impressed with his daughter's skills. "She's like a little Paula Abdul. She will learn the dances on TikTok, show them to me [and] my wife, and then we'll record them," he told Parade in a 2023 interview.
She's put her parents in an uncomfortable situation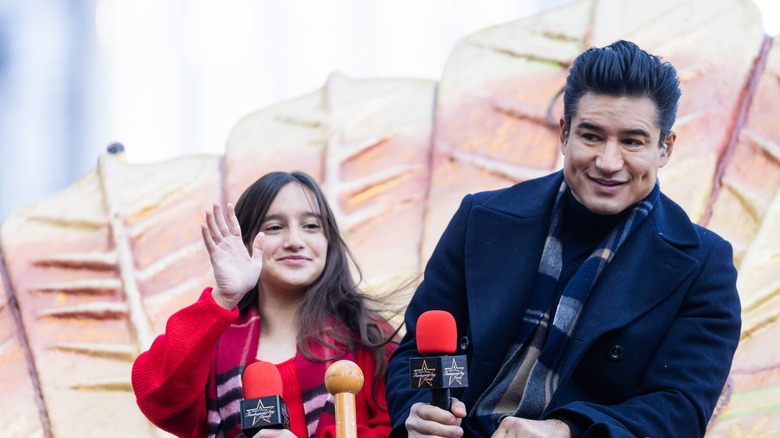 Gotham/Getty Images
Gia Francesca Lopez's parents, Mario Lopez and Courtney Laine Mazza, have been married for over a decade. They also understand the importance of finding time for themselves, including trying to enjoy more private moments as husband and wife. But that's not always easy when you have children in the house.
Mario Lopez revealed a hilarious but mortifying story about how their daughter once entered the guest bedroom unannounced. "It's all about the quickie now," he said on "Overserved With Lisa Vanderpump" (via Us Weekly) in 2021. "Our daughter walked in on us the other day. [It] was so traumatic." He added, "I was like lightning with the covers. I said, 'I got to go talk to her,' but we couldn't find her for, like, an hour."
Being parents is no easy task, but Gia is fortunate to have a mom and dad who care deeply for her and her siblings. "My wife, my kids, my dogs, they just complement everything in my life," Lopez told "Today" in 2017. "It's like a team effort now. This is honestly the happiest I've ever been."
She's a fan of Barbie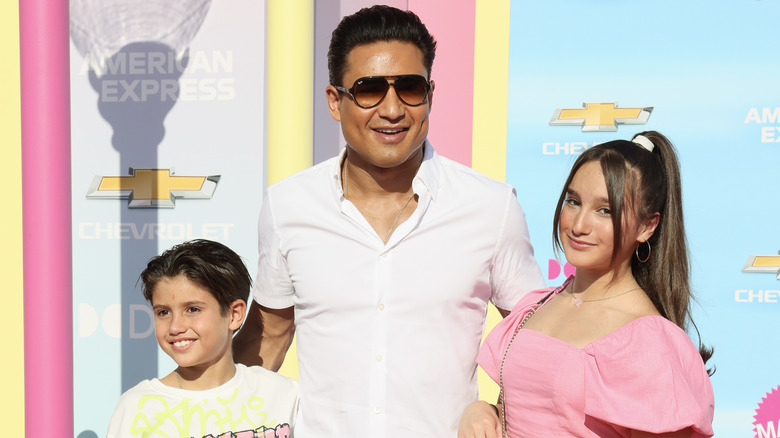 Rodin Eckenroth/Getty Images
Gia Francesca Lopez had a special red carpet moment in July 2023 when she attended the "Barbie" premiere with her father and brother, Dominic. Gia also wore the classic Barbie hot pink to the event. Mario Lopez posted a short clip to Instagram from the night and shared his thoughts in the caption. "Tonight we're livin' in Barbie world!" he wrote.
The film, which stars Margot Robbie and Ryan Gosling, was a phenomenal success, but it's not just Gia who is a fan; Mario Lopez has long supported Barbie. He was named in the #DadsWhoPlayBarbie campaign and even had a doll created in his honor. The campaign's goal was to bring attention to the importance of fathers playing with their children and becoming immersed in their imaginary worlds. In 2013, he and Gia took part in the Barbie is Moving tour, in which Barbie made 11 stops searching for a new home.
Her dad is a supportive and present parent
Mario Lopez may have a busy schedule, but there is always time to be a dad. He was committed to not missing out from the moment Gia Francesca Lopez was born. "The best thing about being a dad is that I have something to really want to wake me up in the morning and rush home, 'cause I don't want to miss anything," he told "Extra" in 2010.
The "Saved by the Bell" actor celebrated his daughter on September 11, 2023, when she turned 13. "Pray for me I officially have a teenager!" he wrote in the caption of an Instagram post. "Gigi you're the most amazing daughter, you inspire me every day. Keep on blossoming & doing big things baby girl!" It is clear there's a lot of love between these two and that Mario works hard to be a present parent.
"I'm always working but I manage to always have breakfast with the kids and be home for dinner," he told Yahoo Life's "So Mini Ways." "Oftentimes I also make their practices — Jiu-Jitsu and wrestling for my sons — and on the weekends I'm usually attending my daughter's gymnastics meets." In the same interview, he admitted that he and his wife have help from their parents because when it comes to raising children, he believes "it really does take a village."