All Of Priscilla Presley's Iconic Hairstyles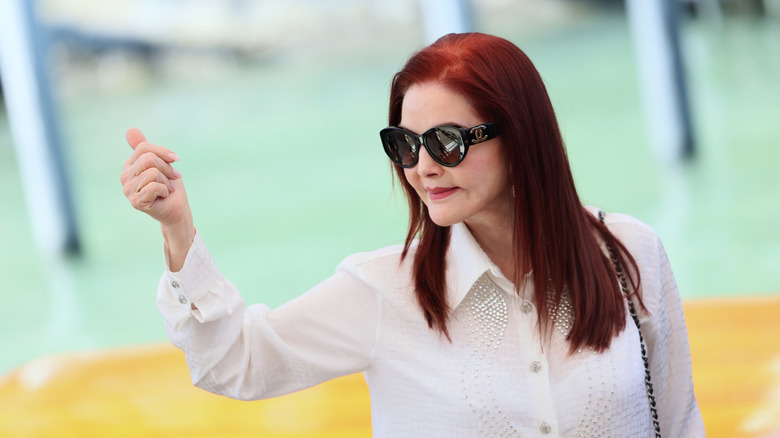 Ernesto Ruscio/Getty Images
Priscilla Presley, formerly Priscilla Ann Beaulieu, is best known as the former wife of Elvis Presley, but she's also phenomenal in her own right. Over the decades, she's worn many hats — businesswoman, actress, model, activist, and producer to name a few. And that's not all — she's also considered one of American pop culture's preeminent style icons, with notable looks ranging in style from '60s mod to '80s glam to 2000s punk rock chic.
Presley's fans can rejoice: The legend is currently experiencing a major resurgence in the cultural zeitgeist. She's been in vogue amongst the younger generation since Lana Del Rey looked to her for style inspo during the early 2010s, but now she's an even bigger topic of discussion due to two films that have thrust her into the spotlight once more. In the spectacular 2022 biopic "Elvis," directed by Baz Luhrmann, Olivia DeJonge brought her to life onscreen. Shortly after, Cailee Spaeny played her in Sophia Coppola's 2023 film "Priscilla," based on Presley's own memoir "Elvis and Me: The True Story of the Love Between Priscilla Presley and the King of Rock N' Roll." In both movies, many of Presley's fabulous looks are meticulously recreated — especially her remarkable hairstyles, from a towering bouffant to a '70s middle part. Although the biopics conclude well before the modern day, Presley has continued to stun the world with her audacious hair cuts and colors. Here, we review her ever-unfolding legacy by taking a look at some of her most memorable 'dos.
1961: Young Priscilla Beaulieu sports a short, modest cut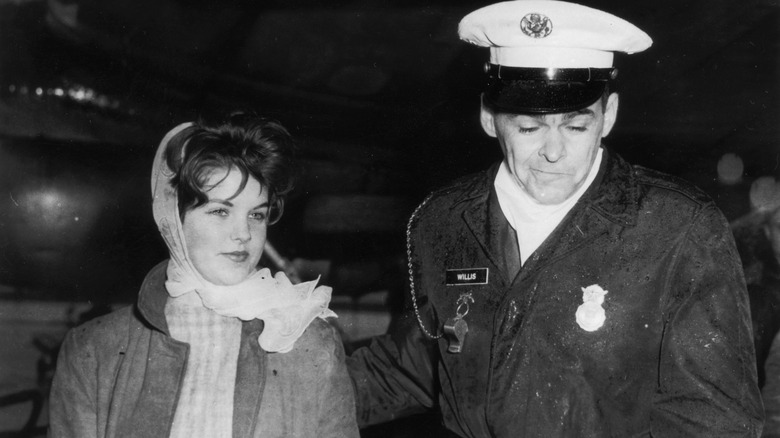 Keystone/Getty Images
Before Priscilla Presley was an icon of glitz and glam she was Priscilla Beaulieu, your average girl-next-door — who, of course, just so happened to be dating international rock 'n' roll legend Elvis Presley. The two began dating in the early '60s when relatively modest and understated looks were the norm. As an army brat living in Germany, Beaulieu wore her hair in an unassuming, yet gorgeous style — a short bouffant with bangs that swept over her forehead. At this time, she still had her natural brown hair color, as opposed to the dramatic black she would adopt a few years later. 
Sometimes, Beaulieu styled her cut with a trendy headscarf — as seen in the above picture from 1961, captured after Beaulieu said goodbye to Presley at the Frankfurt Airport. She hadn't yet discovered her signature dramatic eyeliner and lashes — instead, she kept things simple with neatly groomed brows, minimal mascara, and pink blush and lips. 
1963: Priscilla Beaulieu opts for a more dramatic bouffant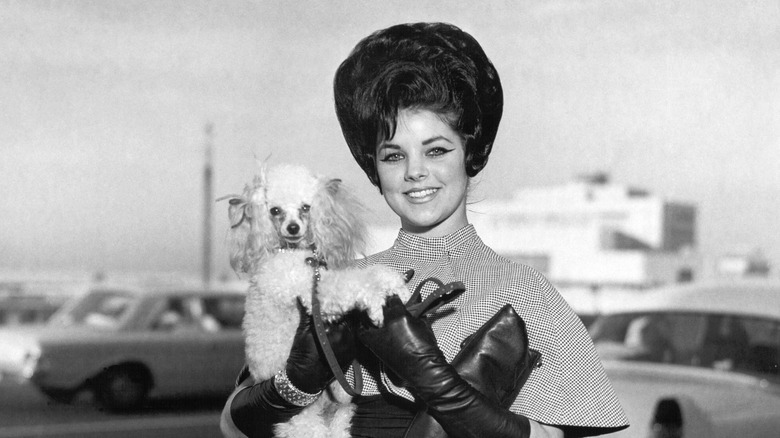 Michael Ochs Archives/Getty Images
Come 1963, Priscilla Beaulieu had abandoned her mundane life in Germany with her parents for the glamour and excess of Graceland. After a couple of years of long-distance romance, her parents granted her permission to fly out to the States for good and take up residence with Elvis Presley and his family — first staying with his father and stepmother, and then moving into Graceland proper with her beau. It was during this time that she started to sport more striking hairstyles, such as the one pictured above. 
Here, Beaulieu's hair is dyed jet-black and styled in a dramatic bouffant updo that towers inches above her head — a popular look at the time. Her bangs are teased and swept to the side of her face, framing her soft features. Her winged liner is meticulously drawn on. In her arms is her equally fashionable dog Honey, gifted by Presley as a Christmas present.
1967: Priscilla Presley's wedding day hairstyle is instantly iconic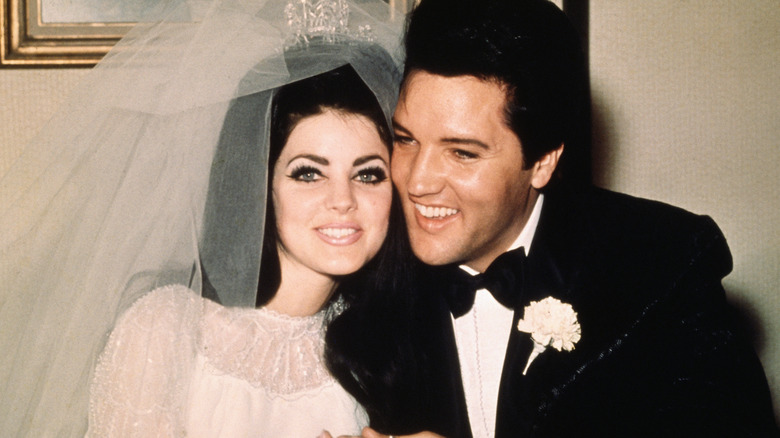 Bettmann/Getty Images
On May 1, 1967, Priscilla Beaulieu finally tied the knot with Elvis, becoming Priscilla Presley at long last. As ever, her style at the ceremony was impeccable, resulting in some of the most iconic photos we have of the 20th-century it girl. She wore her hair in long, dark tresses that reached all the way down her back, covered by a gauzy white veil attached to a silver tiara. Her brows were sculpted, and her blue eyes stood out due to feathery lash extensions. Her lips were painted a pearly pink. 
Presley's wedding day couture has lived on in the cultural consciousness for decades. And plenty of starlets have paid tribute to her high-volume 'do — most notably Lana Del Rey, who often imitated her style in the early 2010s. The inspiration is especially clear in the music video for "National Anthem," where her bouffant and flowing locks are the star of the show.
1970: Priscilla Presley trades her updo for long, straightened hair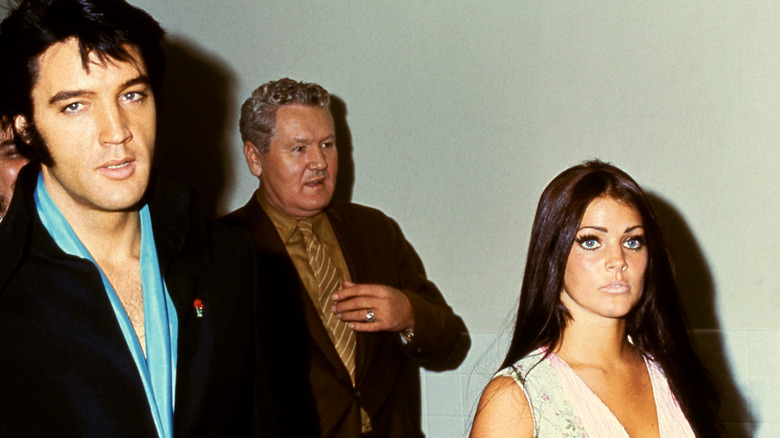 Tplp/Getty Images
By the time the '70s rolled around, updos, bouffants, and other hairstyles that required extensive upkeep were on their way out of fashion. Lower-maintenance styles inspired by the hippie movement were all the rage instead. During this era, Priscilla Presley opted to keep her hair long and maintained a dark brown hue, but her hairstyle was markedly different. Instead of combing her hair back, she split it down the center with a trendy middle part. She said goodbye to volume and pulled out the hair straightener, going for a sleek, effortless, slicked-back look. 
Presley's go-to makeup didn't change much in the early '70s — she knew what she liked and looked good in, and she stuck with it. She continued to wear large false lashes, often pairing them with pale pink lipstick. She highlighted her cheekbones with blush and wore dresses with deep V-necks, forgoing the modesty she had previously exhibited.
1970s: Priscilla Presley undergoes a style change after her divorce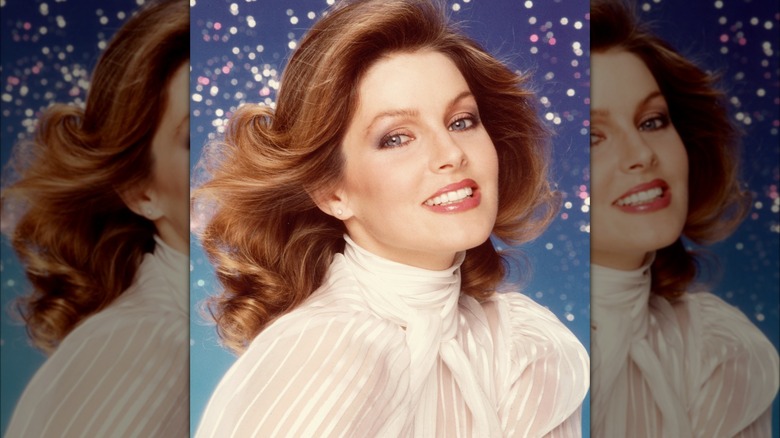 Harry Langdon/Getty Images
In 1973, Priscilla Presley divorced Elvis, ready to turn over a new leaf after enduring a marriage that had become toxic and controlling. She kept herself busy by opening a boutique in Los Angeles — a venture that her former husband supported. These changes in her romantic life and career brought about a change in her style, as well. Presley said goodbye to the dark hair and dramatic makeup in favor of a brighter, breezier look. Her new hue was a luscious honey brown with traces of blonde. She chopped her locks so they hit just past her shoulders; she also chose to sport a layered cut. Oftentimes, she wore her hair in flowing curls with a side part. 
Presley barely filled in her eyebrows during this era, going for a lighter, more natural aesthetic. Much to everyone's surprise, she ditched the eyeliner and false lashes completely — yet she still made her baby blues stand out with subtle smokey eyeshadow. Instead of the pale, almost white pink she preferred before, she painted her lips with salmon-colored gloss. 
1980s: Priscilla Presley adopts the popular perm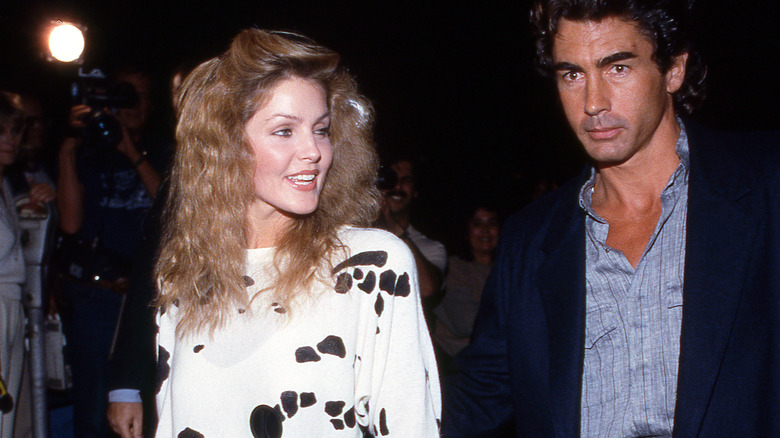 Mediapunch/Getty Images
In the '80s, Priscilla Presley decided to dip her toes into the world of acting — something she had wanted to pursue during her relationship with Elvis but had stayed away from due to her husband's wishes. She also made her debut as an author with the publication of her tell-all memoir. Around this time, she decided to reinvent herself with the biggest hairstyle of the moment (both literally and figuratively) — the perm. She kept her locks just past shoulder length and opted for a dirty blonde hue. Typically, instead of parting her hair, she combed it back and clipped it, showing off her beautiful bone structure. 
The '80s made way for bolder, more colorful makeup looks — but Presley decided to keep things low-key, with a relatively minimalist beat. Just as she did in the '70s, she kept her eyebrows natural and stayed away from eyeliner and false lashes. Only neutral eyeshadow, puffs of pink blush, and pink lipgloss adorned her face.
1990: Priscilla Presley debuts her signature red hue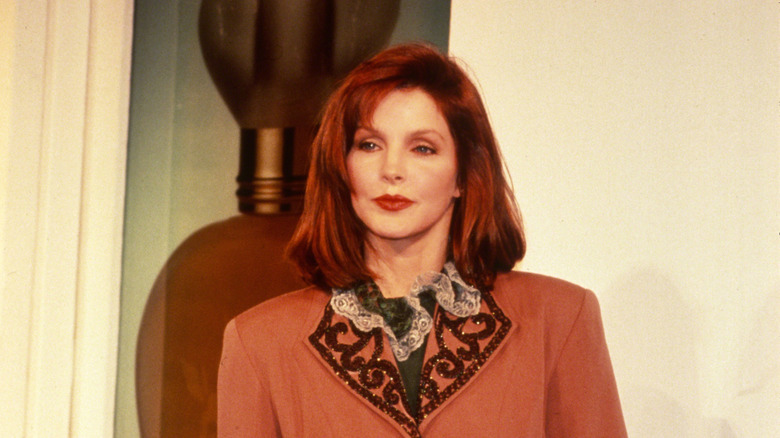 Images Press/Getty Images
At the dawn of the '90s, when Priscilla Presley had cemented herself as a fixture in the "Naked Gun" comedy franchise, she decided to try out a drastically different look. Naturally, she left the world all shaken up when she dyed her hair a shade she had never donned before: A fiery, eye-catching red. She wore her hair cropped neatly above the shoulder, with multilayered bangs that swept down the right side of her face. Gone was the perm; instead, she went with a straightened style that radiated both professionalism and glamour.
Presley chose to experiment with darker makeup to match her cherry locks. At one 1990 event — a promotional appearance for her first perfume, titled "Moments" — she stepped out in rosy eyeshadow with heavy blush and a reddish-pink lip. She even flaunted a sequined, salmon-colored suit to really make the color jump out.
1990s: Priscilla Presley says hello to the bob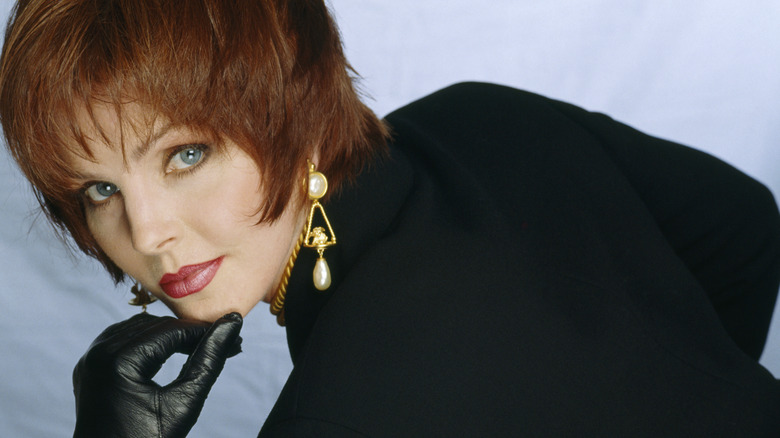 Eric Robert/Getty Images
After the success of "Moments," Priscilla Presley entered the world of fragrances. During the '90s, she released a series of perfumes, all of them with delightfully poetic names: Experiences, Indian Summer, Roses and More, and Golden Moments. She also showed off the shortest haircut she had sported in years — maybe even since the '60s. This time around, she wore a bob that reached just past her ears. Layers and wispy bangs gave the look a modern spin (at least, by the decade's standards). 
Presley changed hair colors a couple of times during this era. At first, she went for a brown with warm undertones — a subtle step away from her previous red color. Then she reverted back to blonde. She kept her makeup on the simpler side, calling to mind her looks from the late '70s and '80s: soft eyeshadow in neutral tones, minimal mascara, and only a hint of blush. She preferred a pop of pink for her lips.
Early 2000s: Priscilla Presley rocks highlights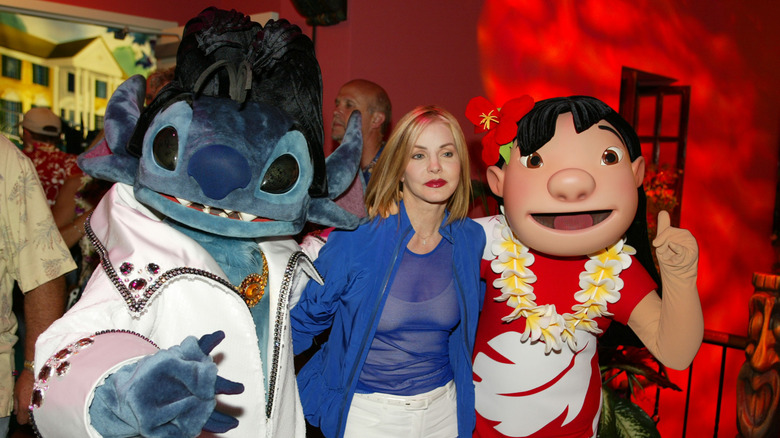 Kevin Winter/Getty Images
Priscilla Presley stepped away from acting in the early 2000s. Yet she remained involved in the film world as a member of the Board of Directors at Metro-Goldwyn-Mayer. At this point, the new millennium had ushered in a new chapter in fashion, and women were going for edgier, more playful looks. Presley kept up with the spirit of the times by growing out her hair ever so slightly and flaunting a fun, feathered shoulder-length cut. She dyed her hair Barbie-doll blonde, with a trendy twist — brown highlights that made her dark brows stand out.
Hot pink lips were popular after the turn of the century, and Presley certainly participated in the craze — as pictured in the above image, where she posed with Lilo and Stitch at the premiere of their first film (it doesn't get more 2000s than that). She made flashier fashion choices during this era as well, trading out her business casual pantsuits and turtlenecks for bold colors and lower-cut tops.
2000s: Priscilla Presley has fun with butterfly clips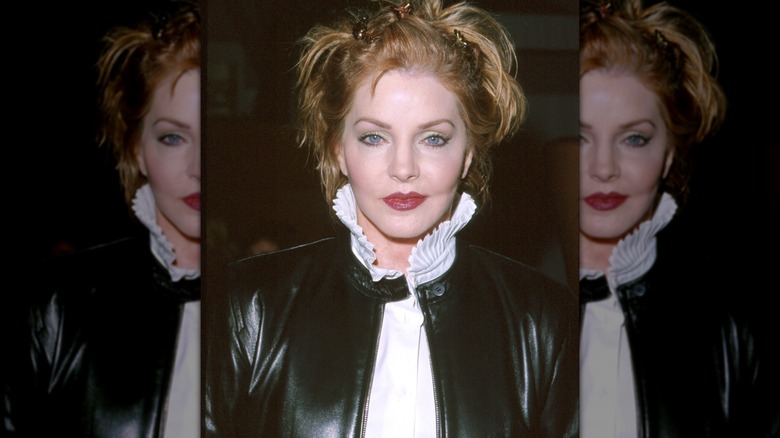 Steve Granitz/Getty Images
Eventually, the highlight trend fell out of favor with Hollywood's brightest stars. Priscilla Presley stayed ahead of the curve by going fully blonde once more, choosing a gorgeous honey color. It was popular to experiment with spunky updos, and Presley gleefully hopped on the bandwagon. Sometimes, as in the photo above, she pulled her hair back with butterfly clips, occasionally letting a single strand of hair dangle down her forehead to frame her face. Her choppy layers brought a lighthearted sensibility to looks like collared shirts and sleek jackets.
Presley had a ton of fun with creative makeup choices during this era. She played with a variety of eyeshadow shades — including the pale green pictured here. She kept blush minimal, preferring to call attention to her lips, which she typically accented with plum-colored hues. She accented her eyes with a good amount of mascara, but continued to leave the false eyelashes at home.
Mid 2000s/Early 2010s: Priscilla Presley returns to red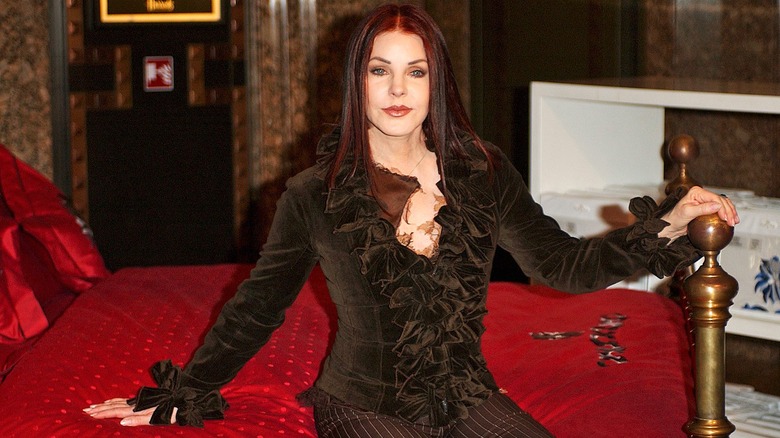 Avalon/Getty Images
By the mid 2000s, Priscilla Presley had shifted back into girlboss mode by designing a collection of bed linens. While she was shaking up her career, she also decided to shake up her look by dyeing her hair once again. She opted for red, just as she had in the '90s. This time, though, the hue she chose was slightly different: A darker, less natural color that gave her a dramatic flair. She got rid of the layers and wore it straightened and parted down the middle. She also grew it out so that it fell past her shoulders again.
During this era, Presley gravitated toward a darker aesthetic. Sometimes she sported an almost gothic style — as in the photo above (a promo shot for her linen line), where she paired a ruffled velvet blouse with black pinstriped pants. She selected darker lip tones and paired sculpted brows with heavy eyeshadow both above and below the eye. 
Late 2010s/Today: Priscilla Presley favors red hair with a side part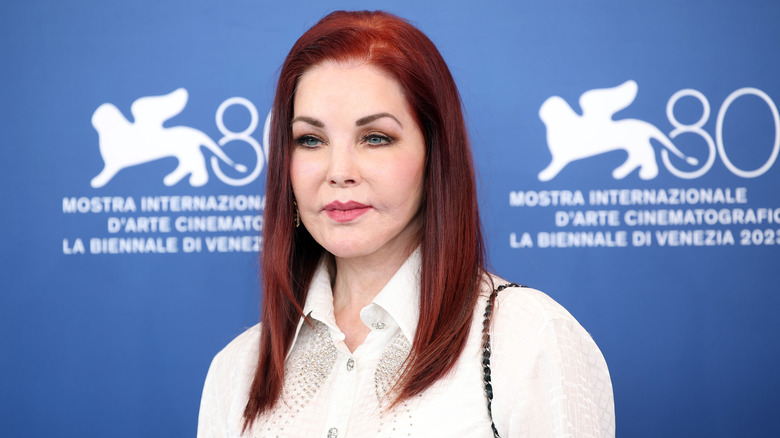 Daniele Venturelli/Getty Images
We can say it with confidence: Red works for Priscilla Presley! The American legend has kept the color for years now, abiding by the old maxim "If it ain't broke, don't fix it." Since the late 2010s, she's styled her hair in the same classic way, wearing it just past her shoulders with an elegant middle part. Sometimes she straightens it; other times, she wears it in soft, cascading waves. When it comes to makeup, dark, sculpted brows, smokey eyes, and bold pink lips are her go-to's. 
Presley has continued to stay busy. She recently added "executive producer" to her list of job titles — she worked on the 2023 film "Priscilla," as well as Netflix's animated series "Agent Elvis" — and will surely keep cooking up new creative endeavors. Whether she'll stick with her tried and true 'do or experiment with something new remains to be seen — but no matter what, we're sure she'll look stunning.