Fashion Expert Tells Us Why Ivanka Trump's Court Look Completely Missed The Mark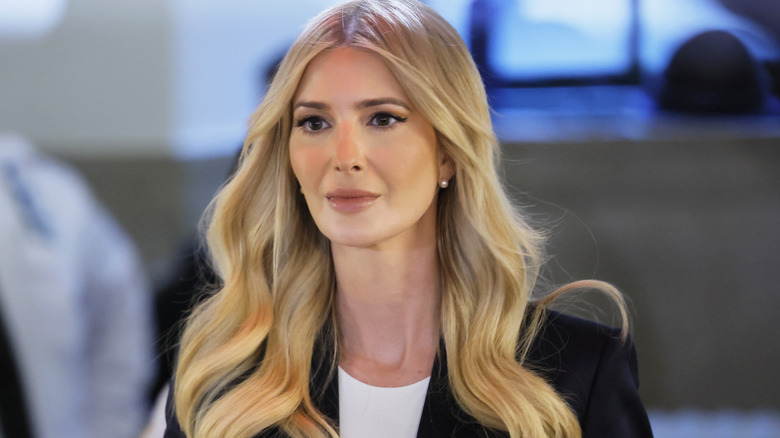 Michael M. Santiago/Getty Images
Ivanka Trump was the last of former President Donald Trump's children scheduled to testify against Donald Trump in his civil fraud lawsuit on November 8, 2023. And while her presence in the courtroom was highly anticipated, some onlookers argued that the appearance by the former White House advisor fell flat — and not because of her testimony on the stand.
The eldest Trump daughter arrived at court dressed in a typically chic ensemble that included a plain white high-neck top, wide-legged trousers, a black blazer, and pointed-toe pumps. She wore subtle pearl earrings and kept her blonde hair down in loose waves. To the untrained eye, her courtroom look appeared understated and demure. But to fashion expert Sam Gibson, Ivanka's outfit was disappointing.
Gibson, executive assistant to the CEO of Hype Creative, a creative collective based in Los Angeles, California with 14,000 square feet of studio space and a creative agency known for its innovation in style and fashion, spoke exclusively with The List to describe how Ivanka missed the mark.
Ivanka Trump's outfit was a little too subtle in some ways, too on-the-nose in others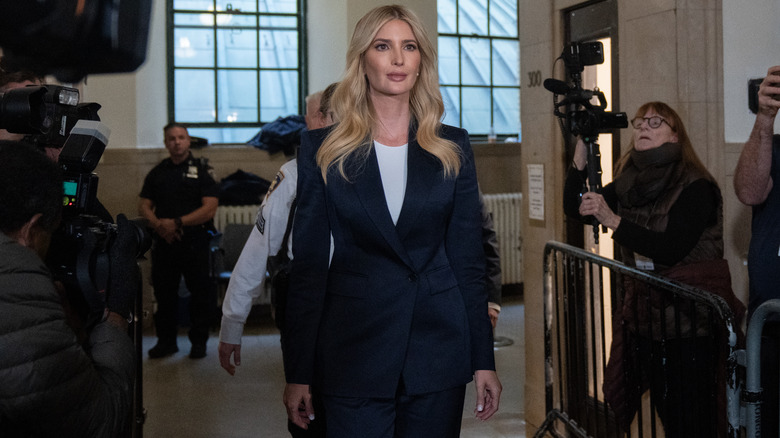 Bloomberg/Getty Images
Hype Creative's Sam Gibson told us that while Ivanka Trump's black-and-white ensemble was in line with her usual fashion sense, they wanted to see the former White House advisor in something that read a bit more humble. "I want to see Ivanka in glasses and something rumpled. Something that either winks at the camera or looks like it came from the back of Tiffany [Trump]'s closet."
The fashion expert explained the seemingly obvious choice of wearing white while testifying on the stand. Gibson called the move "typical Ivanka — presenting herself as innocent in the crimes of her father, a position she's constantly striving for, against all odds." Indeed, using a stark white tee seems to subtly nod to the distance Ivanka has put between her and her dad following the end of Donald Trump's presidential term.
Finally, Gibson criticized Ivanka's need for an oversized tote bag at a brief court appearance. "While I love one for myself and the average working girl, this is Ivanka Trump going to testify for her father. In the words of Tom Wambsgans [from HBO's "Succession"], 'What's even in there, huh? Flat shoes for the subway? Her lunch pail?'" 
As of this writing, it's unclear what influence Ivanka's testimony will have on the trial. Still, her stereotypically "Ivanka" look indicates she has no intention of diminishing the appearance she's created independent of her infamous family.