Teri Hatcher & James Denton's Hallmark Film A Kiss Before Christmas Was A Long Time Coming
On the Hallmark channel, James Denton is most known for playing Dr. Sam Radford in the fan-favorite series "The Good Witch." However, the feel-good star has since made his foray into Hallmark holiday movies, starring in the 2021 flick "A Kiss Before Christmas" alongside his former "Desperate Housewives" castmate Teri Hatcher. While this Christmas movie debuted with relatively positive reviews, garnering a 7.1 rating on IMDb, it was a long time before it reached our TV screens.
"We've been trying to figure this one out for three of four years," Denton revealed about "A Kiss Before Christmas" in an interview with WGN News, providing insight into the uncertain road leading to the long-awaited Christmas flick. The Hallmark star first mentioned "A Kiss Before Christmas" in October 2020 while on the "Hallmark Channels' Bubbly Sesh" podcast. At the time, he teased that the made-for-TV movie was a mixture of "It's A Wonderful Life" and "Heaven Can Wait."
Surprisingly, the flick didn't appear in the channel's lineup of holiday movies in the following months, disappointing fans and outlets alike. It's unclear if "A Kiss Before Christmas" was originally intended for the 2020 holiday season, but it wasn't until the following year that the movie was filmed and debuted. Either way, the Hatcher-Denton reunion was definitely worth the wait.
Teri Hatcher's involvement fast-tracked A Kiss Before Christmas
James Denton's "A Kiss Before Christmas" was born out of his "A Good Witch" contract with Hallmark, as he agreed to executive produce three made-for-TV movies with the network. The actor revealed that he had a long-time interest in making a Christmas movie, explaining in a statement, "From the very beginning, I wanted the first Hallmark Christmas movie I produced to be unique" (via Deadline).
While the specific idea of "A Kiss Before Christmas" seemed to be cooking for at least a year before its production, Denton revealed that things moved pretty quickly when his former co-star Teri Hatcher became attached to the project. If you're unfamiliar, Denton and Hatcher played a married suburban couple on the long-running series "Desperate Housewives," reuniting for the first time for their shared Hallmark endeavor.
"Mark Amato, the writer, brought [the idea] to me. We brought it to the network, and we knew we had to have the right girl," Denton told WGN News. "Everybody got excited once we had Teri [involved], and it just took off." The Hallmark star added that he angled for a 2021 holiday release, so "A Kiss Before Christmas" was fast-tracked for September filming and premiered in time for Hallmark holiday viewing. 
Denton reached out to Hatcher about starring in the movie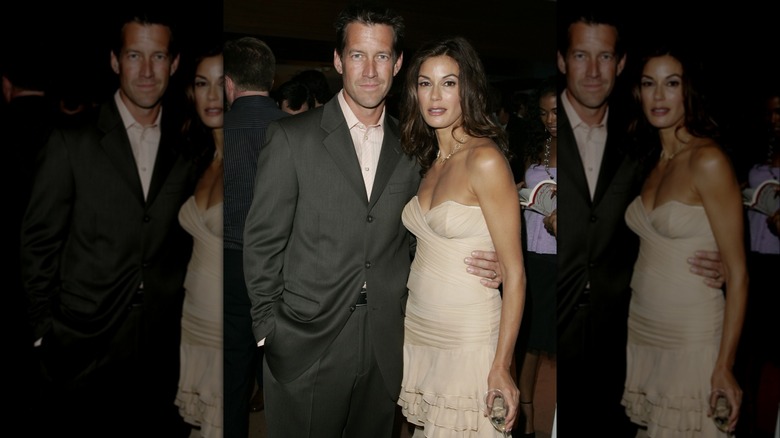 Donato Sardella/Getty Images
Fans of the comedy-drama series "Desperate Housewives" might be surprised to see Teri Hatcher and James Denton reuniting in such a family-friendly setting. Still, the two actors revealed that "A Kiss Before Christmas" was the perfect opportunity to reunite their careers. As the executive producer, Denton was the one to initially reach out to Hatcher, who's landed some big roles since her "Desperate Housewives" days.
"The whole thing started because he called me," Hatcher told E! News. "He was like, 'I'm producing this movie. You probably don't want to do it, but would you even consider reading it?' I was like, 'Are you kidding me? This sounds like the perfect way for us to reunite!'"
While their characters in "A Kiss Before Christmas" are a far cry from their "Desperate Housewives" counterparts, the two still have that same recognizable on-screen connection. "The chemistry of it feels the same," Hatcher shared with Entertainment Weekly. "And those fans are going to live vicariously through these characters and their happy ending."