The 2023 CMA Awards Couldn't Resist Talking About Taylor Swift & Travis Kelce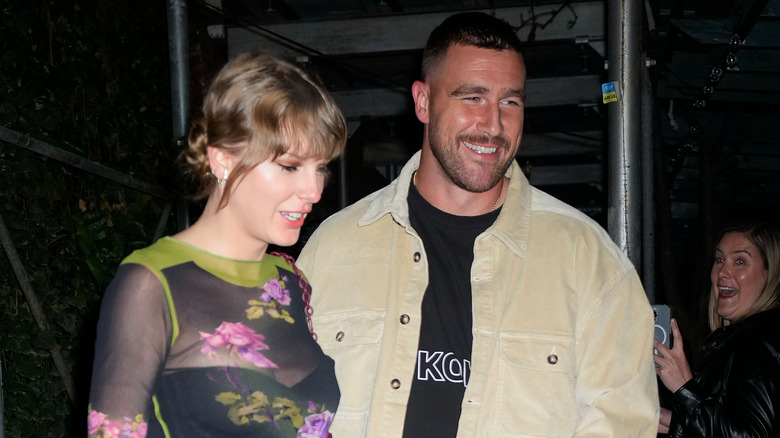 Gotham/Getty Images
What do a singer and a pro football player have in common? So much more than you think. And no, we're not talking about Taylor and Travis — but yes, we are talking about Taylor and Travis.
The Country Music Awards were held on Wednesday night, and after Jelly Roll and Wynonna Judd brought down the house, the show's hosts welcomed the crowd at the Bridgestone Arena in Nashville. This year's hosting duties went to singer Luke Bryan and former pro football player Peyton Manning. It was the second time the duo had emceed the show, and their jokes were on trend.
"We are back," Manning declared. "And you know what that means." Bryan jumped in with the punchline, putting on an exaggerated disappointed face. "Yep, Travis and Taylor weren't available." The former Broncos quarterback chimed in over the audience's laughter, "Yep. Exactly." The CMA hosts were, of course, referring to singer Taylor Swift and her boyfriend, Kansas City Chiefs tight end Travis Kelce. But the fun didn't stop there.
What does Taylor Swift not have in common with the Jets?
Since Taylor Swift started up her romance with football player Travis Kelce, she's sparked a whole new interest in the sport. There are memes and late-night jokes, backed up with statistics and facts, about how she's turned her Swifties into pigskin patrons. 
Well aware of the singer's power to incite fans into snatching up concert tickets faster than, well, a football game, the CMA hosts couldn't resist another joke in their opening monologue. Peyton Manning asked Bryan, "Luke, you know the difference between Taylor Swift and the New York Jets?" Luke Bryan paused for only a second, held up a finger, and retorted, "Uh, Taylor can sell out a stadium?" While the audience filled the arena with their "Awww, burn!" reaction, Manning simply said. "You nailed it."
While the hosts may have been referring to Swift's singing success, they may also have been alluding to the chart-topper's presence at the October 3 football game between the Jets and her sweetheart's team, the Chiefs. The match brought in 27 million viewers, earning it the distinction of being the most-watched Sunday night program since January's Superbowl.