Diana Nyad's Short-Lived Time On DWTS Was A Dream Come True For The Swimmer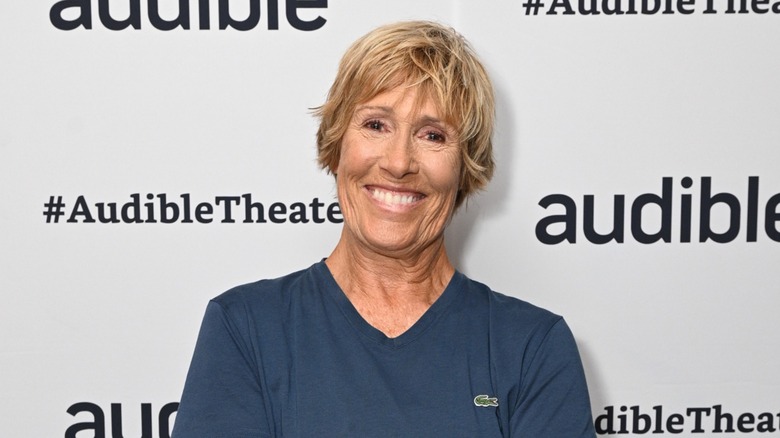 Bryan Bedder/Getty
The truth about winning "Dancing With the Stars" is that it takes some serious hard work. Anyone who joins a reality competition show runs the risk of being sent home earlier than they would like — after all, only one team can win. Diana Nyad is most well known for accomplishing a remarkable feat in 2013 when she swam from Cuba to Florida without a shark cage, the first swimmer to do so on that route. She was subsequently a contestant on "DWTS" Season 18, and it was a dream for the athlete to compete.
Nyad was disappointed when she was one of two contestants sent home in the second episode (the other was another athlete, hockey player Sean Avery). After being told she was eliminated, Nyad shared that performing on the show was something she had wanted to do for a long time. "It's spectacular, the spirit of it," Nyad said. "Everyone since Neanderthal days has danced. It's joy, it's freedom," (via YouTube). 
The accomplished swimmer also complimented her professional dance partner, Henry Byalikov, and admitted she wished she could've stayed in the competition longer just so she could have continued dancing with him. Fortunately, Nyad and Byalikov got to perform their second (and final) dance of the show before exiting.
Nyad joked that she would've won under different circumstances
According to ABC News, in an interview with "Good Morning America" following her elimination, Diana Nyad acknowledged that she didn't expect two teams to be eliminated at once. The swimmer also argued, "It was too short." Referencing her famous swim from Cuba to Florida, Nyad added, "If the dance had gone on for 53 hours nonstop, I think I would have beat everybody."
After her first week on "Dancing With the Stars" and before her elimination took place, the athlete was also interviewed by TV Guide and shared her goal for the first performance. "Didn't care about the judges scores, didn't care about anything," Nyad said. "I wanted to make Henry [Byalikov] proud of me. And he said that was the best I ever did it."
Nyad also noted that there was a learning curve to dancing in heels and that although her swimming abilities didn't translate to the dance floor, she wasn't feeling it yet, unlike some of her fellow contestants.
The swimmer shared updates on her brief DWTS tenure
There's no denying Diana Nyad's excitement about performing on "Dancing With the Stars." In an Instagram post featuring a shot of her and her dance partner Henry Byalikov, Nyad revealed how she'd dreamed of being on the show since it began. Additionally, "I can't speak for the other 'Stars' and what they're in it for, but for me it's simple. I want to leave this show a dancer."
Nyad also shared several posts asking people to vote for her and Byalikov, using their dance team mash-up name "Nyadikov" in hashtags accordingly. After she was sent home, the swimmer posted another photo of the duo, clarifying, "#DWTS end for me and my sterling partner @HenryByalikov ... A grand experience ... thanks for all your support!!"
Sadly, fellow Season 18 contestant Billy Dee Williams (who you may forget starred in an episode of "NCIS") had to bow out of the show in the third week due to a back injury. Nyad shared a throwback photo of her and Byalikov dancing on the show and expressed that she missed practicing for it — even more so now that Williams was no longer competing.