Drew Scott Knows What Makes Brother Jonathan & Zooey Deschanel's Relationship So Special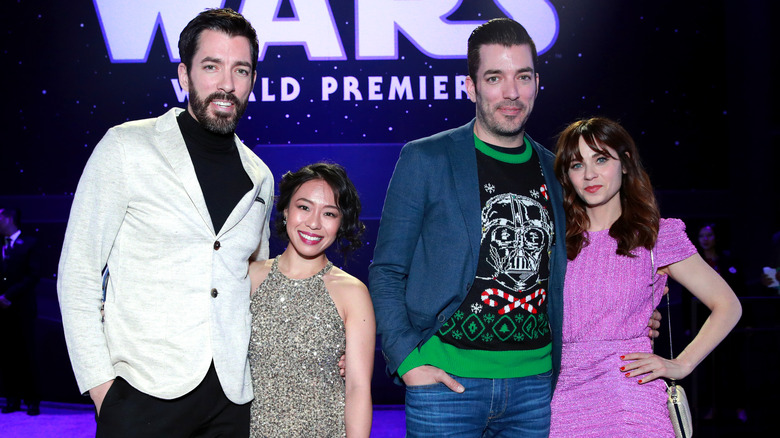 Rich Fury/Getty Images
Zooey Deschanel and Jonathan Scott are living proof that you can find love in the strangest places. The celebrity couple first met when they filmed a "Carpool Karaoke" segment, in August 2019, with Zoey's sister, Emily Deschanel, and Jonathan's brother, Drew Scott. Just a month later, Zooey ended her four-year marriage to Jacob Pechenik, and in October, she went Instagram official with Jonathan. They thrived for the next year few years, and in August 2023, Jonathan popped the question by bringing Zooey's children into the proposal plan. 
Speaking to People, Drew gushed that he couldn't be happier about Jonathan's engagement because he and his wife, Linda Phan, instantly knew that the "New Girl" star was the one, and it was only a matter of time. Drew also revealed the secret behind his brother's relationship with the actor: "I think it's how much they care for each other. Big things and the little things." The HGTV star elaborated, "They treat each other with respect, and they truly are just loving with each other. And I've seen a lot of relationships in the past where you don't get that." 
Drew also shared that even though Jonathan doesn't have any biological children yet, he relishes being a stepfather to Zoey's two kids from her previous marriage. The "Property Brothers" star hit the nail on the head with his views because Zooey and Jonathan truly seem to understand co-parenting and creating a sense of family, all while making time for each other.
Zooey Deschanel's kids have a cute nickname for Jonathan Scott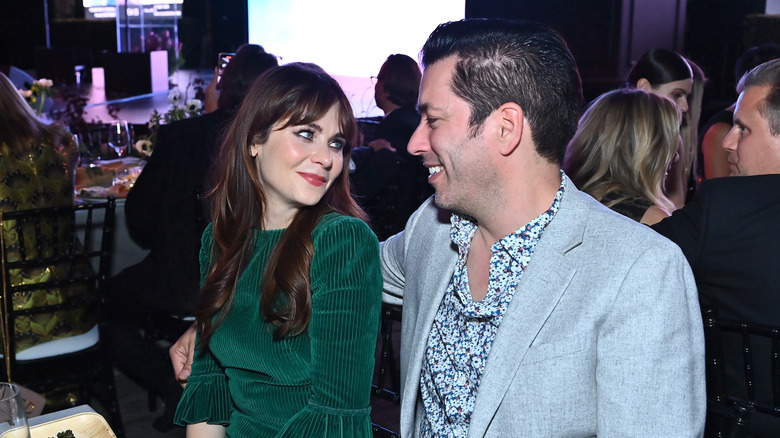 Stefanie Keenan/Getty Images
In an interview with Today, Jonathan Scott reasoned that he always had the foundations for being a good dad since he previously worked as a clown and a magician. The reality star acknowledged that fatherhood changed his life by flipping his priorities and helping Scott find joy in ordinary things like school projects and performances. The "Property Brothers" star also recalled the sweet moment he realized that his stepchildren also saw him as a parent: "Our youngest came back from school with a picture that he had drawn, and in the picture, he has Mommy and Daddy and Jonathan and his sister and our puppies." 
Scott added, "He had drawn this whole picture. This is his happy family." The proud stepfather loved how the children made a place for him in their family by considering Scott a "bonus dad." The HGTV stalwart adored that title because it just meant they had three people who loved them more than anything. Initially, Scott struggled with finding a good name for the kids to call him. 
He told People that both Daddy and Papa were already taken by Zooey Deschanel's ex and her father. Fortunately, the kids helped by calling him "My Jonathan." But the name also came with some downsides because they often used it to correct their friends who thought Scott was their father. Once Scott built up a rapport with the kids, he gently let them know how it made him feel. 
The celebrity couple keeps the spark alive through acts of service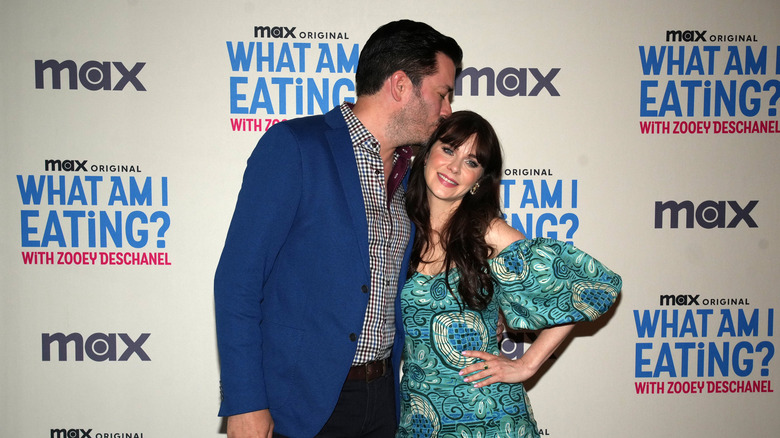 Jeff Kravitz/Getty Images
As Jonathan Scott told People, he couldn't be a good parent without also being a supportive partner to Zooey Deschanel. The "Celebrity IOU" star explained that both of them contribute to the housework by focusing on their strengths. Although Deschanel regularly cooks their meals since she's so good at it, Scott cleans up after and even takes over sometimes to give his fiancee a much-needed break. While this may seem mundane, it's exactly the type of thing that makes their relationship work. And over the years, we've seen several adorable examples of how they've used little things to solidify that connection.
Whether it be anniversaries, birthdays, or Christmas, the happy couple regularly shares cute messages for each other to celebrate the occasion. Deschanel's 2021 Instagram post for Scott's birthday offered us a glimpse into their uncomplicated home life, as she wrote, "Happy birthday to my kind, sweet, wonderful, hilarious, clever, generous, caring, handsome gentleman who sometimes orders pizza and grilled cheese at one meal." 
For Valentine's Day 2023, Scott took a page out of "10 Things I Hate About You" and read off 10 things he loved the most about Deschanel. If you think that's cute, he captioned the reel with: "It was NOT easy to narrow the list to only 10." In several of these posts, the two have even deemed themselves the luckiest people on the planet because they get to spend their lives together. The couple also keeps their spark alive with romantic getaways.