How HGTV's Jonathan Scott Brought Zooey Deschanel's Kids In On His Proposal Plan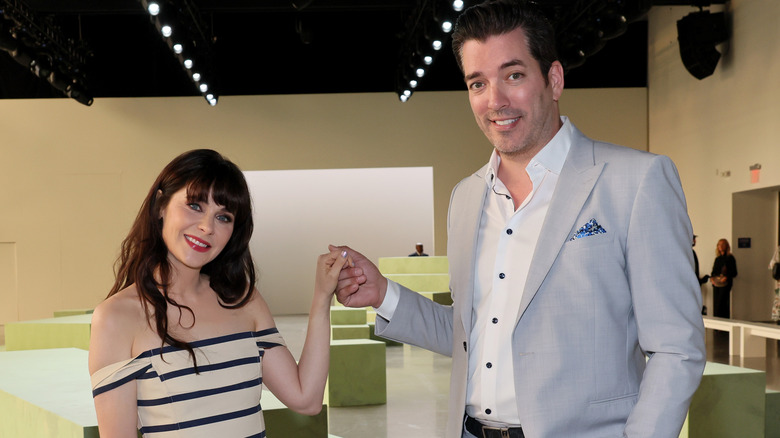 Dia Dipasupil/Getty Images
HGTV star Jonathan Scott and "New Girl" actress Zooey Deschanel's relationship has been swoon-worthy from the first moment, as Scott was instantly obsessed with Deschanel while filming an episode of James Corden's "Carpool Karaoke." Unsurprisingly, the couple's August 2023 engagement wasn't any less adorable — thanks in large part to Scott's inclusion of Zooey's two kids, Elsie and Charlie, in the big proposal moment.
The couple opened up about their romantic engagement story in an October 2023 issue of People, which started at Edinburgh Castle in Scotland. Scott, Deschanel, and the kids looked on as a bagpipe band gave way to a guitarist playing Neil Young's "Harvest Moon." Then, the "Elf" actress' two children unfurled a banner that read, "Zooey, will you marry me?"
Despite how passionate Deschanel and Scott's relationship has been from the jump, Deschanel said she was "clueless" that the proposal would happen. Scott mentioned that he kept it a secret from the kids until the moment in the castle, and Deschanel agreed it was the right call, adding, "They would've told me immediately."
Zooey Deschanel's daughter had a very important question after the proposal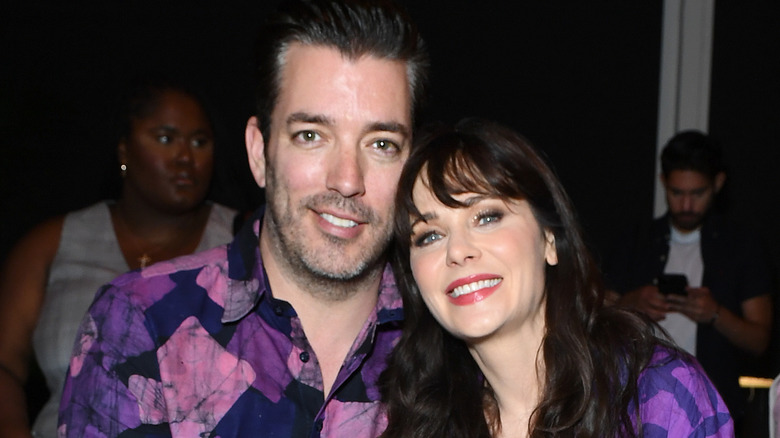 Dave Benett/Getty Images
Although it took some time for Zooey Deschanel's kids to approve of HGTV's Jonathan Scott, the proposal was a joyous time for the whole family. Scott described Deschanel's daughter Elsie's reaction to reading the banner she and her brother were holding: "When Elsie turned around and read the sign, she immediately goes, 'Did you just get married?' And we're like, 'Well, no, not yet. But we got engaged!'"
Scott said that Elsie's follow-up question was whether she could be a flower girl at the couple's wedding, which, of course, was a request they happily accepted. "It was really sweet to have them there, too," Scott recalled to People. Not present at the proposal but equally excited about the engagement were Deschanel's parents, who had known about — and approved of — Scott's plans for months leading up to their trip to Scotland.
The "Property Brothers" carpenter said Deschanel's parents already considered him family, and his bride-to-be has long been vocal about Scott's willingness to be a helpful son-in-law to her folks. "He is really sweet to my parents, and whenever they have any kind of thing that needs fixing, he just goes over and fixes stuff for them," Deschanel told People years before their engagement in October 2021.
The couple's engagement wasn't perfect, but it was pretty darn close
While Jonathan Scott and Zooey Deschanel's engagement details are over-the-moon sweet, the proposal didn't go off without a single hitch. Luckily, the one less-than-perfect element of the couple's big day was one that was easily forgivable. Scott admits that he botched Deschanel's engagement ring pretty badly, but only because it ended up being the wrong size. 
Scott bought Deschanel an appropriately cute and feminine "Folie des Pres" ring by Van Cleef & Arpels, which features three gemstone flowers made of white diamonds and purple and pink sapphires, per National Jeweler, which retails for $42,900 pre-tax on the Van Cleef & Arpels website. The HGTV star first ordered a 5.5, which was later downsized to a 5 before settling on Deschanel's perfect fit of a 4.75. 
Regardless of the sizing issue, we'd say he did a pretty good job with Deschanel's engagement ring, opting for Folie des Pres after Deschanel had mentioned she liked it over a year before he would ultimately pop the question. "I immediately screen-grabbed that and held onto it for a long time," Scott said. If his attention to detail and his future wife's wishes are any indication, there will be plenty more swoon-worthy moments of these lovebirds' relationships to come.