The Wedding Cottage Scene Hallmark's Brendan Penny Credited Erin Krakow For Bringing To Life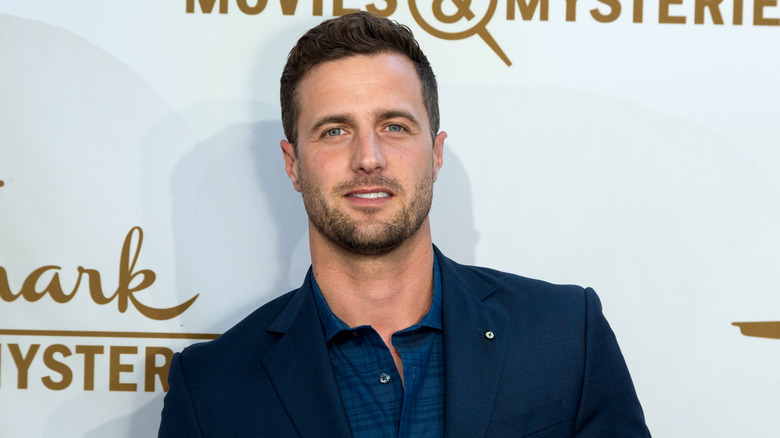 Greg Doherty/Getty Images
Brendan Penny and Erin Krakow, both established and well-loved stars on the Hallmark Channel, finally collaborated for the first time on "The Wedding Cottage." Each actor has thrived in their respective projects, with Penny having a major role in the series "Chesapeake Shores" and Krakow being most well-known for her leading role in "When Calls the Heart," but the two worked rom-com magic when they came together.
In fact, Penny opened up about how much he enjoyed working with his seasoned co-star, even mentioning a specific scene that she really brought to life. In the sweet flick, Penny plays Evan, a New York City-based artist who relocates to the titular cottage to work through his creative block. Meanwhile, Erin plays Vanessa, a wedding planner desperate to renovate the once-picturesque cottage to make her client's dream come true and to further her career.
It's the scene in which Vanessa finally convinces Evan to let her renovate the cottage that Penny highlighted as one that wouldn't have worked nearly as well without his co-star. "Just the way that Erin played it made me laugh," the actor explained to Just Jared. "It actually just became one of my favorites by [the end]." Evidently, Krakow made a serious impact on him.
Penny originally had doubts about the scene
In "The Wedding Cottage," Erin Krakow's character, Vanessa, finds that the cottage venue of her wedding planner dreams is owned by a standoffish artist (Brendan Penny) who isn't open to her desired renovations. Nevertheless, she doesn't give up on trying to convince his character to let her take a stab at the dilapidated property, eventually winning him over.
"I say, okay, I will accept your offer and your ability to work on the cottage as long as it doesn't affect me," Penny detailed to Just Jared. He continued, "I really enjoyed that scene because on paper it was kind of a long scene and it didn't really seem like it was going too much anywhere. It was a well-written scene, but I wasn't really sure about it."
The Hallmark star went on to credit Krakow for bringing the sequence to life, mentioning that her comedic acting abilities were what ultimately sold it for him. "It was just so fun to shoot and watch her work," Penny added. "It was great."
The actor really enjoyed working with Krakow
In addition to discussing the magic she brought to filming certain scenes, Brendan Penny also talked about his general experience collaborating with Erin Krakow on "The Wedding Cottage." The "In Merry Measure" star gushed in a Hallmark interview about how thrilled he was for the opportunity to finally collaborate with the network veteran, alongside his buddy, director Terry Ingram (via YouTube). 
Thankfully, when speaking with TV Goodness, Penny shared that he and Krakow hit it off from the very beginning. "We just got along kind of really well. I talked to her the day before [filming started] on the phone and she just sounded cool and easy," he said. "We just kind of hit the ground running and didn't have any problems with each other or any hiccups. We worked really well right from the get-go."
Beyond the smooth shooting process, they also had plenty of laughs behind the scenes — something that Krakow documented on Instagram. Penny confirmed that he typically has a good time on set, "But this one was a little laughter overdrive," adding, "[Krakow] definitely hits my funny bone for sure."