Taylor Swift Fans Aren't The Only Ones Worried About Her Travis Kelce Romance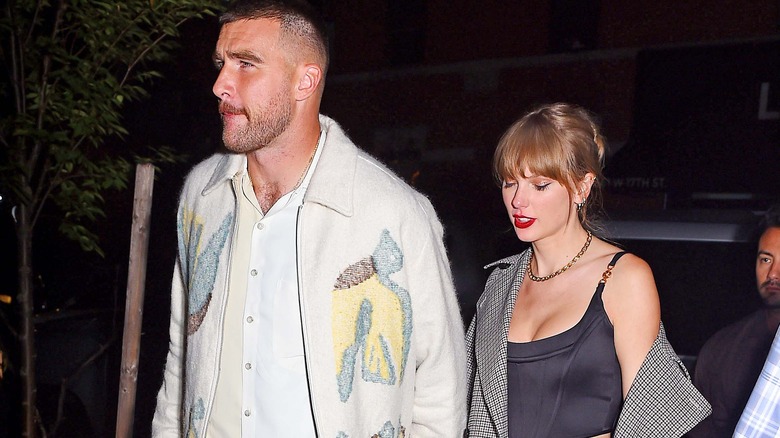 Mega/Getty Images
The public has been obsessed with Taylor Swift's dating life throughout her entire career. From her young romance with Taylor Lautner to her controversial and famed relationships with John Mayer and Jake Gyllenhaal, and even her six-year — and immensely private — relationship with Joe Alwyn, fans have never stopped keeping score. Speculation about which songs relate to which romance is a tried and true pastime for Swift fans, as is the habit of discussing those romances themselves. 
True to form, Swift's current and highly publicized whirlwind romance with NFL star Travis Kelce has also been the talk of the Swiftie world. But now, it's becoming apparent that it isn't just Taylor's fans who have big opinions about the relationship; her friends are weighing in as well. As it turns out, they are less enthused than Swift herself seems to be about the speed, intensity, and highly public nature of the duo's partnership.
They aren't alone in their concern. Travis Kelce's family is also coming forward with some honest worries, specifically about the spotlight shining on the footballer thanks to his proximity to Swift. But if both Travis and Taylor appear happy, what exactly are the people closest to them worried about?
Travis Kelce's brother Jason speaks out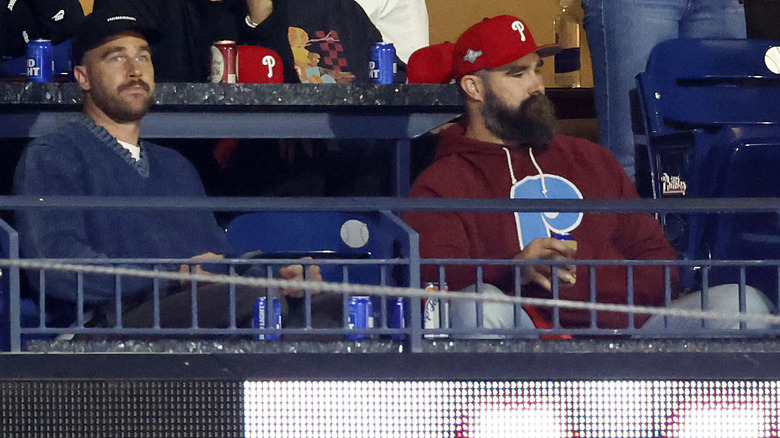 Sarah Stier/Getty Images
As far as Travis Kelce's brother Jason Kelce is concerned, the issue isn't about Taylor Swift herself, but about the immense spotlight that follows her around. 
Speaking with NBC Sports' Peter King on Sunday, Jason spoke about the attention his brother is getting thanks to his relationship with Swift. "It's certainly been weird, the level that it is now," he said. "On one hand, I'm happy for my brother that he seems to be in a relationship that he's excited about, that he is genuine about. But there's another end of it where it's like, 'Man, this is a lot.'" 
Jason explained that while NFL stars do get their fair share of media attention, it generally isn't as intense as the attention that Swift (and thereby anyone she dates) gets. "This is another level of stardom that typically football players don't deal with," he said. "There's some, I think, alarms sometimes with how, you know, over-in-pursuit people can be." 
Jason summed up his feelings about the situation by saying he knows his brother can handle it, but that he does worry that the unending attention could at some point become dangerous to Travis' personal safety. People close to Taylor Swift, however, have different concerns entirely. 
Gigi Hadid and Selena Gomez concerned about the Swift-Kelce pairing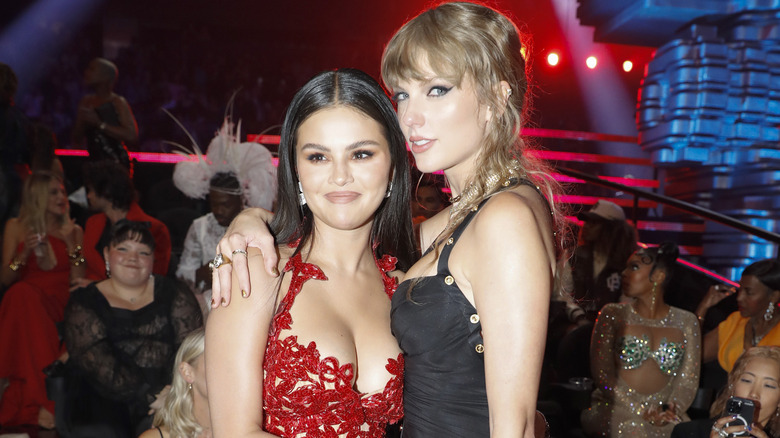 Johnny Nunez/Getty Images
An unnamed source close to Selena Gomez spoke with Page Six about how the "Only Murders in the Building" star feels about her friend Taylor Swift's current romance with Travis Kelce. Her concern, reportedly, is that Swift and Kelce are "moving too fast." 
"Selena thinks Taylor going to games and galavanting through New York immediately after just meeting Travis is something that is very unlike her," the source said, citing how private Swift has generally been about her relationships in her adult life, especially her most recent longterm partnership with Joe Alwyn. Because of this, Gomez reportedly finds the way Swift is treating her romance with Kelce "alarming." 
And she's not alone. According to Us Weekly, who spoke with a source close to Gigi Hadid, the model has similar concerns about the Swift/Kelce union. "One of the reasons Gigi hasn't attended any of Travis' games is because she doesn't agree with the way Taylor has been acting with [him]," the unnamed source told Us Weekly. The friend of Hadid's also said that the model "feels like Taylor is doing too much, too soon" with Kelce.