Why Patrick Dempsey Is Glad His Sexiest Man Alive Title Came Later In Life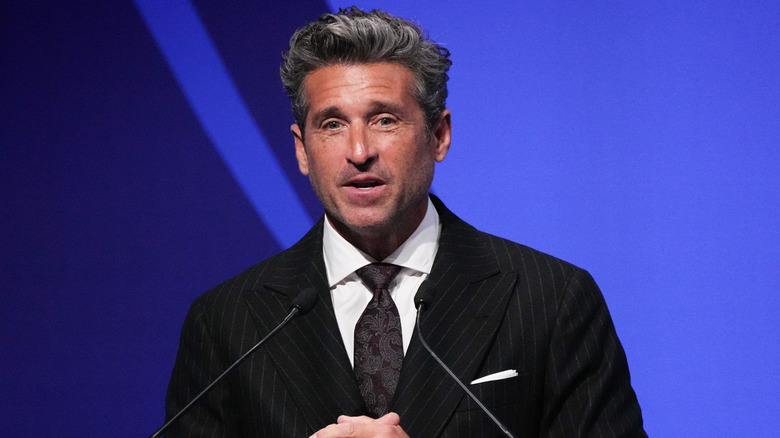 John Nacion/Getty Images
"Grey's Anatomy" alum Patrick Dempsey was named People's Sexiest Man Alive in 2023, a title bestowed upon fellow actor Chris Evans the previous year. The announcement came during an appearance on "Jimmy Kimmel Live," according to CBS News. "I'm just happy they made a decision, and it was me this year," Dempsey shrugged. "I'm very grateful." The "Can't Buy Me Love" star also revealed that his family almost couldn't believe the news.
The man who brought Dr. Derek "McDreamy" Shepherd to life has graced the cover of People magazine several times, but he was still surprised to win the magazine's most coveted title. In 2007, People named him the "Star of the Year," putting Dempsey on the cover. He also fronted the magazine in 2016, when People interviewed him about his career and family life. 
Over the next few years, they featured Dempsey along with other stars on the cover, but he wasn't really in the spotlight. However, the Maine native couldn't be happier about how things turned out. "I'm glad it's happening at this point in my life," he told People. Overall, Dempsey sees the honor as an opportunity to spread the word about his philanthropic work and make an impact. 
The Grey's Anatomy star is a real-life hero
We have all witnessed the stunning transformation of Patrick Demsey over the years, and his outstanding performances in "Grey's Anatomy," "Lucky 7," "Bridget Jones's Baby," and plenty of others kept us glued to the screen. Besides Dempsey's talent and good looks, the actor is a real-life hero. In 2008, he founded the Dempsey Center, a nonprofit organization offering support services for cancer patients and their families. Those who enter its doors receive free counseling and access to support groups, massages, reiki, nutrition classes, and more.
Dempsey started the foundation in honor of his late mother, who was diagnosed with ovarian cancer in 1997 and passed away in 2014. "She was a tremendous symbol of hope in this community," he gushed in an interview with Today. His mother volunteered at the Dempsey Center, trying to help others cope with the disease. In 2009, the "Enchanted" star raised nearly $1 million for his foundation through the Dempsey Challenge. The event brought together over 3,500 cyclists, runners, and walking enthusiasts in honor of his worthy cause.
Four years later, Bowdoin College awarded Dempsey an honorary doctorate for his work in the cancer community. The actor hoped that being named the Sexiest Man Alive would allow him to do even more good out in the world. "It's nice to have the recognition, and certainly my ego takes a little bump, but it gives me the platform to use it for something positive," he asserted to People. 
Patrick Dempsey put a lot of effort into his photoshoot for People
The "Grey's Anatomy" breakout has always been in great shape, but posing for People required some additional effort. "I fasted for a month [prior to the photoshoot]," Patrick Dempsey admitted on "Jimmy Kimmel Live." He also worked out and avoided bread products so he could look his absolute best. A few weeks after the photoshoot, the "Ferrari" star confirmed to People that he enjoys staying physically active. Dempsey usually starts his day with an at-home workout, followed by a friendly game of tennis with his kids, a spot of cycling, and other activities. 
"You feel much better that way," he argued. Dempsey also acknowledged that his intense work schedule interferes with his exercise regimen, though. However, he tries to hit the weights room at least three days a week. The actor also has a balanced diet, with occasional indulgences. "I just love bread products, and my daughter's a great pastry chef, and she's always experimenting — so I'm always eating that," he shared.
In 2012, Dempsey confessed to the Los Angeles Times that he loves sugary treats too, especially doughnuts. But even so, this didn't stop him from winning the coveted title of Sexiest Man Alive. We can't wait to see how he uses this designation to make the world a better place.