Meet The Young And The Restless Star Jason Thompson's Two Kids, Bowie And Rome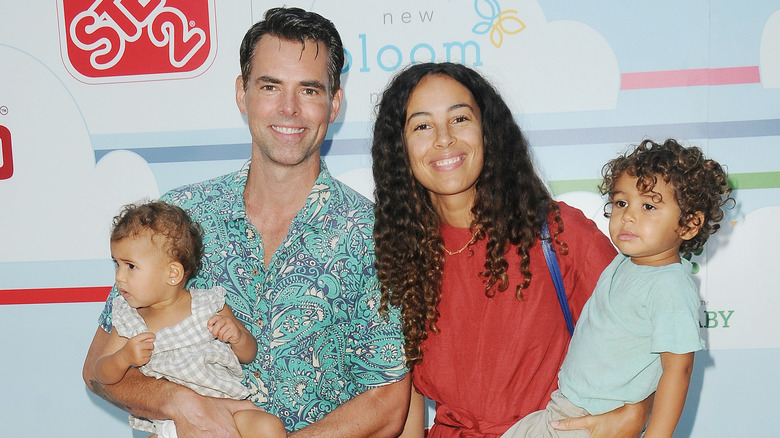 Jill Johnson/jpistudios.com
Jason Thompson is one of the many actors who have played Billy Abbott on "The Young and the Restless." He's a father, a brother, a son, and a drama-starrer all in one. While Thompson has certainly learned how to navigate life in the fictional town of Genoa City with all the make-ups, break-ups, and high-impact drama, his life off-screen is just as busy, if not as headline-worthy. Jason Thompson and his wife, model Paloma Jonas were forced to start a new chapter in their lives after California's Woolsey wildfire consumed their home back in 2018, as detailed on the actor's Instagram account. Before then, they started their new family life while Thompson continued to make his mark as the troublesome Billy on "Y&R."
Raising a family while filming episodes for a hit CBS soap several times a week is no walk in the park, but Thompson makes it look easy. Just like the fictional character that he plays on "Y&R," Thompson has learned just how much he loves being a husband and a father in the lives of his wife and their two children, Bowie and Rome. Like the Abbotts, the Thompsons aren't your typical clan. Thompson and Jonas are raising their kids in a way that involves taking a few steps back before taking one leap forward.
Jason Thompson's balanced family life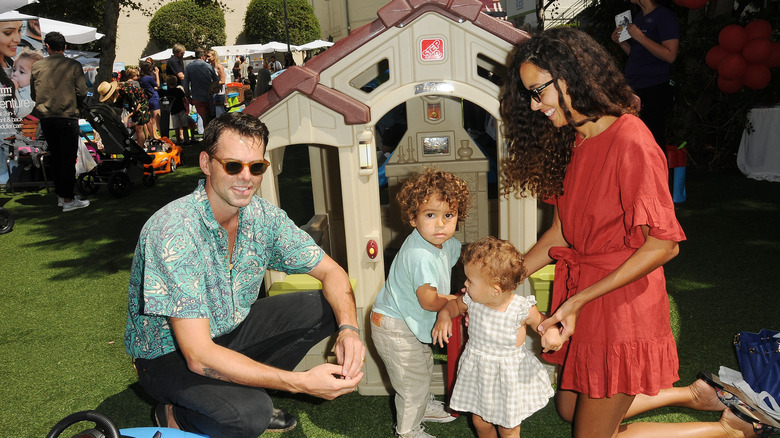 Jill Johnson/jpistudios.com
For Jason Thompson, 2016 happened to be a very special year for him. His personal life changed along with his professional one. Not only did he make the switch from "General Hospital" to "The Young and the Restless," but he and his wife Paloma Jonas also welcomed their first child, a son named Bowie, according to Instagram. A year later the couple also welcomed their daughter Rome in September 2017, also per the actor's Instagram page.
Living under the California sun, the Thompsons are an outdoor family. They also do almost everything together as a unit, whether it's enjoying the snow or relaxing at home. Thompson makes it a point to put his family first, despite his busy "Y&R" filming schedule. He told Soap Opera Digest in 2019 that he's managed to strike a good balance between his work and his family life at home. He said, "My kids get to have a dad that's around quite a bit and that's just been amazing. There's been times where I've wanted to branch out and do different things but in this moment, right now, there's not a better job in the world for me." Thompson has also incorporated his family life into his work life, as his kids also get to spend quality time with some of his co-stars like Peter Bergman, per Instagram.
But when it comes to the glue that keeps the family together, Thompson gives credit where the credit is due.
Jason Thompson and Paloma Jonas are partners and parents in crime
In his same interview with SOD, Jason Thompson credited his wife Paloma Jonas for being the rock in his life and the driving force behind their family. He said, "She's just an amazing person and doesn't have a selfish bone in her body. And as a mother, as a partner, that's huge. It means a lot to me." It's a good thing that Thompson and Jonas have each other to count on as partners and parents (and maybe even Peter Bergman to babysit), as their children Bowie and Rome have entered the high-energy stage of their childhoods. 
Thompson has even shared videos of Bowie belting out his greatest hits with a leaf blower in his hands while his sister Rome has managed to cause a little toddler chaos herself. But it's nothing that Thompson takes for granted, as he says the birth of his son Bowie and fatherhood has changed him for the better. Back in 2019, he dedicated an Instagram birthday post to his son by writing, "Not in my wildest dreams would it ever match who is. I get it, life, love, it's different. It just is. My heart will forever beat a new rhythm."