The Stunning Transformation Of Aria Mia Loberti
Before 2023, chances are you had never heard of Aria Mia Loberti. Now, she's probably one of your new favorite actors. Loberti, who was born legally blind, was a Ph.D. student at Pennsylvania State University studying language and rhetoric when she decided on a whim to send in an audition for Netflix's adaptation of Anthony Doerr's Puliter-prize winning novel, "All the Light We Cannot See." The four-part series takes place during World War II and tells the story of Marie-Laure, a blind French girl who flees Paris with her father (Mark Ruffalo). They hide out at the home of her uncle (Hugh Laurie) in Saint-Malo where, thanks to an unsanctioned radio show, she encounters Werner (Louis Hofmann), a German soldier. 
Director Shawn Levy had put out an open casting call in search of a blind or low-vision actor who could take on the lead role of Marie-Laure. Although Loberti had never acted before, she blew Levy away and won the role. 
Now, Loberti plans on continuing her acting career while also fighting for more diversity and representation in Hollywood. Curious to learn more about the young woman who was plucked from obscurity to star in a Netflix series? Here is the stunning transformation of Aria Mia Loberti.
Aria Mia Loberti grew up with achromatopsia in Rhode Island
Aria Mia Loberti was born in the 1990s with achromatopsia, a condition that renders her with very poor vision, color blindness, and hypersensitivity to light. Loberti grew up in Johnston, Rhode Island in what she told Marie Claire was a "lower-middle-class family." 
Loberti grew up very much aware of the discrimination those with disabilities face. As a young girl, she struggled to imagine herself fulfilling her dreams. Her school didn't provide adequate support for her, so she ended up being homeschooled for most of elementary and high school.
"I've been thinking a lot about seven-year-old Aria, who used to dream about getting an equitable education, having a black Lab guide dog, wearing a blazer jacket like her dad, and being on stage — who used to wish everyday that someday she'd make it to college, where she wouldn't have to fight for her right to an education, where she'd find a community," she wrote on Instagram in 2018. She didn't know it then, but all of those dreams would one day come true.
Aria Mia Loberti struggled to fit in as a young blind girl
As a young girl, Aria Mia Loberti struggled socially because of her disability and her self-esteem suffered as a result. "I was not secure or comfortable with myself, with the people around me, with sharing this part of my identity," she told Vanity Fair. "I felt like it was wrong for most of my life, and I was told that it was wrong." 
As a result, Loberti did her best not to stand out because she was afraid of how others would treat her. "I did everything I could to hide," she told Marie Claire. "I thought to myself, 'As soon as I leave the house, the world is going to mistreat you.'" She even began to dress in clothes that would help her blend into the background — namely, a lot of big sweaters. "It wasn't fashion-forward," she explained. "It was armor." 
Aria Mia Loberti put on shows for her parents as a child, but also showed the signs of being a future advocate
Even though Aria Mia Loberti shied away from public places, at home with her family, she felt comfortable enough to be herself — and, as it turns out, this version of herself was actually very outgoing. She loved acting and singing and often put on one-woman performances for her parents. While she no doubt could have joined the ranks of early 2000s child stars you wouldn't recognize today, she never thought she'd be able to act for anyone else. "I just didn't think that I could ever be an actor—it never crossed my mind that that was an option because of who I am," she told Vanity Fair.
While Loberti may have tried to hide away rather than face discrimination, she also showed early signs of being a future advocate who would stand up for her rights and the rights of other disabled people. "My mom tells a story that when I was really little, I used to line up all my dolls and stuffed animals in rows and give a speech to them or perform or pretend to be a lawyer and advocate," she recalled to The University of Rhode Island's Rhody Today. "Looking back, I realize storytelling and performing were always a part of me. I think having to advocate for myself from a very, very young age instilled in me that storytellers have a lot of power."
Aria Mia Loberti trained in ballet and martial arts as a girl
As a child, Aria Mia Loberti didn't study acting, but she did study both ballet and martial arts. In an Instagram post from 2018, Loberti shared an image of her in a black tutu as a child in honor of World Ballet Day. Then, in 2020, she shared a picture of herself in a dance pose in front of London's Royal Opera House. "Many, many years of preprofessional ballet training are not lost on me. Please remind me of this next time I trip," she wrote in the caption. 
In another post, Loberti shared a video showing her fight training. "Self-Defense: Blind Girl Style -white cane bo-staff. ... Daredevil." she wrote. Loberti is also a trained yoga instructor.
When she finally found herself starring in "All the Light We Cannot See," Loberti's physical training proved useful. "I brought a lot from my day-to-day life — my ballet training and martial arts training — with me to the stunts," she told Town & Country.
Aria Mia Loberti was the first legally blind United Nations Youth Delegate
Before she even headed to college, Aria Mia Loberti was selected to be the first legally blind United Nations Youth Delegate to represent American women with disabilities. As part of her work with the U.N., she attended the U.N. Human Rights Summit and also helped U.N. Women expand support for women with disabilities. In 2016, she was honored as a U.N. Outstanding Youth. "I learned that I can meet challenges," Loberti told The University of Rhode Island. "I cannot live and thrive without all of this activity. There are so many voices that do not get heard, and I am remiss if I don't use my voice to help others."
In 2016, Loberti posted on Instagram about her experience speaking at the U.N. She expressed her disbelief at having such a wonderful opportunity to advocate for blind people. "This is the best finale I can ever imagine to my last summer before college," she said. 
Aria Mia Loberti was a Fullbright scholar in London before starting a Ph.D.
After graduating from high school, Aria Mia Loberti decided to pursue a career in academia because she couldn't imagine acting being a viable option. She completed a four-year degree at the University of Rhode Island, majoring in philosophy, political science, and communication studies and minoring in rhetoric and Ancient Greek, graduating in 2020. She then won a Fullbright scholarship to study ancient rhetoric at the Royal Halloway University of London. 
As a student, Loberti finally felt that she belonged. "The world always told me you don't belong. My immediate family were the only people countering that message," she told Rhody Today. "Then I got to URI and I had a whole community of people who were telling me 'you belong here, you can do these things.'"
After getting her master's degree in 2021, she went on to embark on a Ph.D. in rhetoric at Penn State. As her Penn State bio reads, "Aria's research interests focus on ancient rhetoric, specifically 5th-4th century BCE rhetorical practices in Greece, the works of Plato, the reception of ancient women's voices, and the role of the supernatural." No wonder the director of "All the Light We Cannot See" later described her as "fiercely intelligent" to Vanity Fair.
Aria Mia Loberti auditioned for All the Light We Cannot See on a whim after a bad week
While working on her Ph.D., Aria Mia Loberti's old teacher shared the news that director Shawn Levy was looking for someone to play Marie-Laure in "All the Light We Cannot See" and encouraged her to audition. "I was having a really rotten week. My mental health had been really bad for almost a whole year at that point," Loberti told Vanity Fair. "And it was right after COVID." However, she loved the novel, so she decided to film an audition on her laptop. The audition, which is partly available to view on YouTube, sees Loberti wearing a white frilly top and braids and performing a few lines from the show.
She never expected to get the part. "I just thought I might enjoy the audition, and when it came time for them to reject me, I wanted to ask if they could see someone like me getting involved in local theater," she told Marie Claire. Even when Loberti landed a number of callbacks, she still just thought of the experience as a bit of fun — she actually assumed they would end up casting a "sighted girl," as she told Vanity Fair.
Aria Mia Loberti was shocked to be cast after a giant casting search
Director Shawn Levy eventually cast Aria Mia Loberti in "All the Light We Cannot See." "I found a needle in the haystack, and I found it in the most unlikely of places," he told Town & Country of his leading lady. 
When Loberti landed the role of Marie-Laure, she couldn't believe it. After all, the team had auditioned thousands of women. "It was such a fun audition process and it was very empowering. That's all I was seeking — a new experience, a challenge," admitted to Rhody Today. "I didn't expect anything more to come of it. I think it was just pure shock when I learned."
However, even though Loberti was blown away by the news, she also knew what a big responsibility the role was — and she was up for the challenge. "Though the landscape through which Marie moves is different from my own, our spirit is the same," she wrote on Instagram when she announced the news of her casting in late 2021. "Marie will take root on screen as a fully independent, fully realized, fully empowered character."
Aria Mia Loberti did a lot of work to prepare to play Marie-Laure
After landing the role of Marie-Laure in "All the Light We Cannot See," the work began. In order to get ready to play such a big character, Aria Mia Loberti embarked on an intensive research and preparation period. "I had spreadsheets and notebooks," she told Vanity Fair. Her research consisted not only of getting in touch with her character but also learning more about the time period. She told the outlet that she wrote fanfiction about Marie-Laure and studied up on Saint-Malo. She even found radio broadcasts from that time period to really help make her portrayal authentic.
Then, once she had ingested as much information as she could, she tried to let all of the work go once she arrived on set in order to "be in the present moment." After all, as she explained, her tendency was to overthink everything thanks to her background as a Ph.D. student. "Overintellectualizing is really bad in acting," she said.
Aria Mia Loberti was on set for the first time in All the Light We Cannot See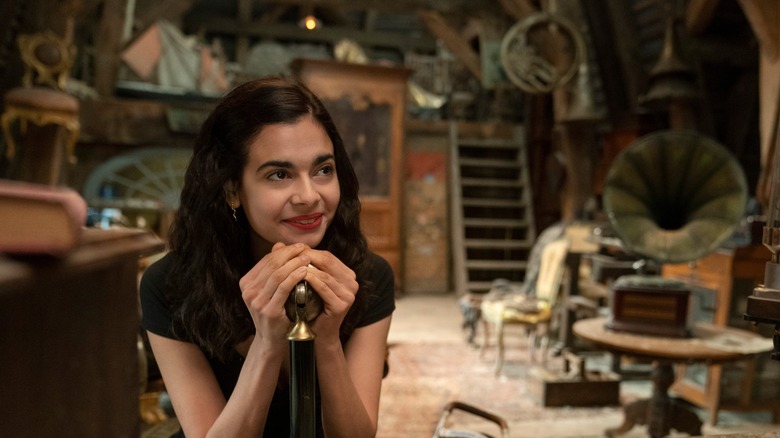 ATSUSHI NISHIJIMA/NETFLIX
Even after all of her preparation, nothing could have prepared Aria Mia Loberti for what a big budget film set is really like in real life. "I had never been on a set. I thought that sets included a director, a camera person, maybe like a lighting guy," she said to Vanity Fair. Of course, there were actually hundreds of people there. Plus, she wasn't ready for the walls of her little attic set to be moved out of the way to make room for the lights and cameras. It was, naturally, pretty overwhelming.
Luckily, the entire team made sure that Loberti felt comfortable on set. "This production was so inclusive; Shawn [Levy] was an exceptional guide, and he allowed me to shadow him in the first few weeks," she told Town & Country. "They shot a lot of Louis [Hofmann's] scenes before they began with my scenes, and during that time, Shawn would take me around set ... Everything was a first."
Aria Mia Loberti learned a lot from her cast mates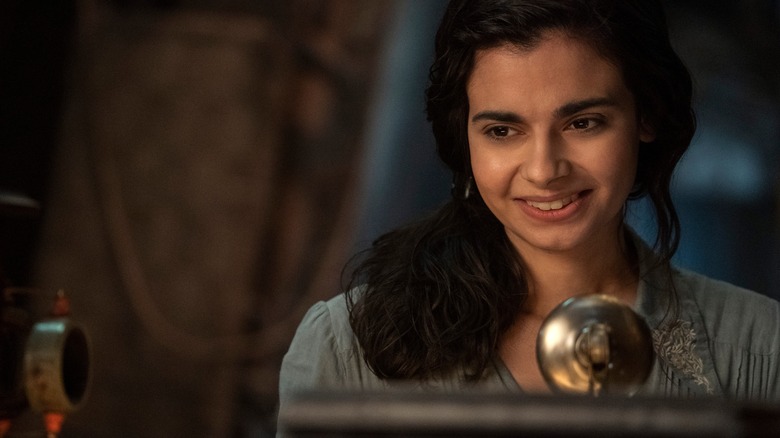 ATSUSHI NISHIJIMA/NETFLIX
Then there was the actual acting. "What was difficult was being a first-time actress," Aria Mia Loberti told Town & Country. In addition to the inclusivity of the set, Aria Mia Loberti's cast mates, "House, M.D." star Hugh Laurie, Mark Ruffalo, and Louis Hoffman helped her find her feet as an actor. "It's been really incredible to work with such an amazing cast," she said in a Behind the Scenes video from Netflix. "Everyone embraced me as not only a newcomer but as someone who wants to create something that's powerful and special and unique." 
She also relied on director Shawn Levy to help her, asking him to be "fiercely honest" with her — which he delivered on. "I was really blunt with her early on, especially in the first several weeks of shooting, where truly she had no idea what she was doing," he told Town & Country. "Little by little, I watched her get great."
Aria Mia Loberti is discovering new confidence in herself after All the Light We Cannot See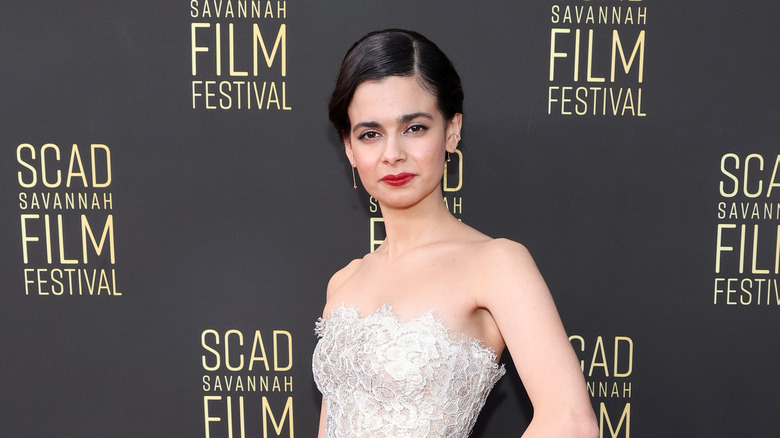 Cindy Ord/Getty Images
Although Aria Mia Loberti was a quiet, shy child who tried to hide herself away from crowds, starring in Netflix miniseries has brought out a whole new side of her. And, as she told Marie Claire in 2023, this new sense of confidence has changed how she presents herself to the world. 
"My clothes and the risks I've taken with them have mimicked the changes in my life — this whole new experience [and platform]," Loberti said. "There's a sort of pride that comes with getting dressed now. I can finally wear the pieces that demonstrate how I feel on the inside."
Loberti is the kind of person who can make a thrifted vintage piece look brand new. She tends to fill her wardrobe with second-hand clothes that make her feel powerful. Sometimes that's traditional masculine clothes, and sometimes, it's pretty feminine silhouettes. "Fashion has become tactile, multi-layered, even sonic for me. In a way, I've realized it can help people get to know me and who I am without having to say anything at all," she said.
Aria Mia Loberti hopes to continue acting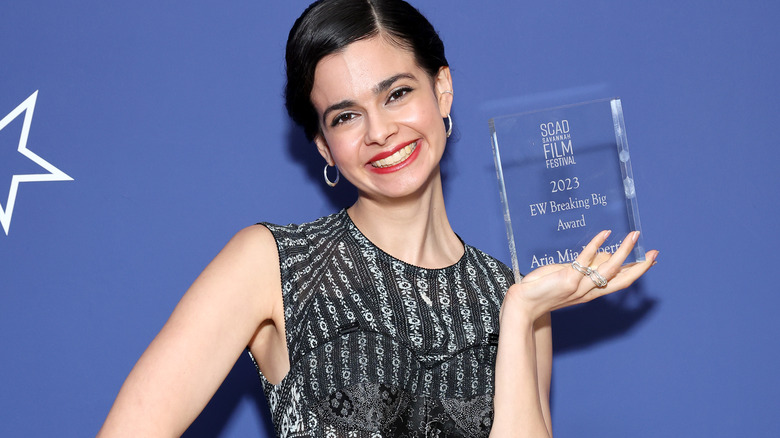 Cindy Ord/Getty Images
Aria Mia Loberti was in her late 20s when "All the Light We Cannot See" hit streaming, and she's looking ahead to what comes. Although she's still working on her Ph.D., she's also determined to keep on acting. "My priority right now is learning about myself as an actor and getting a body of work that I'm proud of," Loberti told Town & Country in 2023. "I was so lucky to get to work with such incredible people on 'All the Light We Cannot See.' I want to continue to make beautiful things with beautiful people. Things that matter."
In November 2023 when the SAG-AFTRA strike came to an end and actors were allowed to return to work, Loberti posted on Instagram about her excitement to get back to a new set in the near future. "I, like so many members of my union and this industry, are delighted to return to work, equitably protected," she wrote. It's sounds like we might be seeing Loberti on our screens again before too long!
Aria Mia Loberti is now speaking up to diversify the industry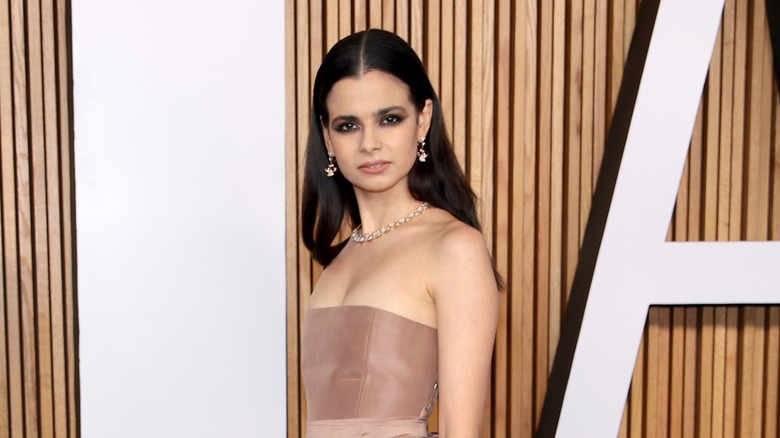 Dimitrios Kambouris/Getty Images
Not only does Aria Mia Loberti hope to keep acting in the future, but she also hopes to become a voice for other blind actors in the industry. While she understands that sometimes sighted people may be given opportunities to play blind characters, she hopes more blind people are given opportunities in the years to come. "Yes, actors are actors and everyone, I believe, should have the opportunity to step into someone else's shoes, but there are countless disabled actors, countless blind actors, I think we need to make the opportunities for fair, equal jobs in this industry and beyond and to tell the stories authentically," she told CBS.
In fact, Loberti believes that her story is proof that change is long overdue. "In 2023, that I am the first actor who's blind to be the lead or have a large role in a Hollywood production of that scale — that's living proof that change needs to happen," she said to Vanity Fair, adding that blind children deserve to have representation. "I have never felt represented," she said. Maybe now, things will finally start to change thanks to Loberti's performance and advocacy.