Meet General Hospital Vet Vanessa Marcil's Fiancé, MC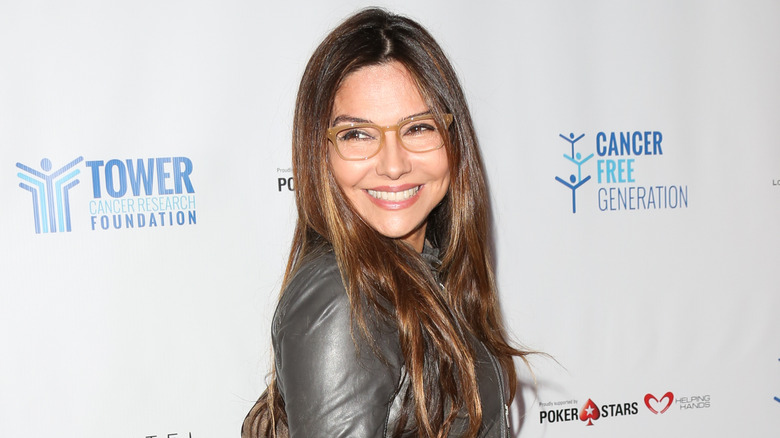 Paul Archuleta/Getty Images
Playing her character Brenda Barrett on "General Hospital," Vanessa Marcil achieved icon status as one of the most unforgettable figures in the daytime television world. But what happened to Brenda will always remain a mystery to fans. Even though Brenda is presumed to be dead, Marcil once said that she'll one day return to the soap. According to Soap Hub, Marcil said that being on "General Hospital" has provided her with some of the best opportunities in her life, and that she owes it all to Brenda. While a comeback isn't in the works just yet, Marcil did state that "It'll happen eventually," meaning Brenda will come back from the dead just in time to give everyone a jolt of shock in this fictional town of Port Charles.
Thankfully, Marcil's life off-screen is not nearly as dramatic as the one Brenda has seen in her short lifetime. That's mostly because she's managed to find both stability and support from one very special person in her life: her fiancé, MC.
Vanessa Marcil's life with MC
It took Vanessa Marcil some time to find the right kind of love in her life. Her relationship with "Beverly Hills 90210" star Brian Austin Green has been very well-documented. The ex-couple welcomed their son Kassius back in 2002, but they ended things a year later, according to Us Weekly. They've both headlines for their co-parenting struggles (per People), and Marcil even admitted in 2020 that she was never really "in love" with the actor, either. She went on to marry actor Carmine Giovinazzo in 2012 but filed for divorce in 2013, according to TMZ. Marcil was also engaged briefly to fellow daytime television and "General Hospital" star Tyler Christopher back in the mid-1990s, as detailed by the New York Post. 
And while Marcil has tried to make things work with other actors in the past, she finally met someone outside of the entertainment industry that made her heart skip a beat or two. Marcil debuted her relationship with the California Deputy she calls "MC" in 2015. He is a veteran of the United States Air Force who had also spent time in Iraq, according to Soaps in Depth. While the couple has managed to stay strong for many years, they've also suffered a lot of heartache, pain, and disappointment, too.
Vanessa and MC's heartbreaks and one very scary hospitalization
Vanessa Marcil is definitely your typical celebrity when it comes to sharing her behind-the-scenes life on social media. She loves to share her highlights and maybe sometimes even her lowlights on her Instagram page with her fans. However, when it comes to the love of her life, her fiancé MC, there's an air of mystery that seems to surround him. Marcil is very careful not to share too many details (including his full name) about him to protect his privacy. But, according to People, they've dealt with some heartbreaking losses together, as Marcil announced that she had suffered her seventh miscarriage back in 2018. Marcil had previously dealt with two miscarriages when she was still married to Carmine Giovinazzo in 2011, per Marcil's X (Twitter) account.
In September 2023, Marcil also announced that MC was hospitalized, per Soaps in Depth. Marcil didn't go into detail as to what had happened, but she did write on Instagram, "Deep gratitude to #TheGrossmanBurnCenter for your care of #MC #firstresponders We see you all who work on the frontlines all night in the ER and the tireless work you all do for our communities." As of press time, Marcil has not provided any further updates on MC, but she did share a cryptic message on Instagram that suggested she was ready to tell all about her love life to her former "GH" co-star and friend, Maurice Benard. We'll definitely be watching.