Why Paris Hilton Fans Were Concerned About Her Son's Health
Gone are the days when Paris Hilton was making headlines for her partying ways. The socialite has undergone a stunning transformation over the years, becoming a successful businesswoman and caring mother. In 2021, she tied the knot with entrepreneur Carter Reum after two years of dating. "Carter actually reminds me of my dad! He makes me feel safe and happy. I finally found the right one," she told People.
Hilton and Reum welcomed a baby boy via surrogate in January 2023. His first name, Phoenix, was inspired by the mythical bird that rose from its own ashes, while his middle name, Barron, is a tribute to the model's grandfather. "I want my son to grow up knowing that disaster and triumph go around and come around throughout our lives. And that this should give us great hope for the future," Hilton wrote in her biography, "Paris: The Memoir" (via People).
In October 2023, the model took her baby on a trip to New York City and decided to share her experience on Instagram. But, as soon as she posted a couple of photos of her son, several fans commented on his appearance, saying his head is unusually large. Some went as far as suggesting that he might have a rare disease called macrocephaly.
Paris Hilton says her son is 'perfectly healthy'
The hotel heiress got mixed reactions after sharing photos of her son on social media. The pictures show Paris Hilton holding the baby in her arms, like any mother would do. "Does he have encephalitis? Like, what is actually going on? I'm not trying to be rude, but that doesn't seem normal," said one of her Instagram followers. "As a pediatric nurse with over 25 years on the front lines, question hydrocephalus," commented another user. Other so-called fans posted GIFs and memes depicting aliens or cartoon characters with oversized heads.
Both encephalitis and hydrocephalus may cause macrocephaly, a condition associated with head enlargement in babies. In some cases, this rare disorder may be due to brain tumors, genetic diseases, or increased intracranial pressure. However, there's no proof that Phoenix Barron Hilton Reum has such problems. His mother actually responded to a TikTok video addressing the criticism received, saying, "My angel is perfectly healthy. And yes, of course, he has been to a doctor; he just has a large brain."
Hilton also shared a message on X in response to the cruel comments about her son. The model said she understands that criticism is part of being a public figure. However, that's not an excuse to mock a child's looks. "This hurts my heart more deeply than words can describe." She also confessed that her entire world revolves around Phoenix and that the time spent with him reminds her of what matters most. 
'The Simple Life' host loves being a mother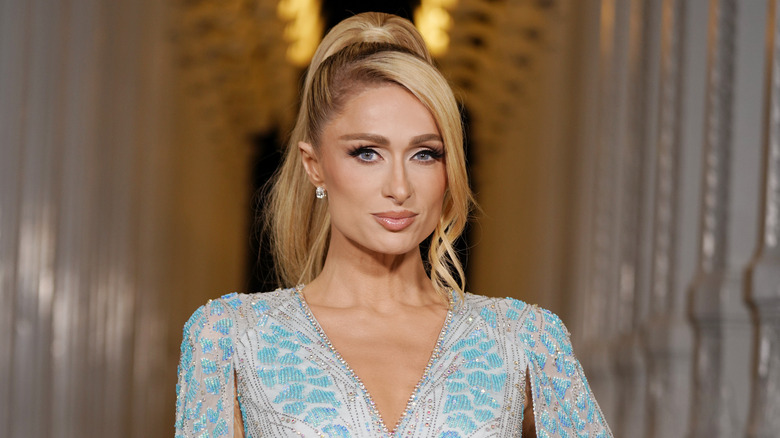 Presley Ann/Getty Images
Back in 2022, Paris Hilton told E! News that she couldn't wait to be a mother. The model wanted not one, but two or three children. In 2021, Hilton underwent in-vitro fertilization (IVF) so she could have twins — a boy and a girl — but all her attempts resulted in male offspring. The reason she decided to use a surrogate is that she didn't feel comfortable giving birth. At some point, she saw a woman in labor, which traumatized her.
But, as it turns out, her baby boy was all she needed to feel fulfilled. Shortly after Phoenix Barron was born, she shared a photo on Instagram with the caption, "You are already loved beyond words." The TV star also told People that her life has changed since becoming a mom. "I thought I knew what love was with my husband, but as soon as I met my baby, it's just this love on another level," she added.
Hilton adjusted her schedule around the baby's needs and decided to put her career second. In her spare time, she enjoys taking Phoenix out for a stroll and visiting her sister, Nicky Hilton Rothschild, so their kids can have playdates. "I'm more interested in babies than billions," she confessed in an interview with Harper's Bazaar.