The Dark Times Robbie Williams Lived Through Before He Embraced Sobriety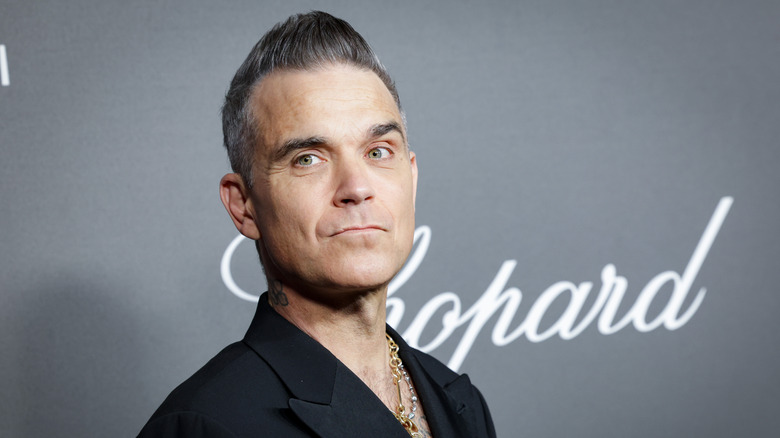 Pascal Le Segretain/Getty Images
When Robbie Williams joined the pop group Take That at just 16 years old, he didn't realize it would change his life for better and for worse. During an appearance on the "Chris Thrall's Bought The T-Shirt" podcast, Williams shared that boyband fame worsened his negative self-image because people were openly commenting on everything he disliked about himself. At the time, the media also made Williams out to be somebody he wasn't, and the singer felt pressured to live up to it. In his self-titled 2023 documentary, "Robbie Williams," Williams explained how he developed a dangerous coping mechanism.
"I used to drink and do drugs because it helped me not feel this way, when you strip that away all the everything comes up that you've been suppressing and I've been suppressing that for years. I'm depressed and I'm mentally ill," the pop star admitted. "I had to go on stage in front of thousands of people feeling like you're on the hundredth floor, the room's burning and you either stay in the room or burn to death or you jump out of the window to your death. It's that uncomfortable," (via News.com.au). 
The "Angels" singer revealed that each night, he would take just about any drugs he could access and down a bottle of vodka before heading into rehearsals. Although the pop star knew he was drinking too much, Williams didn't have it in him to stop. But thankfully, a few close calls finally opened his eyes to the reality of the situation.
The singer lived to tell the tale of his six-day bender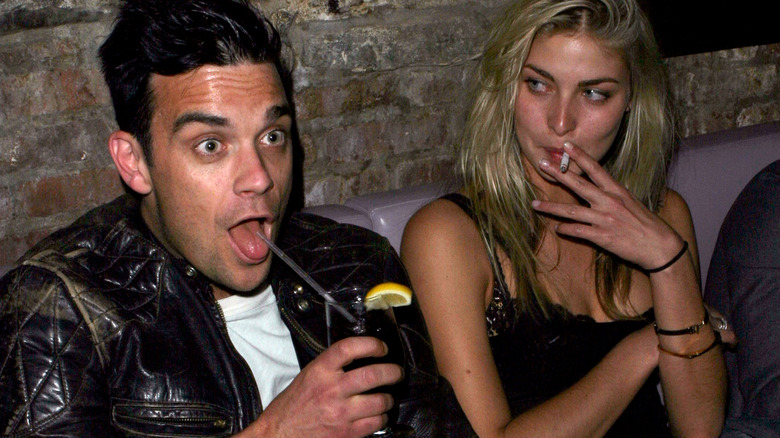 James Devaney/Getty Images
When Robbie Williams visited France in 1996, his substance abuse issues took over, and he consumed drugs and alcohol for six days straight without sleeping. Speaking to The Sun, the singer got candid about that dark time in his life, sharing what was going through his head at the time: "I thought I could snort the most, take the most pills, drink the most and I thought that was a superpower at the time." He added, "I didn't know that was my fast track to death. You feel like you're indestructible, I didn't feel I was going to die. It's only subsequently I realize I was close." 
That might sound like a horrifying experience, but back then, those six days went by in a blur because of how disoriented he was. Williams' addiction was already spiraling out of control when he was downing a bottle of vodka a day, but the pop star ignored a major wake-up call that came around the time of Take That's first MTV Awards appearance. When the band arrived in Brussels for the show, Williams wanted to celebrate, so he partied way too hard and heavily abused alcohol and drugs throughout the weekend. 
Before the band could take the stage, Williams vomited black bile all over the bathroom floor and needed medical care to perform. The following day, the "Rock DJ" hitmaker finally accepted that he was an addict, but Williams' ongoing mental health issues prevented him from getting help. 
Williams eventually managed to get sober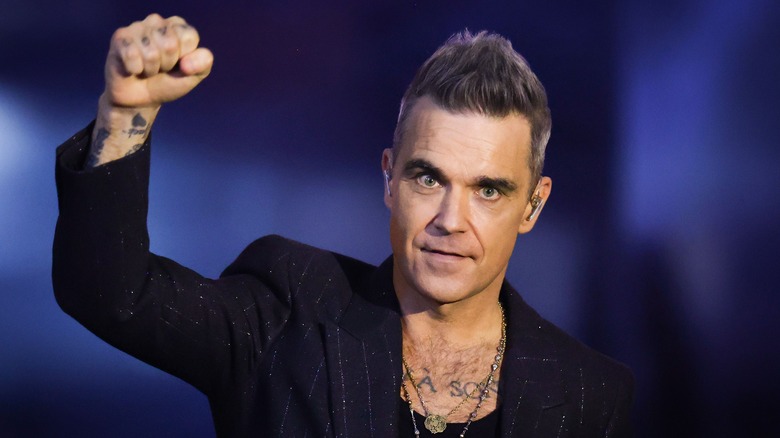 Andreas Rentz/Getty Images
When Robbie Williams sat down with The Sun, he also acknowledged paying several visits to the hospital because of his addiction-related problems. He would often think about how several celebrities had passed away due to substance abuse, but the singer's mental health was also suffering at the time, so he didn't care if he died, too. Williams even self-harmed, more in a last-ditch effort to get somebody to help him than an attempt to end it all. 
In an interview on "The Jonathan Ross Show," Williams recalled that he went to Elton John's house for some musical advice a week before checking into rehab. The former boyband member drank a lot of alcohol, and John knew he was under the influence, urging him to get help immediately. Although Williams insisted he would go soon, John wasn't having it. The "Tiny Dancer" singer made him stay the night, and upon waking up, Williams was greeted by John's husband, David Furnish, and several medical professionals who escorted him to rehab. 
These days, Williams has been sober for over 20 years, but he's concerned that his addiction issues will be passed on to his kids. During an Instagram Live, the pop star argued that drinking heavily was overly normalized in the UK, and many didn't consider the long-term repercussions of their seemingly harmless choices. He hopes to change this for his children by warning them about the dangers of drinking at a young age.
If you or anyone you know needs help with addiction issues, help is available. Visit the Substance Abuse and Mental Health Services Administration website or contact SAMHSA's National Helpline at 1-800-662-HELP (4357).
If you or someone you know is struggling or in crisis, help is available. Call or text 988 or chat 988lifeline.org.