Chris Appleton And Lukas Gage's Full Fast-Moving Relationship Timeline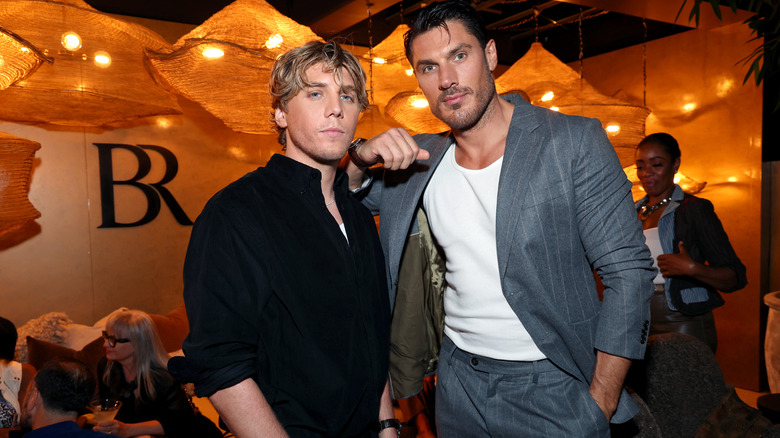 Phillip Faraone/Getty Images
Chris Appleton and Lukas Gage had the very definition of a whirlwind romance. While they both work in showbiz, their lives couldn't be more different. Appleton works as a hairstylist to stars like Kim Kardashian (and isn't afraid to spill his secrets on getting that perfectly glossy, red carpet look,) and Gage shines onscreen in shows like "The White Lotus." Appleton is also 12 years Gage's senior, but they instantly seemed like they'd have a successful age-gap relationship.
We first learned about their budding romance in February 2023 after Gage took to Instagram to share some snaps from their vacation in Mexico. At the time, Gage wasn't as vocal about his sexuality, so people began to guess that the post was the "Euphoria" star's big coming out moment, as well as announcing his new relationship. Gage and Appleton seemingly went red-carpet official with their romance in March 2023, after attending a Vanity Fair x TikTok event. 
That same month, Gage addressed the public's speculation about both the relationship and his sexuality in a New York Times interview: "If they want to think that, they can. I'm a pretty open book about most things in my life, but I have a problem with the culture of everyone needing to know everybody's business and nothing can be sacred. It's a weird line that I'm still trying to figure out." In contrast, an ecstatic Appleton was ready to spill to Drew Barrymore. 
They wasted no time in getting engaged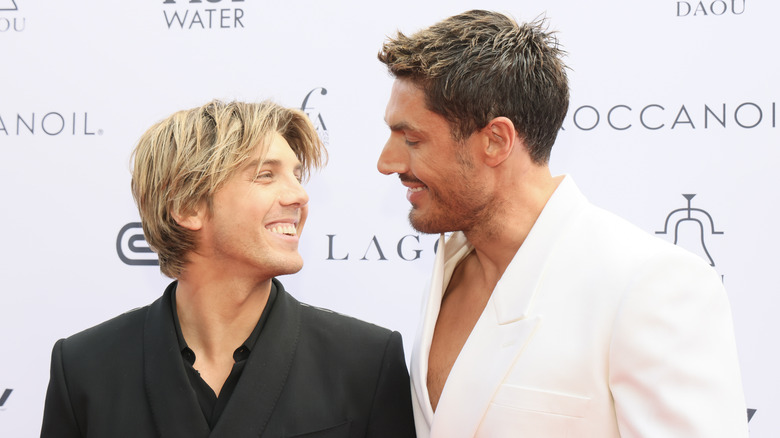 Rodin Eckenroth/Getty Images
Chris Appleton gushed about his partner, Lukas Gage, on "The Drew Barrymore Show," confirming, "I'm very happy." He continued, "Very much in love, and I feel very grateful to be able to share my time with someone very special. Love is a really special thing, and I think meeting someone you connect with is really, really special," (via X, formerly Twitter). A few days after that sweet chat, Appleton and Gage were all smiles at the Fashion Trust U.S. Awards. 
On March 23, Appleton made their relationship Instagram official by posting a carousel of photos, captioned: "Apple of my eye." Gage left two sweet comments on the post, writing, "Bake me into a pie" and "Forget the apple, [you're] the whole orchard." Just a few days later, it was Gage's turn to share his feelings about Appleton in a "Today" interview. "I feel very happy, very lucky, and very much in love," the actor said. "He's a good-looking man. There's something about being in London. I think I got a taste of the Brits and ... I couldn't help myself."
Clearly, they weren't kidding about being swept off their feet because, on April 5, Us Weekly reported that Appleton and Gahe had secretly gotten engaged. An insider also shared a sweet detail: "They got engaged before they even had rings and then went to pick them out together."
The couple's marriage was sadly short-lived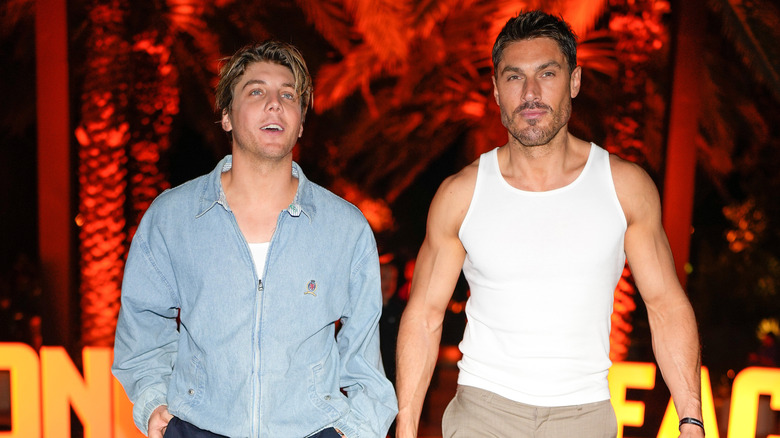 305pics/Getty Images
The insider also told Us Weekly that while Lukas Gage and Chris Appleton's friends were stoked about the engagement, they acknowledged that things were moving a bit fast between them. So, it's safe to assume they weren't prepared for the couple getting their marriage license around April 20. Two days later, the happy couple attended Usher's Vegas concert with Kim Kardashian, but the night had more to offer than a stellar show because, on April 23, they sported wedding bands at the Daily Front Row Fashion L.A. Awards. 
When Appleton went up to accept an award, he thanked Gage for his unwavering support. On April 26, the actor confirmed their wedding with an Instagram post. Their ceremony appeared to be an intimate but grand affair that saw Kardashian officiating and Shania Twain performing "You're Still The One." On May 1, Appleton revealed that the couple got matching "4.22" tattoos to celebrate their wedding date. In June, Gage threw a grand surprise party on a boat in Turks & Caicos for Appleton's 40th birthday. Everything seemed to be going well with the couple attending New York Fashion Week together in September. 
Sadly, Appleton filed for divorce in November 2023, citing "irreconcilable differences," per documents obtained by TMZ. An insider told the outlet that the celebrity hairstylist made the difficult decision after giving their marriage his best shot. Fortunately, the couple had a prenup in place, thanks to Kardashian, who strongly urged Appleton to get one before the wedding.