Celebrity Hairstylist Chris Appleton Spills His Secrets On Getting That Glossy Red-Carpet Hair Look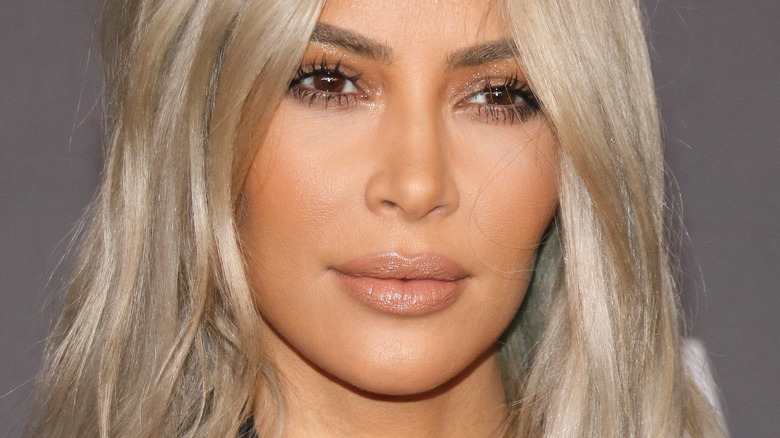 Shutterstock
Our lovely locks can really take a hit to their overall health as the year goes on. All of those heated appliances, pollution, and dye jobs can strip our hair from its natural glossy luster. It's no secret glossy locks scream healthy hair. Which is why we're dying to know how celebrities manage to turn up the shine. Especially on the red carpet. 
Enter Chris Appleton. Appleton is the global creative director of Color Wow Hair, a model, and perhaps best known as Kim Kardashian's hairstylist (via Instagram). When not flashing his six-pack on social media, Appleton is busy glossing up Kardashian's mane for her red-carpet moments and glamorous Instagram stories. And luckily for us, he's sharing some of his tips on how he gets the leader (Sorry Kris) of the Kardashian clan's hair looking so shiny.
First up, Appleton admits to washing his celebrity clients' hair with a sulfate-free formula. "Heavy silicone can dull the hair, so sulfate-free products will stop any product buildup that can weigh the hair down and make it look less shiny," he explained to Byrdie.
Appleton knows how to make hair shine
The second-part of washing one's hair for a glossy shine is a step that, while important, is perhaps most forgotten about: turning your tap to an eye-opening temperature. "Always finish with a cold rinse when you wash your hair," celebrity hairstylist Chris Appleton shared. "This will seal the cuticle and really make the hair shine" (via Byrdie).
The chiseled hair artist goes on to recommend applying a moisture rich cream to help protect the hair and again seal the cuticle. Once applied, it's time to blow out your hair using a flat brush. Once your hair has dried, spritz on a hydrating oil to give it a glossy finish. Appleton also recommends giving your hair a little extra TLC with weekly moisture-rich hair masks, noting that "when hair is dry, it can appear dull" (via Byrdie). 
His client Kim Kardashian can absolutely afford the best of the best. And as far as we can see, her strands are never dull. She once called Appleton a "gifted hair transformationist," (per Hollywood Mask). And while we likely won't be able to book an appointment with this "transformationist" anytime soon, we're happy to try out his tips on how to get incredibly glossy red-carpet hair from our bathrooms at home.