Courteney Cox's Tribute To Matthew Perry Highlights Their Sweet Off-Screen Connection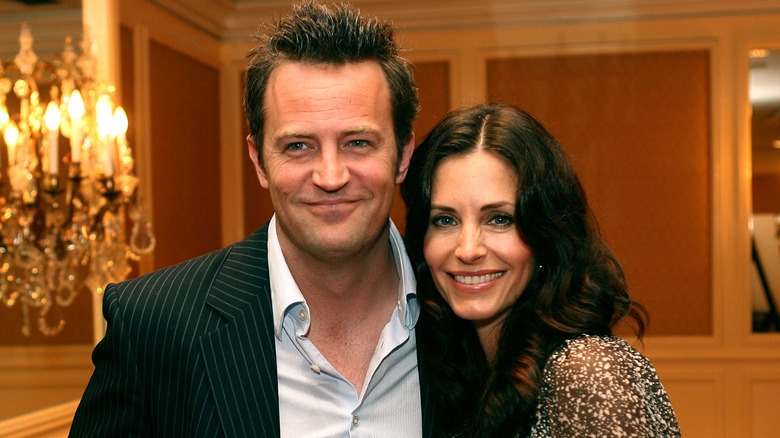 Kevin Winter/Getty Images
Courteney Cox is looking back on the good times with her "Friends" co-star Matthew Perry, who died at the age of 54 in his Los Angeles home on October 28. There was a small, private funeral for him at Forest Lawn Memorial Park, and, of course, his five "Friends" co-stars were all in attendance. A joint statement was released by the group of actors shortly after his death, advising that they needed time to privately grieve and process what had happened before making any additional or individual statements publicly.
The first of the "Friends" cast to speak out on social media was Matt LeBlanc, whose tribute to Perry will leave you in tears. That was followed on the same day by Courteney Cox. In her Instagram tribute, Cox gave us a behind-the-scenes glimpse about what it was like working with Perry during one of the most famous scenes they had together — when Monica and Chandler sleep together in London and they're almost caught by Ross bursting into Chandler's room in Season 4, Episode 24: "The One With Ross' Wedding." 
Cox wrote: "In this scene, before we started rolling, he whispered a funny line for me to say. He often did things like that. He was funny and he was kind."
Courteney Cox had a hard time choosing just one Matthew Perry memory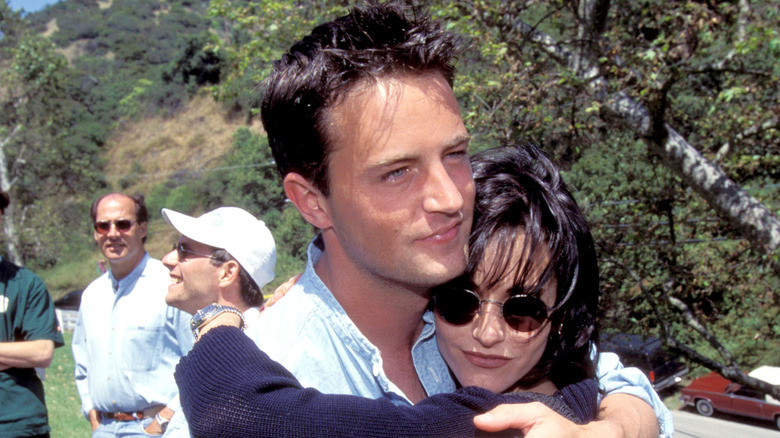 Kmazur/Getty Images
In Courteney Cox's Instagram post in tribute to Matthew Perry, she revealed the memory of Perry giving her something funny to say during that scene was, "one of my favorites." It must have been hard for Cox to pick just one memory of Perry. As she explained, "When you work with someone as closely as I did with Matthew, there are thousands of moments I wish I could share." Touchingly, Cox also said, "I am so grateful for every moment I had with you Matty and I miss you every day." 
Cox noted that Chandler and Monica weren't actually supposed to end up in a long-term relationship after their hookup in London. "But because of the audience's reaction, it became the beginning of their love story," Cox wrote. Marta Kaufman, co-creator of "Friends," has talked about that too; the fans reacted so loudly and positively to seeing Monica appear from under the covers with Chandler after they slept together, they had to pause filming. That reaction also made the writers rework the relationship into something much more major.
Fans flooded the Instagram comments, reiterating how much Perry and "Friends" meant to them as well and how much he'll be missed. Many mentioned how much they liked the love story between Chandler and Monica, which was a featured storyline for Seasons 5, 6, and 7. The couple was definitely super fun to watch, so we're glad to hear that Perry and Cox were close in real life too.