Intense 90 Day Fiance Moments When Production Was Forced To Step In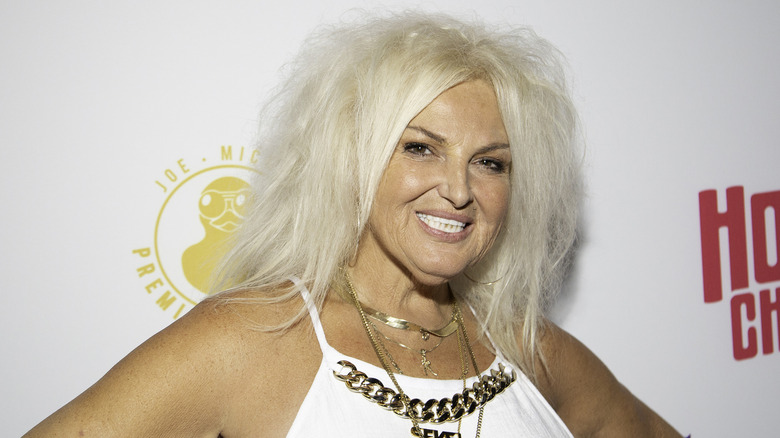 Santiago Felipe/Getty Images
In the "90 Day Fiance" universe, the real story only begins after couples think they've found love. In this hit TLC franchise, viewers meet couples who may or may not tie the knot in 90 days. Things are also further complicated because the couples starring in this reality series live in different parts of the world. On the show, one partner relocates to be close to their lover while on a fiance visa (the overseas partner often moves to the U.S., but for some couples, it's the other way around). While living together, they determine whether they should stay together and take the next step or part ways.
Throughout several episodes, some relationships get stronger while others unravel as couples spend time together and even meet with each other's families. And every moment, good or bad, is captured by the cameras. While drama may be good for ratings, things can still get a little too intense for the show. In times like this, producers may decide to intervene at their own discretion. "I think the crews and the very strong production personnel that are on this show have a really good sense of when to step in and when to not," Alon Orstein, TLC senior vice president of production and development, explained to E! News. The cameras also keep rolling for a few minutes, even when a producer comes into the frame, just long enough for viewers to realize that things could have been much worse.
When Jasmine got physical with Gino
Around the time that Gino Palazzolo and Jasmine Pineda got together, Palazzolo was still trying to get over a past love. The Michigan native and Panama-based Pineda debuted on the franchise during season 5 of the spinoff "90 Day Fiance: Before the 90 Days," and soon after, their trust issues came to light. After meeting online in 2019, Palazzolo flew to Panama the following year to see Pineda in person for the first time. Together, the couple also headed to San Jose for what was supposed to be a very romantic vacation. During their getaway, however, Pineda started receiving messages from Palazzolo's ex-girlfriend, who claimed that Palazzolo sent her nude photos of Pineda. When Palazzolo denied this, the unnamed ex sent screenshots of the photos, forcing Palazzolo to eventually confess.
In one episode, he tries to explain that he sent the nude photos to essentially show his ex that he was now dating someone better than her. However, a visibly upset Pineda refuses to hear his excuse and takes off crying. Later in the evening, things get a bit heated after Pineda confronts Palazzolo again. After demanding an explanation again and threatening to sue her boyfriend, Pineda storms out of the room before returning enraged. This time, Pineda starts to hit Palazzolo, prompting a producer to step in. As she continued to scream at her boyfriend, one of the producers can be heard telling Pineda, "You need to go."
When Jenny learned that Sumit was already married
When Jenny Slatten decided to go to India to be with Sumit Singh, she was quite optimistic that things would be different. The couple's relationship had been plagued with controversy from the beginning after Singh confessed to catfishing Slatten online. For years, he had been posing as an English man in his 20s named Michael Jones. Unexpectedly, however, Singh developed feelings for Slatten and confessed his true identity. That was when Slatten thought moving to India would be a good idea. Except it wasn't.
Upon moving to India, Slatten discovered that Singh had another secret. Aside from pretending to be someone else in the past, it turns out that her lover was already married. In the spinoff "90 Day Fiance: The Other Way," Slatten recalled finding out about Singh's wife after Singh's father-in-law paid her an unexpected visit and introduced himself. Shocked, Slatten called up the show's producers, and that's when supervising producer Shawn and his team flew to India to find out what was really going on and to support Slatten. She eventually left India.
Despite everything that has happened, though, Slatten has decided to try to make things work with Singh. The Palm Springs resident returned to India after Singh filed for his divorce. The couple also later tied the knot, although they married in secret, hiding their wedding from Singh's parents, who objected to their relationship from the beginning.
When Yazan discovered that Brittany brought alcohol to Jordan
Brittany Banks had been excited to fly to Jordan to be with her beau, Yazan Abo Horira. But things started to unravel in their relationship almost as soon as she landed. When the couple saw each other at the airport for the first time, they were sweet and affectionate, but everything changed the moment they made their way to the parking lot. When Banks was getting a microphone attached to her, the reality star greeted the crew with hugs off-camera. Around this time, Horira also discovers that Banks had alcohol in her carry-on bag.
In an instant, Horira becomes upset and starts to freak out. While it is unclear if the producers decided to separate the couple, Horira is shown hanging out by his car as he speaks with one of the producers. He exclaims, "I'm so stupid." The Jordan native then proceeded to explain that he had already spoken with Banks about hugging people and drinking in Jordan. For Horira, these were things she couldn't do in his country. As for Banks, she kept her distance from her beau at the airport parking lot, telling the camera, "I've never seen him act like that, and that was kind of scary to me." She also pointed out that alcohol is allowed in Jordan.
When Tyray became a victim of catfishing
When Tyray Mollett signed on to join the cast of "90 Day Fiance: Before the 90 Days," he sort of knew what he was getting into after watching past episodes. While speaking with Entertainment Tonight, he also admitted that part of the reason he joined the show was so that they could help him be with Carmella. Much to Mollett's surprise, however, his love story came with a twist he never saw coming.
After Mollett joined the show, producers got to work behind the scenes to track down Carmella. From the beginning, the details around her had been rather vague. The only thing they knew was that Mollett had met her online four years ago and that she was from Barbados. After the show did a deep dive into Mollett's love interest, though, they learned that Carmella isn't who she claimed to be. Instead, Carmella was really a man named Christian who had already conned Mollett into sending him money in the past. 
Despite the red flags, Mollett remained hopeful that he and Carmella would eventually be together. But then, producers confirmed that he was just being catfished. Due to his unique circumstances, Mollett was also given the option to stop filming. However, he decided to keep going. Mollett also eventually connected with the real Carmella, telling Us Weekly that they only spoke once.
When Angela got physical with Michael
In the "90 Day Fiance" universe, stories often take interesting turns. This is especially true of Nigerian Michael Ilesanmi and American Angela Deem. Viewers first meet the couple in season two of the spinoff "90 Day Fiance: Before the 90 Days." Initially, they tried to make their long-distance relationship work as Ilesanmi remained in Nigeria while waiting for his visa. As time went on, however, the two started to have some serious issues.
When the couple appeared in the spinoff "90 Day Fiance: Happily Ever After?", Deem and Ilesanmi had already tied the knot, although they were forced to do a long-distance marriage due to Ilesanmi's visa issues. As time went on, they became estranged, and Deem started to think that Ilesanmi was scamming her. She also later admitted that she had been sending her husband money and that Ilesanmi had been asking for more.
The tipping point came when Deem asked Ilesanmi to take down his Instagram, and he said he would only do so if she paid him $5,000. Soon after, Deem flew out to Nigeria to surprise her husband. Once inside Ilesanmi's compound, she started trashing his car, claiming it was hers since she paid for it. And while Ilesanmi wouldn't come out of the house and face his wife at first, he eventually did, and things started to get physical. That's when producers decided it was time for Deem to leave.
When young Drascilla ran to the street in South Korea
For children, anywhere can be a playground, even another country far from home. In "90 Day Fiance: The Other Way," cameras followed mom Deavan Clegg as she and her children moved to South Korea to be with Jihoon Lee. The couple first met on a dating app before Lee flew to the U.S. to meet with Clegg face-to-face for the first time. Just as they were about to part ways, Clegg found out that she was pregnant and later gave birth to their son, Taeyang.
On the show, Clegg adjusts to life in South Korea with then-infant Taeyang and her young daughter Drascilla. As the couple faced issues such as Lee's lack of a stable source of income, Clegg also had to deal with Lee adjusting to life as a parent to their two children. At one point, he lets go of Drascilla while the family is strolling outside their house. As the little girl ran away, Clegg pointed out to the show's crew that her daughter could have easily gotten hit by a car. Fortunately, the show's producers ran after Drascilla and got her to safety.
Later, Clegg and Lee struggled to make their relationship work and eventually broke up, leaving Clegg to raise Drascilla and Taeyang alone. Back in May 2022, Clegg revealed that their son was diagnosed with cancer. She and Lee also finalized their divorce around this time.
When Pedro got into a fight with Chantel's brother
In the "90 Day Fiance" universe, families can sometimes complicate a relationship. They can also cause explosive fights. This is especially true in the case of Chantel Everett and Pedro Jimeno. The couple debuted in season four of "90 Day Fiance." Since then, they've become some of the franchise's most recognizable stars, perhaps thanks in part to their colorful family interactions.
In one of their "90 Day Fiance: Happily Ever After?" episodes, the Everett family decides to invite Pedro and his sister, Nicole, over for dinner despite tensions between their families. By then, it had also become clear that Chantel and Nicole were not getting along. Prior to the dinner, Chantel told her mom, Lydia, that Nicole had been saying things about her behind her back. At dinner, Chantel and Nicole got into an argument. And as Pedro joined their discussion, he came to blows with Chantel's younger brother, River. As the men got physical with each other, producers stepped in and intervened. They also got Pedro to step outside to chill out, but not before he managed to kick the dinner table.
When Andrei and Charlie started to attack each other
Admittedly, families make the "90 Day Fiance" universe a lot more interesting. In some cases, they seem to take over the storyline. For Andrei Castravet and his wife, Elizabeth 'Libby' Potthast Castravet, that isn't necessarily a good thing. 
After Castravet moved to the U.S. from his home country of Moldova, tensions between him and the Potthast family worsened. In one "90 Day Fiance: Happily Ever After?" episode, the group gathers for a family barbecue, and immediately, it becomes clear that no one is happy about sharing a meal together. To make matters more interesting, Libby's brother, Charlie, also joined the party, causing things to take a turn for the worse.
When Charlie felt disrespected by Castravet, the two men got physical as Castravet tackled his brother-in-law to the ground. As this happened, Libby's dad, Chuck, and one of the producers ran over to separate them. Since then, Libby and Castravet also decided to distance themselves from Charlie and his wife, Megan Potthast. During an interview with In Touch Weekly, Charlie said he hoped they would just get over what happened.
When Angela almost got physical with Liz
Since joining the show, Angela Deem has become one of the biggest stars of the "90 Day Fiance" franchise, mainly due to her explosive personality. On the show, her main issues may lie with her Nigerian husband, Michael Ilesanmi, but as it turns out, the star can come to blows with just about anyone. During an appearance for the spinoff "90 Day: The Last Resort," Deem spent time with fellow stars Ed 'Big Ed' Brown, Elizabeth 'Liz' Woods, Molly Hopkins, and Kelly Brown. As the group began arguing in the hot tub, Deem splashed both Woods and Ed with water. Woods stepped out of the tub and prepared to leave soon after. She also told Deem, "I love you, Angie, but you speak over everybody."
Woods' remarks apparently triggered something in Deem, who got out of the hot tub and went after Woods. An argument between the two women ensued, and Deem eventually got into Woods' face, forcing producers to separate them. The next day, relationship trauma expert Dr. Janie Lacy met with Deem to discuss what happened the night before. When Deem asked who told on her, the doctor remarked, "Well, you know, Angela, I'm staying here at the resort, too." The reality star later admitted that Woods' comments reminded her of Ilesanmi.
When Jovi and Big Ed got physical on a boat
In the spinoff "90 Day: The Last Resort," tensions are always high, even among cast members. And sometimes, fights break out even as couples try to have a good time. It all started when Jovi Dufren got Ed 'Big Ed' Brown and several male cast members to secretly visit a strip club. Dufren later insisted, "This is not cheating." That said, the Louisiana native did try to hide their little excursion from wife Yara Zaya, although she still found out after the men phoned Elizabeth 'Liz' Woods to ask if Brown could go to the strip club with them after the fact.
Later on, when the group got together for a boat trip, Brown also decided to reveal that Dufren was texting with a stripper from Jamaica while he was out with the boys. When Dufren tried to make excuses, Zaya got so upset that she threw her drink in his face before walking away. After some time, the group gathered again, and this time, Dufren is on the defensive, claiming that Brown was unnecessarily trying to make his situation worse. Brown then decided to bring Dufren and Zaya's child into the argument, telling Dufren," Why don't you tell your daughter where you were?" The remark set Dufren off, and he lunged toward Brown. Fortunately, producers got security to intervene right away before the situation could get out of hand.