Donald Trump Bizarrely Shaded Taylor Swift And Miley Cyrus Over His January 6th Song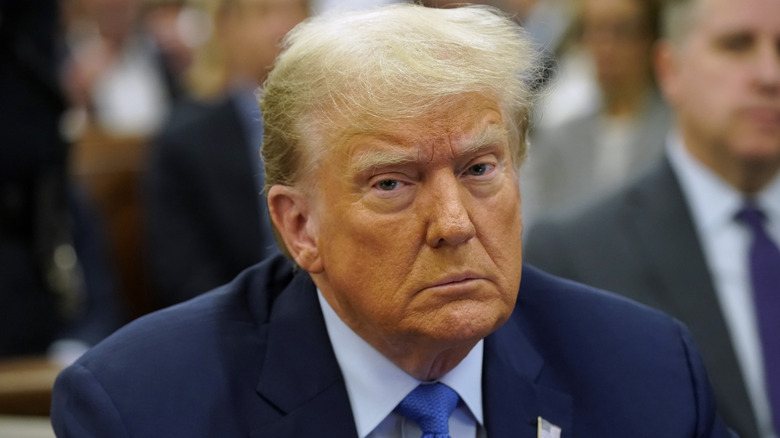 Pool/Getty Images
Future history books are sure to include January 6, 2021, among the darkest dates in America's lifetime. A mob of Donald Trump's staunchest supporters stormed the U.S. Capitol in protest over the results of the presidential election, breaching barriers and attacking the police guard. When the dust settled, the crowd had caused some $2.9 million in damages and temporarily disrupted the congressional certification of President Joe Biden. Yet, despite calls from staff and family members alike, the outgoing president hesitated to take action for an endless 187 minutes. 
Even when he finally made a public plea for the protesters to disperse, Donald Trump refused to say the election was over or acknowledge that he had lost the race. Instead, the controversial politician continued to decry the election as "fraudulent," and offered his sympathy to the insurrectionists: "I know you're hurt, I know your pain. ... We love you, you're very special," (via C-Span). Not only has Trump held on to that opinion ever since, he's doubled down on it. In March 2023, the former president collaborated on a fundraising stunt with the J6 Prison Choir, comprised of about 20 men jailed for participating in January 6.
The project was a recording called "Justice for All." It intersperses Trump reciting the Pledge of Allegiance with the singers' rendition of "The Star-Spangled Banner." The number closes with the group chanting, "USA! USA!" six times. It was a (brief) success digitally, a point Trump couldn't resist making at a campaign rally while taking a shot at Taylor Swift and Miley Cyrus.
Donald Trump made the most of his brief recording success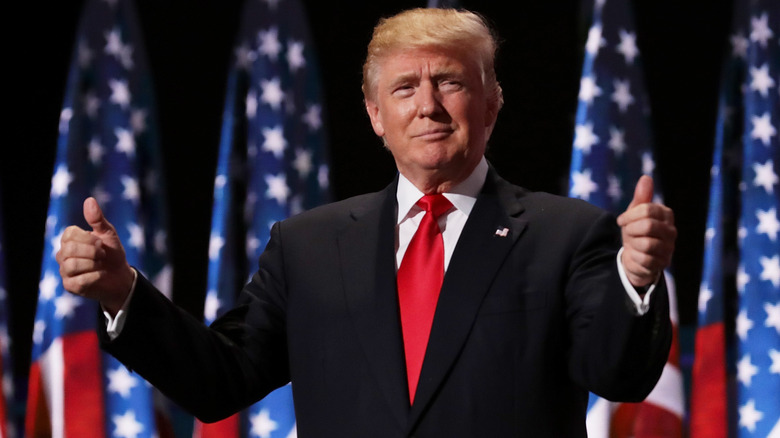 Chip Somodevilla/Getty Images
Prompted either by genuine support or head-scratching curiosity, listeners flocked to "Justice for All," the patriotic mash-up by Former President Donald Trump and the J6 Prison Choir. According to Forbes, it was downloaded almost 33,000 times in the first six days of its March 2023 release alone, sending the song to the top of Billboard's digital sales chart. It's also racked up nearly 400,000 hits on Spotify. This briefly nudged the existing digital chart-toppers down a notch, a minor triumph Trump played up during a November 2 campaign rally in Houston.
The song blasted out of the speakers as Trump took the stage, after which he declared, "It went to the number 1 song" (via the Daily Mail). "It was beating everybody, it beat Taylor Swift, it beat Miley Cyrus, who was number 1 and 2, they were number 1 and 2, we knocked them off for a long time. That song was out there for a long time." The former "Apprentice" host added that he thought it made total sense to mention the hit song in a state known for its size. "I love Texas, it's big and strong and the people are big and strong too," Trump enthused.
The would-be 47th president confirmed once again he supports the people who committed trespass and vandalism in an attempt to put him back into office, too. Trump told the audience that the jailed protesters are "not prisoners. I call them the hostages, what's happened, and it's a shame," (via HuffPost).
Swift and Cyrus's music careers are safe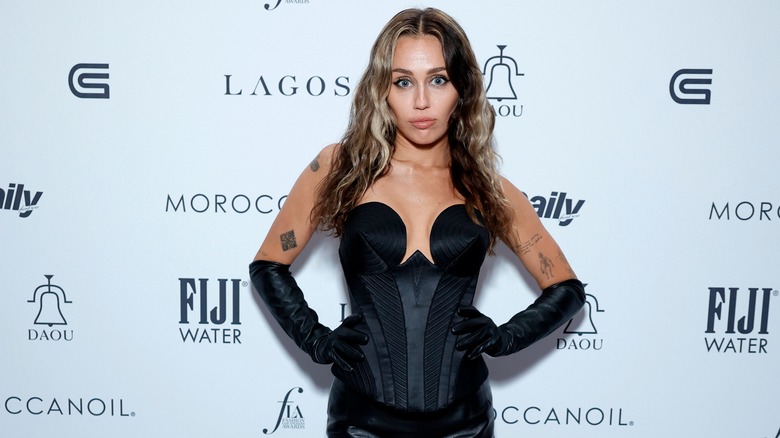 Stefanie Keenan/Getty Images
As popular as their song was at the time, don't expect the J6 Prison Choir to drop a bestselling album anytime soon. Donald Trump's boast about "Justice for All" unseating Miley Cyrus and Taylor Swift was hyperbole, too. True, it did technically bump Cyrus's song "Flowers" (which is rumored to be about her ex, Liam Hemsworth) off the top spot on Billboard's Digital Sales Chart. It also hit #1 on iTunes for the week of March 11. However, as Newsweek clarified, Taylor Swift didn't have a single out at the time and indeed she immediately bumped "Justice for All" off the top spot upon releasing four new tracks on March 19. 
Within two weeks, the J6 Choir's cover had plummeted off the charts completely, while Swift and Cyrus stayed — and remain — strong sellers. Further, Meidas Touch suggested the success of "Justice for All" may have been due to outside influences. If Trump and his team promoted the anthem heavily enough and urged his die-hard MAGA fanbase to download "Justice for All" on its release date, that could've boosted sales enough for it to take the lead for a few precious days. 
But the sudden decline indicates Trump fans were the one-and-done type. Compare that to Whitney Houston's 1991 rendition of "The Star-Spangled Banner," which went platinum. In a March 2023 interview with Sean Hannity (via Business Insider), Trump once again mentioned the short success of his collaborative number and added, "So now I feel like Elvis." The aftermath suggests Elvis has left the building.