This Action Star Was The Inspiration For Ken In Greta Gerwig's Barbie Movie
During a panel discussion about the "Barbie" movie at the Directors Guild of America Theater, Greta Gerwig, the director and co-writer of the hit movie, surprised everyone by revealing that Ken, played by Ryan Gosling, was inspired by Sylvester Stallone. As reported by People, the action star wasn't aware of this while the movie was in production but rang Gerwig up once he found out. "He was into it, and I was very honored," she noted.
"Barbie" made history on its own, of course, becoming Warner Bros.'s highest-grossing film ever with worldwide box office earnings of nearly $1.4 billion. Luckily for Gerwig's Ken, despite his initial reluctance to join the cast, Gosling realized he was "Kenough" and accepted the role. "It was only ever Ryan Gosling, and it was a long journey," Gerwig shared with Rolling Stone, adding, "Margot [Robbie] and I just wouldn't take no for an answer."
However, it was Gosling's daughters' treatment of a Ken doll that influenced his decision to take on the part. The actor revealed on "The Tonight Show Starring Jimmy Fallon" that finding poor Ken "face down next to a squashed lemon" in his backyard prompted Gosling to get on board. He hilariously texted Gerwig: "I shall be your Ken, for his story must be told." The rest is history, and Stallone was, unexpectedly and unknowingly, a big part of it.
Sylvester Stallone inadvertently found his way into the Barbie movie
In "Barbie," Ken dons a striking floor-length faux fur cream coat upon returning from the real world, and the iconic 1980s action star, Sylvester Stallone, was on the mood board for the look. "[Ken's] faux mink came from Sylvester Stallone's amazing outfits," Gerwig revealed during the Directors Guild of America Theater panel, referencing Stallone's well-documented love of rocking a fluffy coat. "When I think of adorned men, I think [Stallone's] probably the best one," Gerwing argued. "And I feel like Ken was nothing if not a man in search of adornment."
Additionally, the action icon influenced aspects of Ken's life path in "Barbie" too. As Ken becomes aware of the concept of a traditional patriarchal society, he transforms into an exaggerated MRA-style figure exuding masculinity, reminiscent of Stallone's most famous tough guy characters like Rambo and Rocky Balboa. While Ken ultimately recognizes the myriad drawbacks of toxic masculinity, Stallone's movies don't tend to deal with any feminist themes, so it's safe to say that Gerwig sought inspiration from other sources in exploring those aspects of the narrative.
Other than the "Creed" star's fashion choices and manliness, several other films influenced the candy-colored world of Gerwig's Barbie Land. Interestingly, Margot Robbie, who played the titular character, inadvertently revealed some of the titles when internet sleuths claimed they had found her secret Letterboxd account.
Greta Gerwig's cinematic inspirations went beyond action movies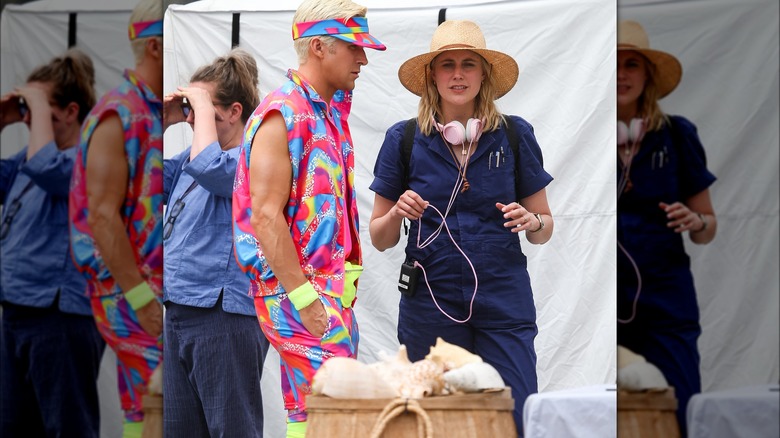 Bellocqimages/bauer-griffin
In an interview with Letterboxd, an online platform for film enthusiasts, Greta Gerwig offered some insights into the 32 movies that served as inspiration for "Barbie." Drawing from a diverse range of classic films, the filmmaker incorporated elements such as styling choices, color play, and the stage setting, resulting in a captivating fusion of worlds that unexpectedly works beautifully. The chat stirred the pot when it came to earlier fan allegations that Margot Robbie had a secret Letterboxd account under the pseudonym "MaggieAckerley." 
W magazine pointed out some notable clues, including that Ackerley is her husband's last name. Robbie's alleged list of "movies to watch for Barbie" added fuel to the fire, featuring titles like "The Young Girls of Rochefort" and "The Umbrellas of Cherbourg," both of which were acknowledged by Gerwig for their aesthetic influence. Additional films on the list "Splash" and "The Truman Show" contributed to the development of the concept of transitioning between worlds, according to the director, while "Puberty Blues," though not elaborated on by Gerwig herself, also featured an '80s coming-of-age theme with horses and beaches featured prominently.
The question remains: Was it truly Robbie behind the MaggieAckerley account? The uncanny alignment between the alleged account's very specific film selections and Gerwig's disclosed inspirations adds an intriguing layer to the mystery, leaving it open for interpretation. We wonder if Ryan Gosling had the "Rocky" movies lined up to watch on his list?