Stevie Nicks And Joe Walsh's Breakup Was More Necessary Than We Realized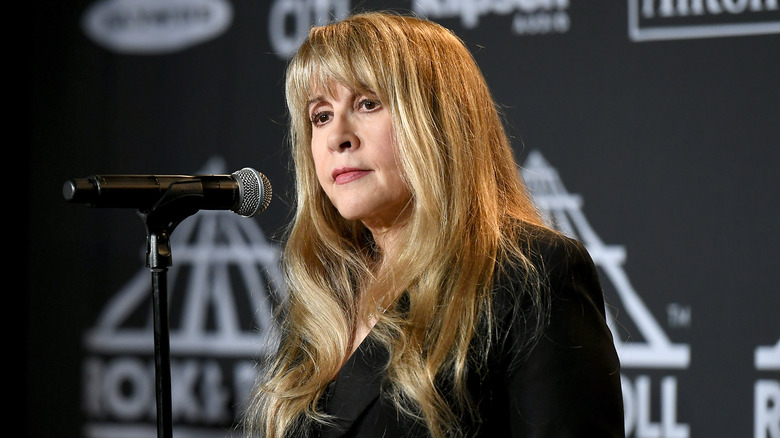 Nicholas Hunt/Getty Images
Falling in and out of love in a whirlwind of music, fame, and excess seemed like the status quo for rock icons of the vibrant 1980s, and from an outside perspective, Stevie Nicks and Joe Walsh appeared to be no exception. But their split in 1986 wasn't just another byproduct of two creatives unwilling to be tied down — it was becoming a matter of life or death.
The "Rhiannon" singer, who has undergone a stunning transformation over the years, spoke with Q Magazine in 2008 (via CheatSheet) about her short-lived fling with The Eagles guitarist, admitting they broke up due to their excessive cocaine use. "[Walsh] told my friend and [backing] singer Sharon, 'I'm leaving Stevie because I'm afraid that one of us is going to die, and the other one won't be able to save the other person.'"
Walsh said the couple's dangerous addiction was becoming out of control, saying, "Neither of us can live through this, so the only way to save both of us is for me to leave."
If you or anyone you know needs help with addiction issues, help is available. Visit the Substance Abuse and Mental Health Services Administration website or contact SAMHSA's National Helpline at 1-800-662-HELP (4357).
Stevie Nicks said she took the breakup extremely hard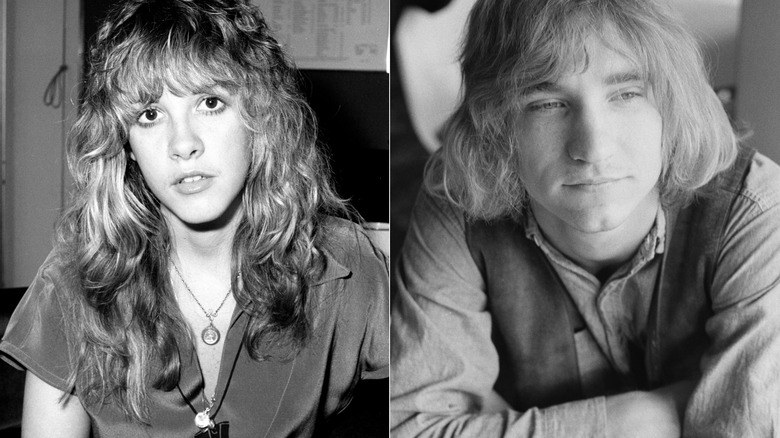 Avalon & Michael Putland/Getty
While Stevie Nicks and Joe Walsh's breakup might've been necessary for their physical well-being, Nicks said the split was incredibly difficult for her. She told The Telegraph in 2007 that Walsh had been the love of her life, saying that after they split: "It took me a long, long time to get over it — if I ever got over it. There was no other man in the world for me."
Nicks wrote a tribute for her former boyfriend in the liner notes of her 1991 compilation album, "TimeSpace." She explained that the song "Has Anyone Ever Written Anything For You?" was for Walsh, writing: "I guess in a very few rare cases, some people find someone that they fall in love with the very first time they see them. I never believed in that until that night I walked into a party after a gig at the hotel, and from across the room, without my glasses, I saw this man, and I walked straight to him."
The former Fleetwood Mac frontwoman described feeling like her and Walsh's souls were connected. She concluded, "Thank you, Joe, for the most committed song I ever wrote. But more than that, thank you for inspiring me in so many ways" (via Songfacts).
Joe Walsh said he still has great respect for Stevie Nicks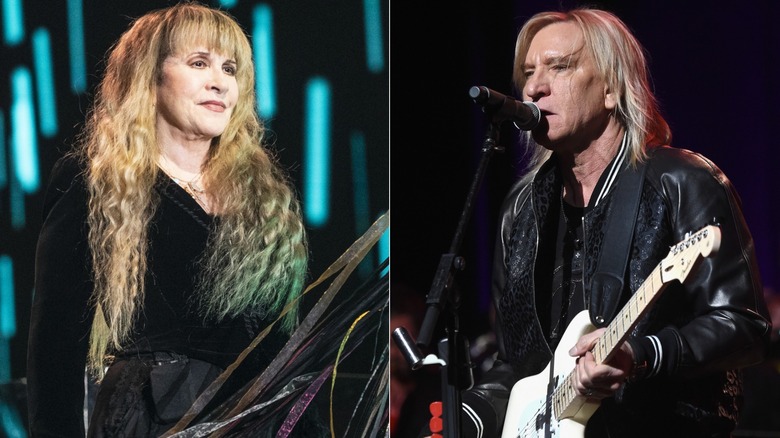 Erika Goldring & Jamie Mccarthy/Getty
In a 2012 conversation with Interview Magazine, Joe Walsh addressed his ex-girlfriend Stevie Nick's sentiment that he was the singular love of her life. With a laugh, Walsh said he was "humbled" by the comment before complimenting her songwriting, musicality, and personality. He explained that over the course of their short relationship, they helped each other with their respective music.
"We had a great relationship. Romantically, it shifted, but in terms of friends and respect for each other, that's all still there," Walsh continued. "She's really a great person. Anybody who knows her will tell you that. And she's a national treasure. Anything she sings, you immediately know it's her. If it's on the radio, you don't change stations, you listen to it."
That same year, Howard Stern invited Walsh onto "The Howard Stern Show" and asked the musician if he had been in love with Stevie Nicks. The guitarist replied, "As a sister. She's like a soulmate." He said that, while the two touring musicians found companionship in each other, he never considered marrying her. Nicks only married once in 1983 to Kim Anderson, the husband of Nicks' late best friend Robin, and the pair split after three months. Walsh has been married five times. He married Marjorie Bach in 2008.