David Schwimmer's Ode To Matthew Perry Makes Us Cry And Laugh At The Same Time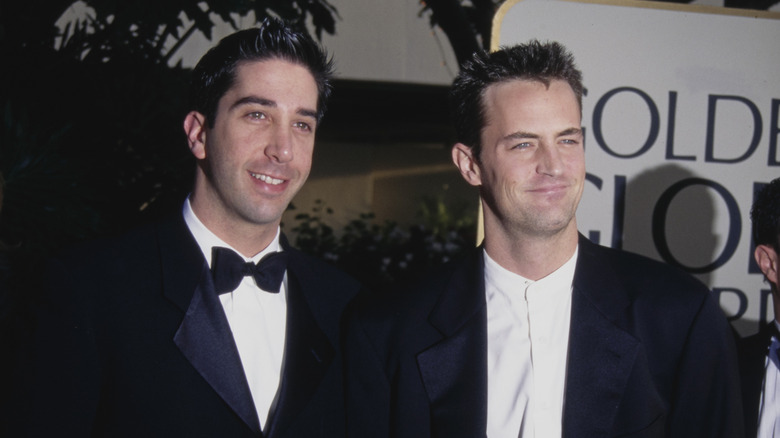 Vinnie Zuffante/Getty Images
Following Matthew Perry's unexpected death in October, many of his former "Friends" co-stars have made moving, public tributes to their long-time friend, including Matt LeBlanc's final Instagram goodbye. David Schwimmer, who played Ross Gellar on the '90s sitcom, similarly took to Instagram to share a post that had "Friends" fans both laughing and crying.
"Thank you for ten incredible years of laughter and creativity," Schwimmer captioned the photo, which features the two actors making dramatic expressions while wearing "Miami Vice"-inspired suits from a fan-favorite Thanksgiving episode of "Friends." After praising his colleague's comedic timing and acting abilities, he added, "You had heart. Which you were generous with, and shared with us, so we could create a family out of six strangers."
The actor finished out the post with a bittersweet reference to a classic Chandler joke formula. "I imagine you up there, somewhere, in the same white suit, hands in your pockets, looking around," Schwimmer wrote. "Could there BE any more clouds?"
The snapshot comes from a memorable Friends episode
In his tribute to his late friend, David Schwimmer featured an iconic photo of him and Matthew Perry in oversized blazers and colorful T-shirts, a look popularized by the '80s show "Miami Vice." "This photo is from one of my favorite moments with you," Schwimmer wrote in the post's caption. "Now it makes me smile and grieve at the same time."
The snapshot originates from Season 5 Episode 8 of "Friends," which is made up of a series of Thanksgiving flashbacks. The memory in question comes from Monica's point of view, in which she attempts to seek revenge on Chandler after he called her fat the previous Thanksgiving. While he had appeared with an iconically camp Flock of Seagulls-inspired hairdo in the first flashback, his and Ross' updated "Miami Vice" looks are similarly played for laughs.
The scene serves as another example of Matthew Perry's beloved comedic ability that Schwimmer mentions in his post. "I will never forget your impeccable comic timing and delivery," the actor wrote. "You could take a straight line of dialogue and bend it to your will, resulting in something so entirely original and unexpectedly funny it still astonishes."