General Hospital's Josh Swickard And Family Leave Their LA Life Behind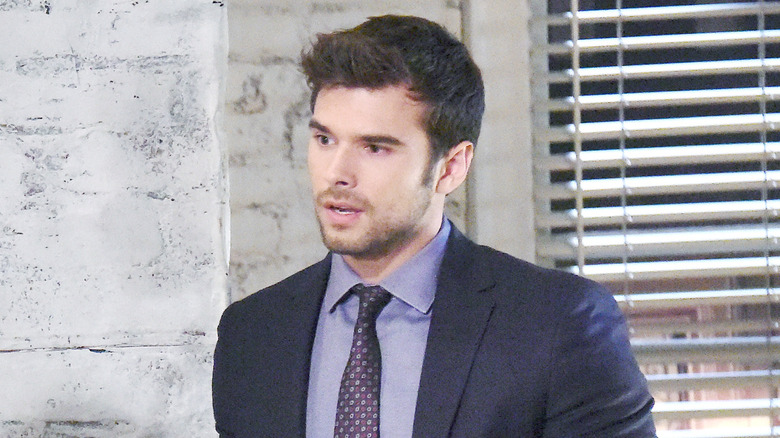 XJ Johnson/ JPI Studios
Joshua Swickward has dazzled fans on "General Hospital" as Detective Harrison Chase since arriving in Port Charles in 2018. Chase was first connected to the ongoing Nelle Benson (Chloe Lanier) drama, hoping to put his former lover behind bars. Eventually, Chase met Willow Tait (Katelyn MacMullen), and the two became romantically involved until Michael Corinthos needed Willow to secure custody of his son against Nelle. Chase and Willow's relationship came to an abrupt end, as he sacrificed his own happiness to push her and Michael together for the betterment of the child. 
Eventually, Chase found love once again with Brook Lynn Quartermaine (Amanda Setton). However, the couple has experienced more than their fair share of hurdles since admitting their romantic attraction for each other. In the midst of defending Brook Lynn, Chase attacked a man, resulting in him being suspended from the police force. He was no longer allowed to be a detective, instead opting to become a singing sensation at the scheming suggestion of Brook Lynn. 
Chase was giving up hope, and ready to leave his life as a cop behind, but luckily, strings were pulled and he was able to secure his job back. Despite Chase not leaving his old life behind after all, the same can't be said regarding his portrayer, Swickward. According to Swickward's official Instagram, he's leaving Los Angeles in his rearview mirror and heading to a life on the farm. Fans of the actor shouldn't fret, as this shouldn't impact his spot on "GH."
Chase isn't leaving General Hospital anytime soon
"General Hospital" leading man Joshua Swickward can now add farmer to his official resume. The actor's wife Lauren Swickard confirmed the life-changing purchase on Instagram, writing, "After a 9-month farmhouse renovation, we are so happy to tell the world ... WE BOUGHT A FARM! We know we have a looooot to learn, and so many memories to make. Saying bye to Los Angeles was bitter sweet, but we are looking forward to the next chapter." 
With Josh moving to such an obscure location and out of the hustle and bustle of Los Angeles, naturally, fans became worried that their favorite Port Charles detective was on his way out. One viewer took to the comments, writing, "Please don't tell me Josh is leaving GH?" Thankfully Lauren put minds at ease, replying to the worried fan, "He's not."
Included in the post documenting the heartwarming family news is a video showcasing life on the farm featuring the entire Swickward family. Per Soap Hub, the actor previously discussed the move in a Zoom call with fans. "We moved outside of Los Angeles," he said. "It's just a small avocado orchard ... It's got 410 trees, and I don't know anything. I literally saw a video in my head of, like, me working on a farm and I was like, that's beautiful. Let's buy a farm. And then now that we own it, every day, Amanda is like, 'So how's the farm?' and I'm like, 'I don't know what I'm doing.'"