Megan Fox's Most Disturbing Revelations About Her Chaotic MGK Romance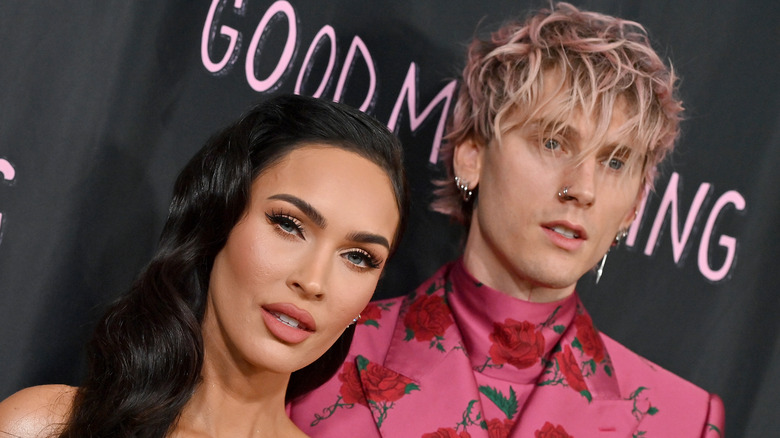 Axelle/bauer-griffin/Getty Images
We may receive a commission on purchases made from links.
Actress Megan Fox is spilling it all. The "Transformers" star released her first-ever poetry book, "Pretty Boys Are Poisonous," on November 7, 2023, and it's very telling. The deeply personal and somewhat dark collection of poems goes into detail about Fox's heartbreaks and flames, including her current relationship with rap artist Machine Gun Kelly.
The actress and musician first sparked rumors of romance in 2020 when they were cast in the indie film "Midnight In The Switchgrass." According to a source with People, the pair was seen spending a lot of time together outside of work, further convincing fans that a new relationship was in the works and that Fox's relationship with then-husband Brian Austin Green was on the outs. The rumors were confirmed when Green announced on his podcast that he and Fox split shortly after filming for "Midnight In The Switchgrass" wrapped. That same year, Fox and MGK made their red-carpet debut as a couple at the American Music Awards. Two years later, they announced their engagement to the world (via CNN).
While the talented twosome seem like the perfect match, they've had their share of ups and downs. The couple has pushed back their wedding date multiple times, a source with Us Weekly revealed, citing their "hot-tempered" natures as the reason for the delay. With the release of Fox's poetry book, we now know some of the darker and more disturbing parts of her relationship with MGK.
Fox calls MGK a 'deadly drug'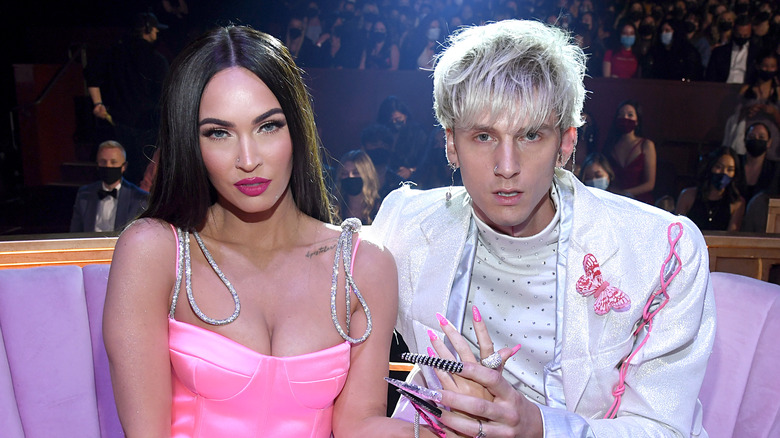 Kevin Mazur/Getty Images
Megan Fox didn't paint a pretty picture of her romance with MGK. In her poem titled "A beautiful boy is a deadly drug," the movie star says Kelly is a dangerous addiction — something you know is bad for you, but you just can't seem to give up. "You are an addiction that no amount of prayers will ever cure," Fox penned, per Page Six. "You are killing me but my heart won't give you up."
Fox's harsh lines might be in connection to the startling rumors that MGK cheated on her in the past. In February 2023, the actress set social media ablaze when she unfollowed MGK, followed his arch-nemesis rapper Eminem, and shared a mysterious Instagram post that quoted lines from Beyoncé song "Pray You Catch Me." "You can taste dishonesty all over your breath/ it's all over your breath," Fox cryptically captioned beneath a stunning photo of herself. Fans believe the powerful song is about the alleged infidelity of Beyonce's husband Jay-Z, so you can see why Fox's followers were quick to make the connection that MGK might have been unfaithful.
Like Beyoncé, Fox didn't namedrop Machine Gun Kelly or any of her past beaus in her creative work, but she did sprinkle in enough hints that it was obvious who she was talking about. The "This Is 40" actress poetically deems MGK as her "twin flame," a nickname used by Fox during the couple's first joint interview appearance on the "Give Them Lala" podcast. Her other nicknames for the rapper weren't as endearing — she also calls MGK a "complacent rockstar" and a "32-year-old narcissist."
The couple suffered a miscarriage
"It's not an exposé that I wrote or a memoir ... But throughout my life, I have been in at least one physically abusive relationship and several psychologically very abusive relationships."

Megan Fox talks to @kaynawhitworth about her new poetry book, "Pretty Boys Are Poisonous" pic.twitter.com/SkdTSpRi3Z

— Good Morning America (@GMA) November 7, 2023
The most heartbreaking reveal about Megan Fox's relationship with MGK comes in the latter half of "Pretty Boys Are Poison." In her poems "I" and "II," the "Expendables 4" star opens up about her grief after suffering a miscarriage. In one painful section, Fox discusses how hard it was to lose her child. She wrote: "But now I have to say goodbye. I close my eyes and imagine holding you tight against my chest as they rip you from my insides. I will pay any price, tell me please, what is the ransom for her soul?"
Fox, who shares three children with ex-husband Brian Austin Green, confirmed on Good Morning America that she was with MGK when she experienced the miscarriage. During the interview, she noted that the loss of their unborn child led to a difficult journey "together and separately" to find healing in the aftermath. Speculation that Fox was expecting a baby with MGK began in May 2022 after the musician dedicated a song to "my unborn child" at the Billboard Music Awards, according to Entertainment Tonight.