King Charles' 70th Birthday Portrait Was Full Of Behind-The-Scenes Drama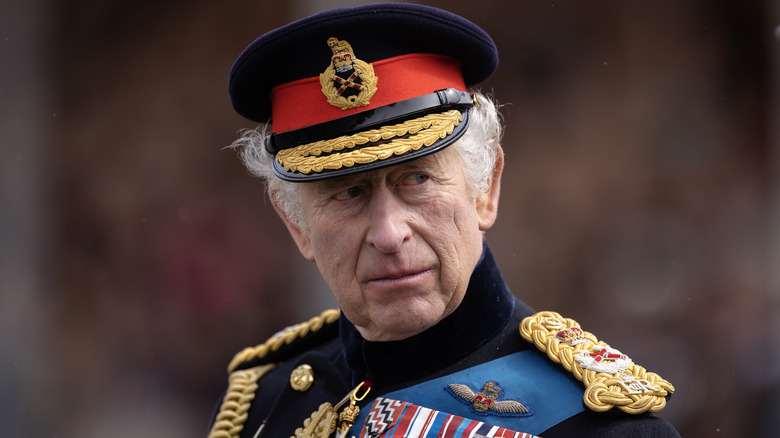 Dan Kitwood/Getty Images
King Charles III's 70th birthday portrait proves that it doesn't matter if you're a royal or a commoner — getting a decent family photo is often like herding a bunch of contentious, skittish cats. And just like any other family, the drama between its members stops just long enough to snap a picture before raring right back up again. 
King Charles and Queen Camilla posted their idyllic portrait to Instagram in November 2018. The monarchs were flanked by Prince and Princess of Wales, William and Catherine, their three children, and the Duke and Duchess of Sussex, Harry and Meghan, in the Clarence House gardens. As poised and beaming as they all looked, inside sources reveal the photo was anything but blissful. 
According to Omid Scobie and Carolyn Durand's book "Finding Freedom: Harry and Meghan," arranging a time for the portrait was a challenge. "Neither William nor Harry made much of an effort to make themselves available," the authors wrote, adding that the brothers "can be hot and cold with their father" (via the New York Post).
The portrait came in the midst of ongoing family feuds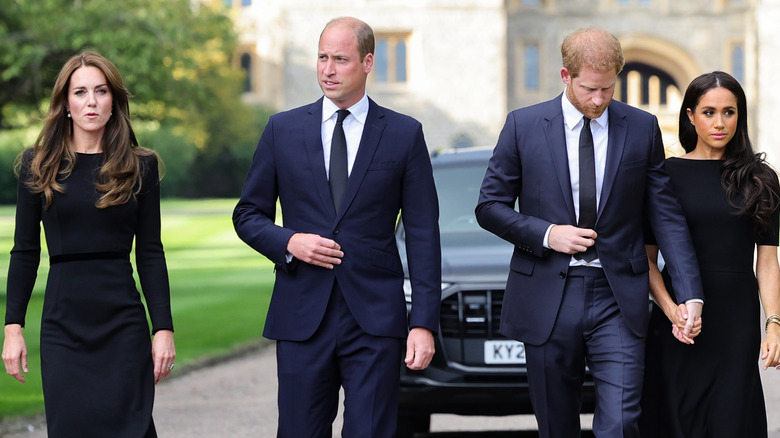 Chris Jackson/Getty Images
The royal family shared their color-coordinated family portraits four months after Meghan and Harry's May 2018 wedding day. However, their honeymoon phase as the family's newest couple was over. According to inside sources and memoirs penned by the royals, discontent between the siblings and their spouses was already reaching its peak when the family posed for their garden photograph.
Although the complete timeline of William and Kate's rift with Harry and Meghan can be difficult to follow, tensions worsened after Harry and Meghan's wedding. A member of William's inner circle told the Daily Mail, "The problem is that the Cambridges felt things had moved very quickly between Harry and Meghan. Will was particularly worried and felt close enough to Harry to voice his thoughts." This disagreement eventually became the fodder for William and Harry's full-on estrangement. Meanwhile, Kate and Meghan were licking their own wounds as they smiled by their husbands.
Harry's tell-all memoir "Spare" revealed that the two royal wives had a falling out over a comment Meghan made regarding Kate having "baby brain because of her hormones" leading up to Harry and Meghan's wedding. "It caused such a huge row because Meghan was told that she wasn't close enough to her sister-in-law to discuss her hormones, and it wasn't the way people spoke to each other within the Royal Family," an inside source told Daily Mail.
Tensions within the royal family have only gotten worse over the years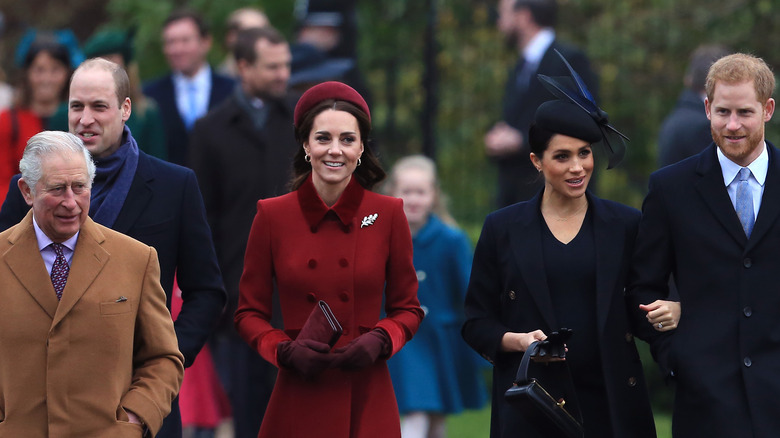 Stephen Pond/Getty Images
Omid Scobie and Carolyn Durand's book called King Charles' 70th birthday portrait "an absolute nightmare," and it's not hard to see why. One month before the photo was posted to Instagram, Harry and Meghan announced their first pregnancy. The family's reaction would later spark Markle's claims of royal racism, as she recounted conversations among royal relatives regarding her child's skin color while speaking with Oprah Winfrey in March 2021. 
Moreover, among the many startling revelations from Prince Harry's "Spare" was the claim that his older brother physically attacked him months after they posed together for Charles' birthday photo. After alleging that William called Meghan "rude, abrasive, and difficult," Harry said, "[William] grabbed me by the collar, ripping my necklace, and he knocked me to the floor. I lay there for a moment, dazed, then got to my feet and told him to get out" (via The Guardian).
Harry and Meghan's absence from Charles' 75th birthday seems to suggest that the ill will harbored in that iconic 2018 portrait is still present today. As royal expert Neal Sean told Fox News in November 2023, "Most senior members of the British monarchy are more than relieved by the news that ... Harry and Meghan are simply not going to be returning for the birthday celebrations." While Sean's comment implied the Duke and Duchess chose not to attend, representatives for Harry and Meghan said they were never invited (via the New York Post).