Post Malone Has An Even More Permanent Tie To Travis Kelce Than Taylor Swift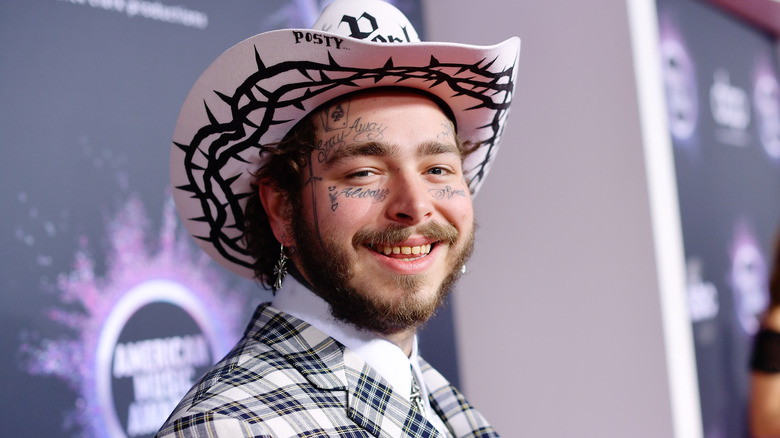 Matt Winkelmeyer/Getty Images
Taylor Swift and Kansas City Chiefs tight end Travis Kelce may be getting close, but musician Post Malone has a permanent tie to the football star that will last a lifetime. Their bond began in February 2020 when Kelce, along with Chiefs quarterback Patrick Mahomes, attended Malone's concert at the Sprint Center in Kansas City. While the pro footballers showing up for the performance typically wouldn't be a huge shocker, the timing of the outing made it special. Hours earlier, Mahomes and Kelce had secured their Super Bowl win against the San Francisco 49ers and had their celebratory parade. Therefore, when they entered the stadium, it was a continuation of their victory, and Malone made sure the evening was extra special.
Malone allowed the players to hang out with him backstage before he started his show. However, this meet and greet ended up delaying the start time due to the trio engaging in an intense beer-pong tournament. Malone didn't win the match, and as part of his losing stipulations, Malone got some fresh ink honoring his new pals.
Post Malone got a Travis Kelce and Patrick Mahomes-inspired tattoo after losing in beer-pong
The intense beer-pong competition between Post Malone, Travis Kelce, and Patrick Mahomes lasted about ten rounds. Malone was determined to win a match and even tried switching partners in an effort to defeat Kelce, who seemed equally as determined. Malone declared if he lost another game to the well-trained athletes, he would get their autographs etched on him. With a tattoo artist on site, this would be easy to do, and Malone ultimately honored his word.
In an October 2023 interview on "The Howard Stern Show," Malone admitted that he inked the athletes' names after his concert. He placed the drunken signatures on his arm, a lifelong reminder of their epic beer pong face-off. Given that tattoos are permanent, Mahomes tried to talk Malone out of his new body art, but he would not be swayed and insisted on going through with it. 
Malone doesn't regret his decision and praised both men, telling Stern, "You meet a lot of people in the world, and what's cool is to see people that are successful — much like Taylor and Travis and [Chiefs QB] Patrick [Mahomes] — they really give a sh** about human beings. And I think that's pretty bada**."
Malone is ready for his beer pong rematch with Kelce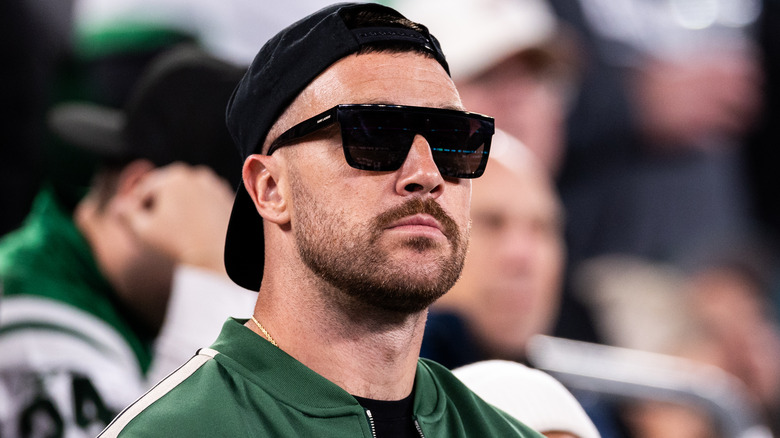 Dustin Satloff/Getty Images
In the months after Post Malone's beer pong defeat to Travis Kelce and Patrick Mahomes, he decided to take his love for the tipsy sport to a new level. He founded his World Pong League in November 2020, which aired on Facebook, and even created the World Pong League at-home game. Now, three years later, Malone is finally ready for another round with Kelce. The Grammy Award nominee sent this request to Kelce during a recent hangout with his new girlfriend, Taylor Swift. "I told Taylor, tell him I said those elbows were crazy and you can't have your elbows crossing over the table. So, I'd like a rematch," he revealed.
Even though it's uncertain when Malone and Kelce will play beer pong again, the "Congratulations" singer is rooting for his opponent from the sidelines. He is fully supportive of Kelce's newfound relationship with Swift, of whom he's also a big fan. Between his budding romance and being an NFL tight end, Kelce may not have any free time to link up with Malone soon. Nevertheless, the memories of that night live on, with the body art to prove it.