Insider Claims Prince Harry Has 'Sensitivity Viewer' Pre-Screen The Crown Final Season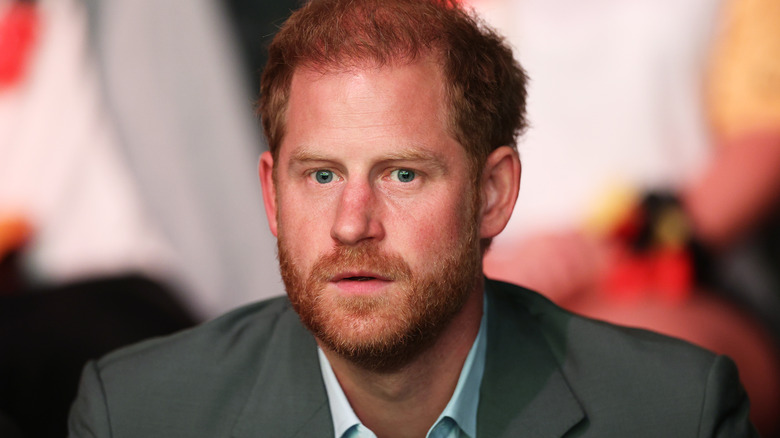 Dean Mouhtaropoulos/Getty Images
Watching your life played out on-screen can be unsettling enough as it is, but reliving your deepest childhood traumas is another challenge altogether — a difference Prince Harry, Duke of Sussex, reportedly took into consideration ahead of the final season of "The Crown." The popular Netflix series has depicted the monarchy from Queen Elizabeth II's ascension to King Charles III and Queen Camilla's 2005 wedding, and the sixth season promises to be more heartbreaking than ever as it portrays Princess Diana's tragic death in 1997. 
Harry, the younger of Diana's two sons, admitted to watching the series for fact-checking purposes while on a 2023 episode of "The Late Show with Stephen Colbert." 
But an inside source told The Telegraph that the former prince is taking a more trepidatious approach to the season that depicts his mother's passing. The source told the publication they may screen it before Harry does to help him avoid any scenes that might be too painful. 
The royal series will depict the sons' last phone call with their mother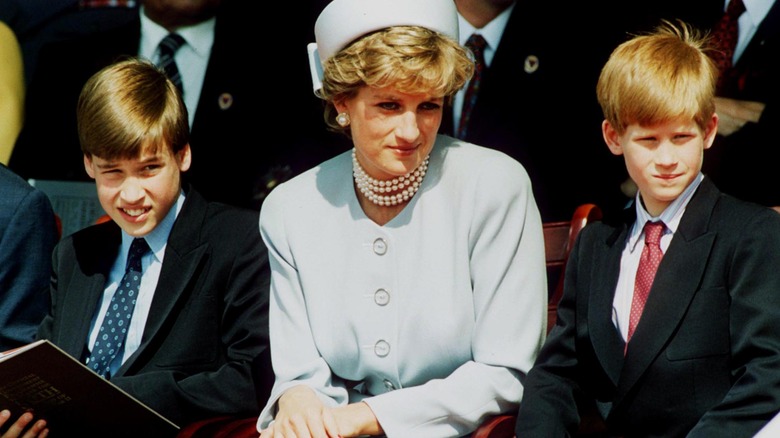 Anwar Hussein/Getty Images
William, Prince of Wales, and his younger brother, Prince Harry, Duke of Sussex, have spoken publicly about their final conversation with their mother in a 2017 documentary "Diana, Our Mother: Her Life and Legacy." William and Harry spoke briefly to Princess Diana over the phone, and that phone call will be included in an episode of "The Crown." However, the Netflix series' retelling of that fateful conversation will be fabricated to a point.
"I can't really necessarily remember what I said but all I do remember is probably regretting for the rest of my life how short the phone call was," he told the documentary (via The Telegraph). "Looking back on it now it's incredibly hard. ... Not knowing that was the last time I was going to speak to my mum, how differently that conversation would have panned out if I'd had even the slightest inkling her life was going to be taken that night." William added that he and his brother were in the middle of playing with their cousins at Balmoral Castle and were eager to get off the phone. The brothers have never disclosed their mother's final words to them.
For his part, William has stood firm in his refusal to watch the series. On a 2019 episode of "The Graham Norton Show," Olivia Colman, who plays Queen Elizabeth II, described asking the prince if he watched the show at a dinner party. "His answer was a firm, 'No.' But he was very charming and very lovely" (via Hello! Magazine).
The last season of The Crown highlights Harry and William's worst trauma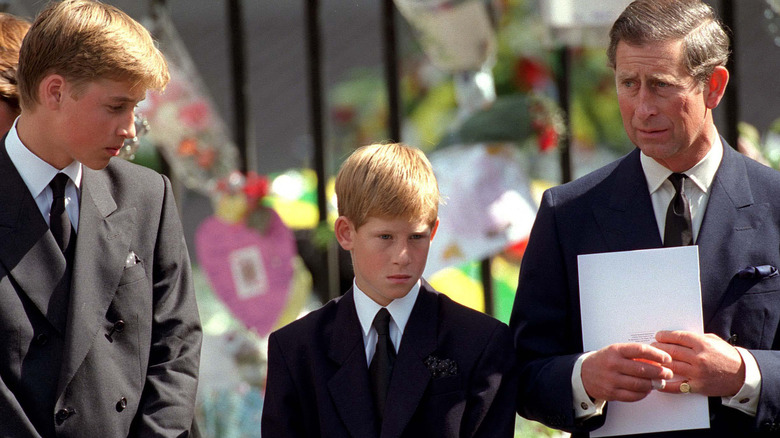 Anwar Hussein/Getty Images
Prince William and Prince Harry were only 15 and 12 when their mother, Princess Diana, died in a car crash in Paris. "I remember just feeling completely numb, disoriented, dizzy," William recalled in the BBC documentary "Diana, 7 Days," per ABC News. "You feel very, very confused. And you keep asking yourself, 'Why me?'" Startling revelations from Prince Harry's memoir "Spare" revealed how Diana's youngest son processed her death and his trauma responses to the loss are truly heartbreaking. 
In his memoir, Harry recounted his father, then-Prince Charles, waking him up in the middle of the night in a dressing gown. After Charles told his young son about the car crash, Harry wrote that he waited for the follow-up news that his mother was okay. That news never came. He wrote that he started to wonder if his mother had faked her own death to escape the struggles she faced following her highly publicized split from Charles. Harry said he imagined secretly reuniting with his mother and William in the Swiss Alps (via USA Today).
The Daily Mail reported that the car crash in the Parisian tunnel isn't included in "The Crown" for sensitivity purposes. But it's clear that the events leading up to and following Princess Diana's death are still incredibly difficult for her sons to relive — a childhood trauma far too painful for the Duke of Sussex to lightheartedly fact-check as he's done the rest of the series.