Inside Adam Levine And Behati Prinsloo's Lavish Life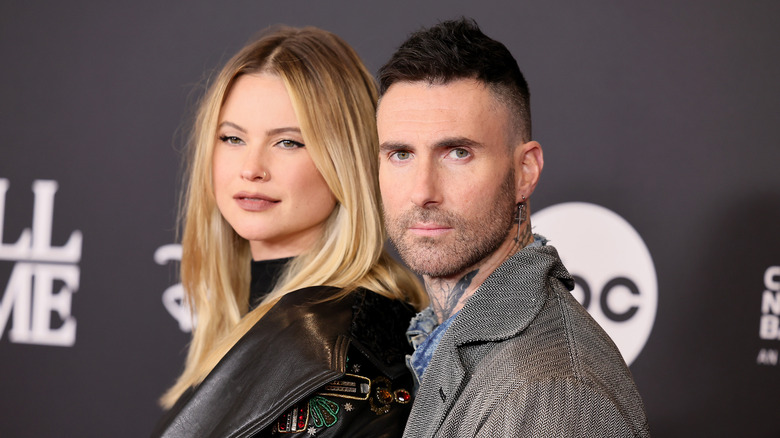 Theo Wargo/Getty Images
Maroon 5 frontman Adam Levine and Victoria's Secret model Behati Prinsloo have enjoyed their share of success in their respective careers. With their incredible fame and fortune, they are able to enjoy incredible luxuries that most people can only dream of!
Of course, Levine and his bandmates began enjoying widespread recognition after the release of their first complete album, "Songs About Jane" in 2002. Since then, Levine has become an international sensation and has consequentially acquired immense wealth for his work. Meanwhile, Prinsloo, a native of Namibia, was discovered in Johannesburg, South Africa in 2005 and made her modeling debut later that same year with Prada and Miu Miu The model later became a Victoria's Secret Angel in 2007. 
Having established themselves as masters of their crafts, the couple now spends their days surrounded by nearly unfathomable luxury.  From their multimillion-dollar homes that prestigious publications like Architectural Digest have exalted to various high-value collections of cars, watches, and designer sneakers, Levine and Prinsloo are taking lavish living to another level. 
They have two multimillion dollar homes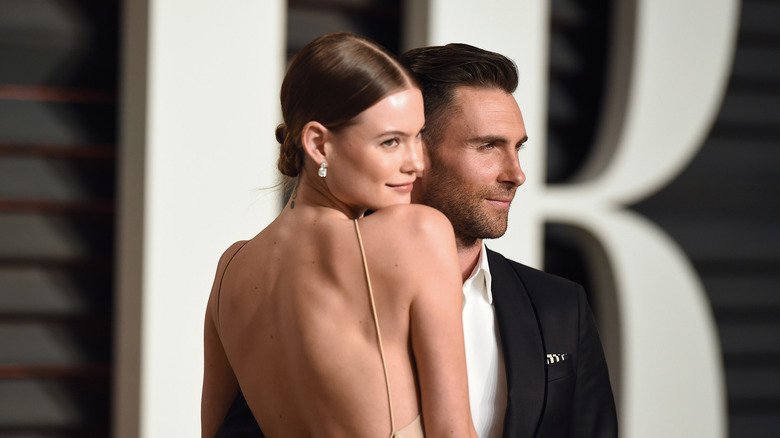 Axelle/bauer-griffin/Getty Images
Adam Levine and Behati Prinsloo have a stunning real estate portfolio of luxurious homes in California, though the couple did spend a couple of years in a sleek SoHo loft before returning to their beloved West Coast. Over the course of their marriage, they have owned five multimillion-dollar properties, two of which they still currently own.
Their primary residence is a historic, $22.7 million mansion in Montecito, California. Like many properties of its caliber, it boasts a name as impressive as its curb appeal. The El Miraval Estate was first built in the 1920s, and the one-hundred-year-old home has aged incredibly well. Architectural Digest commends Levine and Prinsloo for their impeccable taste as they stray from the palatial aesthetic of their peers and opt for a more low-key, quiet-luxury feel. Though Levine and Prinsloo's vibe is considered low-key, the property is still incredibly grand. Almost 5.2 acres of well-manicured grounds surround the five-bedroom main house and adjoining structures (including a small cottage and a separate, two-bedroom guest house). The property is complete with plenty of facilities for exercise, like a dazzling swimming pool, tennis court, and putting green.
The couple also owns another large estate, which they purchased from actress Jennifer Garner in 2019 for $32 million. The Pacific Palisades property includes three structures: the main house, guest house, and a workspace of sorts which includes a gym, theater, art studio, and an office area.
They take their family on adventurous vacations
Adam Levine and Behati Prinsloo have taken their children on a few long-distance vacations over the past couple of years to enjoy quality time together in beautiful new places.
 In 2021, the couple took their two daughters to Maui to enjoy the stunning scenery and outdoor activities such as hiking, swimming, and sightseeing. They were joined by their friends, Eric Christian Olsen, Sarah Wright, and their children as they swam amidst some of Maui's gorgeous waterfalls. Levine posted a video to Instagram which compiled fun moments from their trip in the style of a vintage movie trailer complete with groovy music and a grainy film filter. 
Levine and Prinsloo also traveled to Europe in the summer of 2023 to visit Paris as a family. Both Prinsloo and Levine posted photos on Instagram to commemorate the occasion. Levine's post pictured him with his family as they walked toward the Louver Museum with the succinct caption, "GANG," whereas Prinsloo's Instagram post was a carousel of different photos from the trip which included snapshots of different Parisian buildings, foods, and scenes. 
Adam Levine has a personal stylist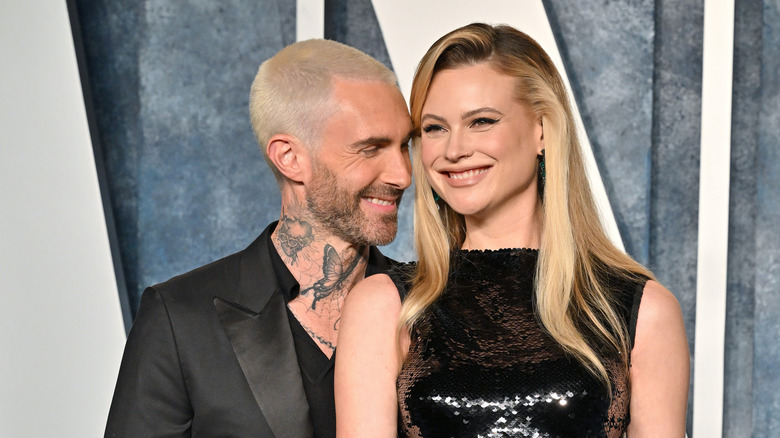 Axelle/bauer-griffin/Getty Images
Adam Levine is a celebrity who isn't afraid to take fashion risks, especially when he has a professional stylist in his corner to ensure that his looks are always well put together. Matt Goldman has served as Levine's stylist since 2010, when Levine first joined the cast of NBC's "The Voice" as a judge. Goldman went into detail about what it is like working for Levine and navigating his diverse taste in clothing in an interview with Billboard, where he stated, "Normally celebrity clients have and want to maintain their one image because they're doing album packaging ... But when you're in the public eye and on camera as much as Adam is, you actually can do more things. Most people would be afraid of that, but he loves it." 
Levine is not the only member of his family who regularly uses the help of professionals to look her best for the cameras. In the hours leading up to red-carpet events, Behati Prinsloo is surrounded by a glam squad of professional hair and makeup artists. An article published by Vogue dives into the intricate processes involved in preparing Prinsloo for the 2023 Vanity Fair Oscars Party. In the hours leading up to the event, Prinsloo was primped and pampered by hair stylist Teddi Cranford and makeup artist Carolina Gonzalez. 
They had a stunning wedding in Los Cabos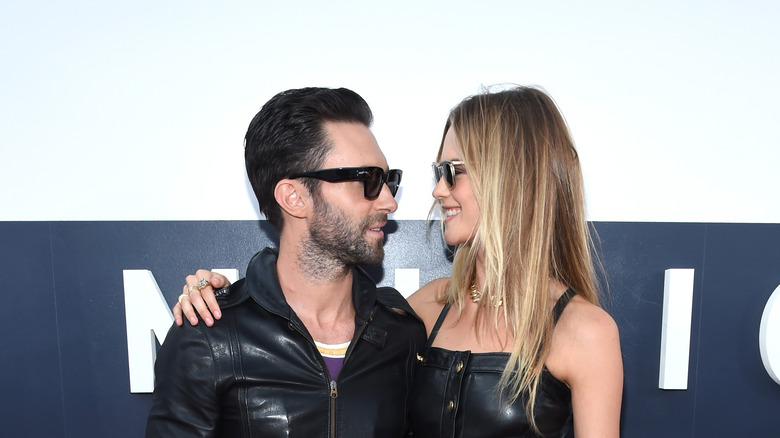 Larry Busacca/Getty Images
In true celebrity fashion, Adam Levine and Behati Prinsloo enjoyed a wedding weekend for the history books, complete with exclusive venues, custom designer wedding clothes, star-studded guestlists, and gourmet food for the occasion.
The couple married on July 19, 2014, at the beautiful Flora Farms in Mexico, where they enjoyed scenic mountain views and breathtaking scenery. Flora Farms is an organic working farm that supports its own restaurant, spa, bar, food market, and event space. It was here that Levine and Prinsloo celebrated their wedding with 275 guests, which included actor Jonah Hill as officiant, Levine's bandmate, Jesse Carmichael as best man, and another Maroon5 member, James Valentine, who provided live acoustic music leading up to the ceremony. On the Friday before the actual wedding, the bride, groom, and their guests partied beachside at the elegant and exclusive El Dorado Golf and Beach Club.
Prinsloo dazzled in her custom Marchesa gown designed by Alexander Wang with whom she collaborated in the months leading up to the wedding. Her superstar wedding look was complete with fresh-off-the-runway Christian Louboutin, white-suede "Valnina" shoes.
Adam Levine is a stay-at-home dad
Since departing from his long-held position as a coach for NBC's "The Voice" in 2019, Adam Levine has been spending his newfound free time at home with his three children: Dusty Rose, Gio Grace, and a son whose name has not been revealed at the time of writing. 
During an interview on "The Ellen Degeneres Show," Levine expressed to the host that after spending a long period of time complying with the hefty demands of working on a talent television show as a coach and judge, he is very ready to take a much-needed step away. "I was just constantly working for so many years," he told Ellen Degeneres, "[I'm] very lucky, very fortunate, very blessed and all that, but [I just wanted] to be able to kind of stop in this moment with my new, young family, and just have the greatest time ever." 
"Now I'm just like, a stay-at-home dad. I just stay home and do very little. It's great," he admitted in the same interview, which is, to most parents, an allusion to the benefits of immense wealth in the realm of childcare. Having the ability to take time away from work to raise one's children has become a luxurious concept to many in the United States.
Adam Levine has a luxury and vintage car collection
Like many wealthy individuals, Adam Levine has developed a taste for the rare and expensive, especially when it comes to cars. Levine has a collection of multiple vintage and luxury vehicles that have garnered his interest for their impact on the automotive industry and their style.
The collection includes a Ferrari 365 GTC, a two-door coupe with an incredibly powerful engine. Most cars on the road today have between four and eight cylinders, depending on the size and purpose of the vehicle, but Levine's Ferrari 385 GTC boasts a 12-cylinder engine which allows for immense acceleration and speed. The singer's fondness for Ferraris doesn't stop there. He also owns a less expensive but still luxurious Ferrari Roma. Levine's garage also features an iconic 1956 Porche 356 Speedster. The distinct design includes a rounded yet sleek body style. His second Porsche is a 911 Turbo S, which features an adjustable rear wing. As a collector of luxury cars, it seems only fitting that Levine would include a Rolls-Royce in his illustrious fleet. His Rolls-Royce Dawn Black Badge is a stunning addition with an even more dazzling price tag. Another addition is his 1969 Ford Bronco Resto-Mod, which was made from the shell of a vintage Bronco but has been completely upgraded on the inside for everyday use.
In a slightly more practical vein, Levine also owns a few more mainstream vehicles, such as a Mercedes-Benz S550 and a 1966 Ford Mustang GT.
Adam Levine has a luxury watch collection
In August 2023, Hodinkee founder and executive chairman Benjamin Clymer sat down with Adam Levine at his Monticello home to discuss Levine's impressive watch collection. In the interview, Levine dives into the histories of the most notable pieces he owns, as well as a few watches he has since parted with as he continues to curate his collection.
The pieces Levine displays in the interview range from dazzlingly extravagant to sleek, understated designs. For example, his Rolex Rainbow Daytona is just as eye-catching as it sounds. The bezel is adorned with a gradient of diamonds that emulate the seamless blend of colors as seen in naturally occurring rainbows. The face of the watch also features corresponding colorful diamonds set against a background of black quarts. In the interview, Levine reflects upon his initial feelings about the watch, stating, "I just thought it was so kinda ugly – or maybe not ugly, that's a bold word, but maybe just really a lot," he explained to Clymer, "But then you take another look at it, and then you realize ... this is so beautifully made, and it's so different, there's nothing like it ... " 
On the opposite end of the aesthetic spectrum is his Patek Philippe Perpetual Calendar Chronograph Ref. 5970 P, which has a minimalistic, elegant, black and silver design. This is the watch that enticed Levine to expand his collection beyond Rolex, and it is currently the only non-Rolex piece in the collection.
The couple has an outrageous sneaker collection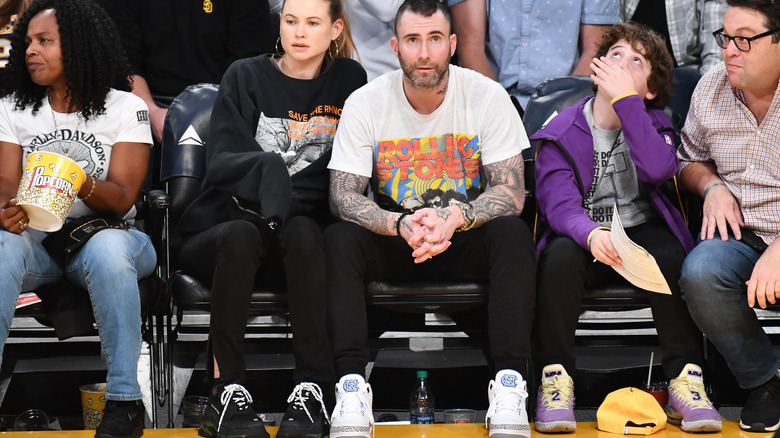 Allen Berezovsky/Getty Images
Adam Levine's love and appreciation for sneakers started early on, according to an episode of "Sneaker Shopping," a series on YouTube created by Complex that dives into the sneaker collections of different celebrities as they also shop for new additions for their closets. Levine was inspired to begin seriously collecting sneakers by his younger brother, Sam Levine, as well as his late manager, Jordan Feldstein, but states that he has been interested in shoes for most of his life. He explained to host Joe La Puma that one aspect of sneaker culture that he appreciates is how it allows you to tap into your inner child. He said, "You don't have to ever feel, like, insecure about loving shoes 'til the day you die. Doesn't really have an age where it becomes inappropriate to wear great sneakers."
Levine also casually notes during his interview with La Puma that he already owns a substantial number of designer shoes on display at SoleStage in Los Angeles, where the interview was filmed.
Behati Prinsloo also boasts an impressive sneaker collection that her husband has helped her to curate. Though Levine states that her collection may not be as plentiful as his, the quality of the selection is unmatched. "She loves Jordans." he said, "The Jordan 1's are her favorites." Prinsloo's Instagram stories have previously shown glimpses of her many shelves of luxurious footwear.
Adam Levine proposed to Behati Prinsloo with a vintage engagement ring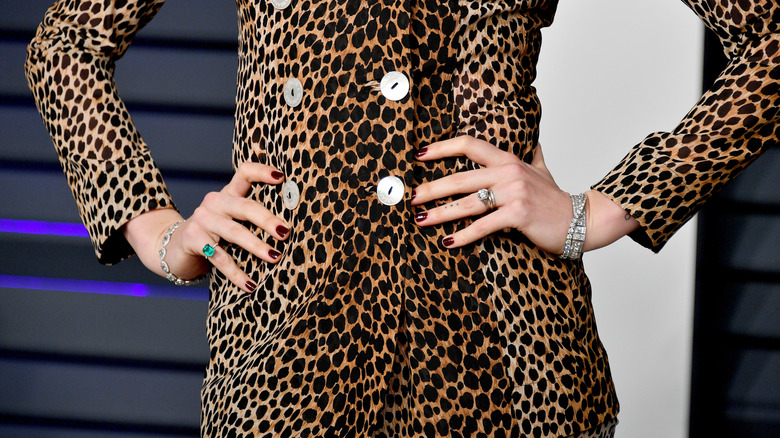 Dia Dipasupil/Getty Images
Adam Levine proposed to Behati Prinsloo in 2013 with a ring that seems incredibly on-brand for Prinsloo's proclivity for vintage styles. The ring is a bespoke diamond engagement ring that was crafted back in the 1930s. Jewelry experts with Brilliance, who have analyzed the features of Prinloo's ring, explain that it features a round-cut diamond that is approximately a little over one carat in weight and is fastened to the scrollwork band with a four-pronged setting. They also note that the gallery of the ring is elevated so that the diamond can catch the light more effectively. The Art Deco design coincides beautifully with Prinsloo's effortlessly cool and eclectic style and offers viewers a welcome reprieve from the blinding and gigantic engagement rings often sported by the fabulously wealthy.
Shortly after the engagement in 2013, Prinsloo expressed to a representative from Extra that she was rendered giddy and speechless by Levine's proposal and the ring, and for good reason. In the same interview, Prinsloo said that Levine was "a stand-up guy" about the proposal, having called her parents first and popping the question on bended-knee.
In 2022, Prinsloo's unique ring was ranked by Brides Magazine among the best celebrity engagement rings as part of their "Ultimate Engagement Ring Guide."
They have at-home fitness and wellness coaches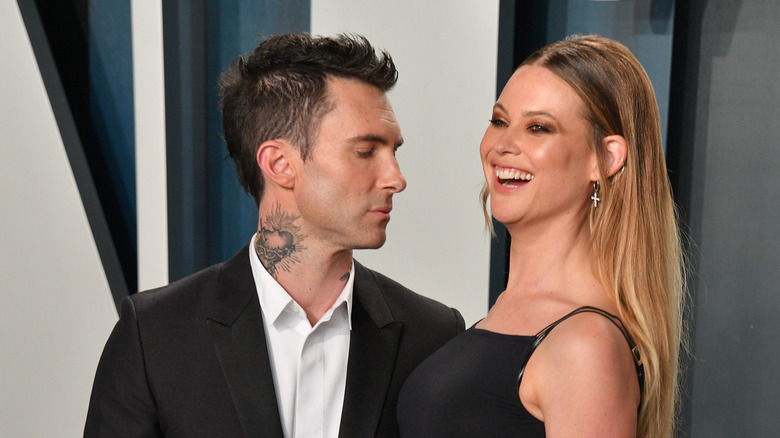 George Pimentel/Getty Images
Adam Levine and Behati Prinsloo take their health and wellness very seriously and spare no expense when it comes to the professional services they require to reach their fitness goals. Levine's personal trainer, Austin Pohlen actually lived in Levine and Prinsloo's home during the COVID-19 pandemic so that Levine could continue to train and eat well while still upholding quarantine restrictions.
Even before COVID-19, Prinsloo and Levine enjoyed the luxury of home visits from their fitness coaches and nutritionists to make their rigorous wellness routines more doable. A 2015 article published by Men's Journal paints a picture for the reader to visualize the intensity and expense of Levine's at-home workout regimen complete with a team of trainers, including his long-time yoga teacher, Chad Dennis, as well as most of the equipment one would expect to find in a regular gym – not a typical "home gym," but a professional establishment for fitness.
Prinsloo also enjoys her workouts at home. In 2017, she described her wellness routine, admitting that she prefers doing vinyasa with her coach, Jennifer Perry, as well as cardio and floor Pilates.
Behati Prinsloo has an extremely luxurious skincare routine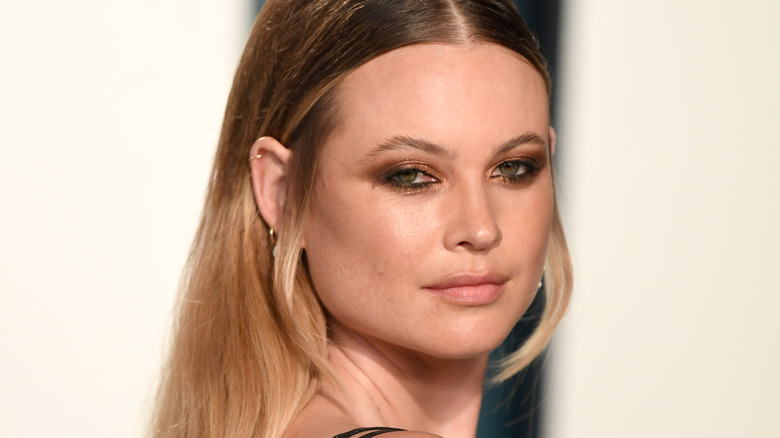 Karwai Tang/Getty Images
The only budget-friendly step in Prinsloo's skincare routine is the ice cube she pulls from the freezer and rubs over her face in the morning. She told Vogue, "The ice really wakes me up, and it's all natural." Unfortunately for any fans of Prinsloo who have hopes of emulating her routine, the price point of each subsequent step is far above and beyond a humble DIY ice cube.
Her second step is a spritzing of SK-II Mid-Day Miracle Essence (fresh from the fridge), which retails for a hefty $95 at Sephora. She follows up with an array of serums, including iS Clinical Super Serum Advance Plus, which is available online at SkinStore for a whopping $176, as well as Dr. Barbara Sturm's Glow Drops, which comes in at around $203, and the cocktail of serums is completed with another Dr. Sturm product, the Hyaluronic Serum, which can be bought from Net-A-Porter for the mind-boggling price of $441. To add to the luxurious treatment of her skin, Prinsloo is not light-handed when it comes to her serums. After emphasizing that hydration is a key aspect of her skincare routine, she told Vogue, "If it says three drops, maybe I put 10 on."
The carousel of luxury products doesn't stop there. She continues with EMK Skincare's Radical Eye Cream, retailing for $68, and finishes strong with a healthy slathering of Dr. Barbra Sturm's Sun Drops with SPF50, which are available at Net-A-Porter for around $203.