The Powerful Message Lainey Wilson Wants Young Women To Hear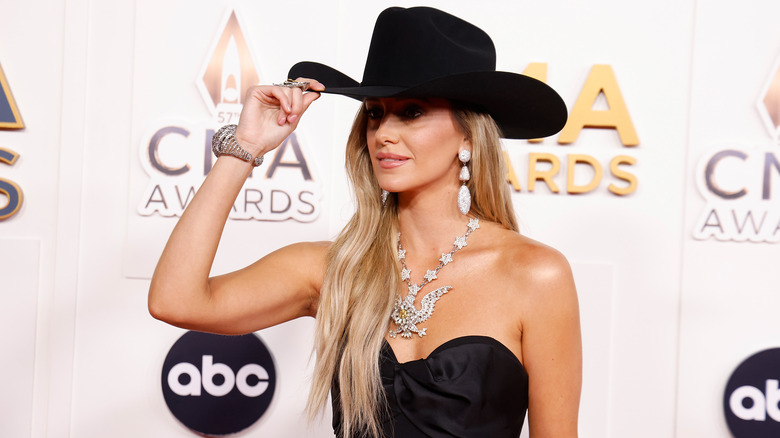 Taylor Hill/Getty Images
During the November 2023 Country Music Association Awards, the stunningly transformed Lainey Wilson took home a total of five CMA awards, winning Album of the Year for "Bell Bottom Country" and being honored as Female Vocalist of the Year. Most notably, the country star was awarded the title of Entertainer of the Year, one of the ceremony's highest honors.
When accepting the accolade for Female Vocalist of the Year, Wilson shared a powerful message to all the young girls in the audience, encouraging them to always remember their worth. "For all you little girls watching and for the ones that are here tonight too, it's something that I'm doing," the singer said. "I'm getting up every single day and I'm looking at myself in the mirror and saying, 'I am beautiful. I am smart. I'm godly. I'm fearless.'"
Wilson added a message of perseverance, saying, "If somebody tells me I can't do it, hold my beer. Watch this." With her aspiration of country music fame starting from an early age, Wilson's message of self-worth and perseverance is definitely one that hits home for the women and girls who look up to her.
Wilson shared a message to her younger self behind the scenes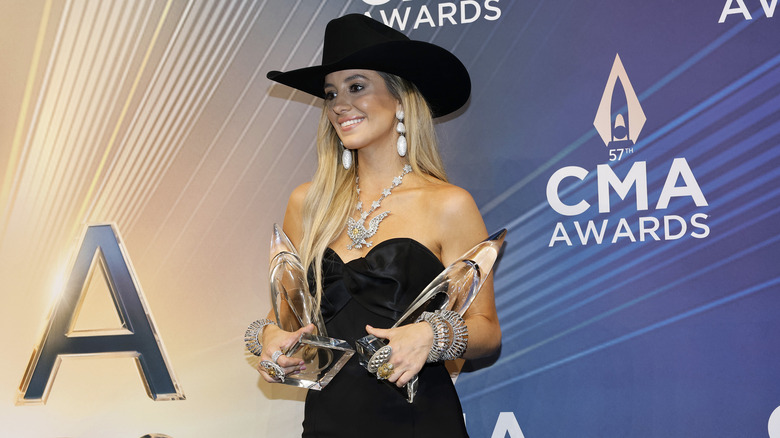 Jason Kempin/Getty Images
Following the powerful message she shared in her CMA acceptance speech, Lainey Wilson talked to ABC News about the daily affirmations she encouraged women to start using. "It's something that I haven't always done but it's something that I'm doing now," she explained. "It's getting up every day and looking at myself in the mirror and saying, 'I am beautiful. I am smart. I am fearless."
The country music star went on to acknowledge the long journey that led up to her success, explaining that she'd be in Nashville for 12 years working to make her dreams a reality with aspirations of music stardom starting when she was 9. The words she shared for her younger self double as another inspirational message to the many girls who look up to her.
"I would say the feeling that you're feeling and the dreams that you envision, it's going to happen," the "Things A Man Oughta Know" singer told the outlet. "I would say, 'Trust yourself, trust your gut, trust the Lord. Stay true to yourself. It's going to be some hard and dark days, but at the end of the day, it's what you love.'"
The country music star acknowledged those who came before her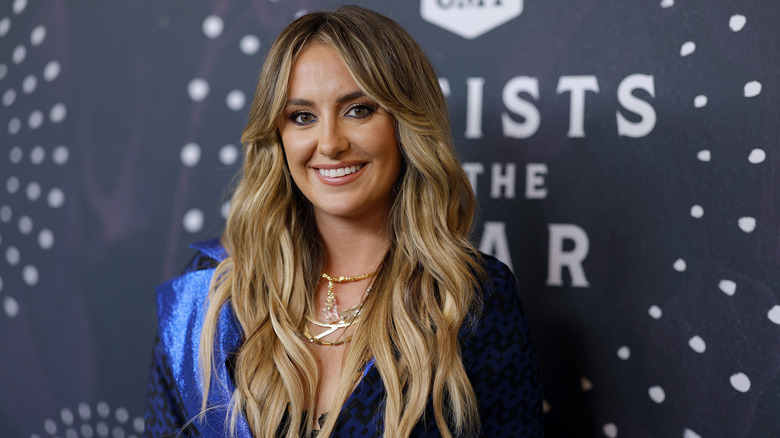 Brett Carlsen/Getty Images
While young women might be taking inspiration from Lainey Wilson these days, the country star acknowledged that she's joining the ranks of women who've been setting the scene long before her. "We've been having to blaze trails from the very, very beginning," she said in her speech. "I just want to say thank you so much for letting me be a part of that."
Prior to this, the "Watermelon Moonshine" musician hasn't been reticent about the women who've inspired her music and fashion. Her track "WWDD," an acronym for "What would Dolly [Parton] do?" makes Wilson's respect for the music legend most obvious, but the "Jolene" singer isn't her only influence. When talking to Forbes in October 2023, the country artist added Loretta Lynn to the list, explaining why she looks up to her and Parton specifically.
"I think those ladies right there, they have shown me that you can be who you are, you can be where you're from, embrace that and tell your stories," Wilson explained. Other than that, she's mentioned Reba, Shania Twain, and even Britney Spears as some women who've inspired her over the years.