Taylor Swift Is Absolutely Heartbroken Over Fan's Death At Her Concert In Brazil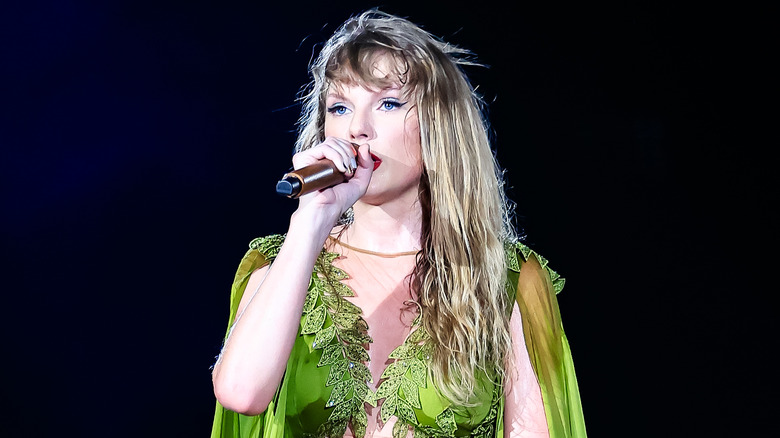 Buda Mendes/tas23/Getty Images
Tragedy has struck in the midst of Taylor Swift's worldwide "Eras" tour. On Friday, November 17, 2023, a fan died while waiting for Swift's concert in Rio de Janeiro to begin. The death of Ana Clara Benevides Machado, 23, was announced by Time4Fun, the concert's organizer, on Instagram. 
Although Machado's cause of death has yet to be announced, other concertgoers have said there was a lack of water and soaring high temperatures during the event. AP News received reports that fans weren't allowed to bring water bottles into the stadium. A video taken during Swift's concert highlights how bad the water situation was. The clip shows the "Cruel Summer" singer asking her assistants to bring fans water and even handing out water herself after several members of the audience began pleading and chanting for water.
Machado's tragic death has prompted Taylor Swift to speak out about what happened. The queen of concerts, who is known to be just as in love with her fans as they are with her, is heartbroken over the shocking news. She has stated that she was "overwhelmed by grief" after hearing about the death.
Taylor Swift is 'devastated' after fan's death
📲 Taylor Swift via IG Story statement regarding the fan who passed away tonight at The Eras Tour in Rio, Brazil Night 1 ❤️

"I feel this loss deeply and my broken heart goes out to her family and friends. This is the last thing I ever thought would happen…" pic.twitter.com/BvCuDPAqb8

— Taylor Swift Updates (@SwiftNYC) November 18, 2023
Taylor Swift's grief over Ana Clara Benevides Machado's death made the superstar singer go on social media to publicly address the tragedy. The "Blank Space" songstress shared a handwritten statement in an Instagram story to address her shock and sadness over the loss of a dedicated fan. "I can't believe I'm writing these words but it is with a shattered heart that I say we lost a fan earlier tonight before my show," she wrote. "I can't even tell you how devastated I am by this." 
Swift said she hadn't received much information about her fan or how she died, but she was heartbroken to hear how young Machado was. The musician ended her statement by saying she wouldn't address the topic onstage because she felt overwhelmed by the situation. Instead, her heartfelt IG story would act as her official statement on the matter.
The death of Machado has rallied other prominent figures to speak out and demand change. Eduardo Paes, mayor of Rio de Janeiro, has said that the city will make arrangements for water to be ready and available in multiple areas during future concerts, per NBC News. He also advocated for more ambulances and security to be staffed around the stadium.