The Adorable Nicknames Courteney Cox And Jennifer Aniston Have For Each Other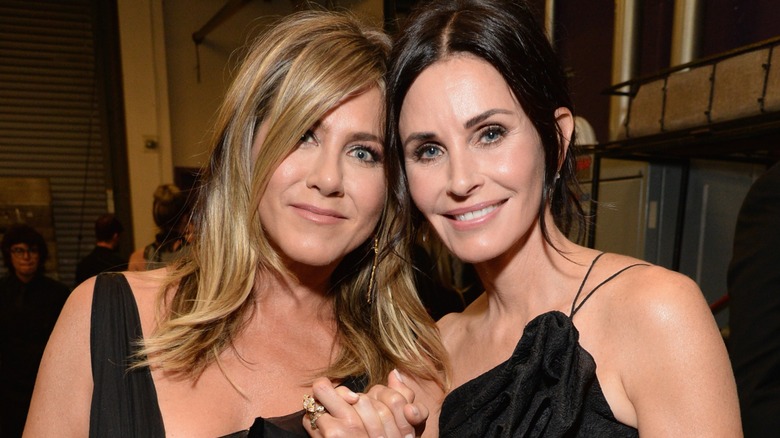 Michael Kovac/Getty Images
Jennifer Aniston and Courteney Cox's relationship is one of the sweetest friendships in Hollywood, blossoming from their 1994 connection on the set of "Friends." According to The Hollywood Reporter, during Cox's Hollywood Walk of Fame ceremony, Aniston said, "I was really nervous to meet [Cox] because I was a huge fan," referencing a time before they had met but already scored their roles on "Friends." She wrapped her touching speech up by calling Cox her non-biological sister, which serves to prove how close the two have grown over time.
According to their social media accounts, Aniston and Cox spend a significant amount of time together and even have adorable nicknames for one another. Even though they don't exactly remember where the sweet monikers came from, Cox affectionately calls Aniston "Jenny Louise," while Aniston refers to Cox as "Cox-N-Hammer."
Their on-screen friendship was one for the books, and it seems the same can be said about their real-life bond as they continue to support each other in various endeavors. Cox often expresses her affection for Aniston on Instagram, posting touching tributes for special events and their more casual hangouts. In a sweet birthday post featuring herself and Aniston, Cox wrote, "The world definitely got brighter the day this girl was born."
Jennifer Aniston and Courteney Cox also have nicknames for Lisa Kudrow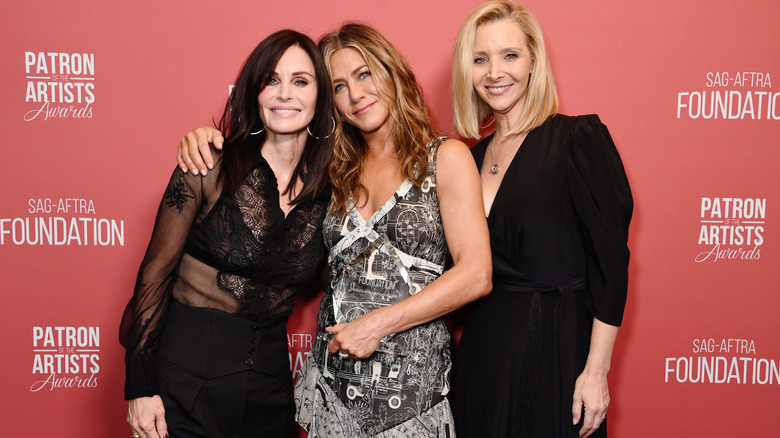 Gregg Deguire/Getty Images
In a heartfelt birthday tribute to Courteney Cox on her 59th birthday, Jennifer Aniston expressed love for her longtime friend, stating, "If you've been lucky enough to know her, you know how incredible she is," affectionately signing the caption off with, "I love you, Cox-N-Hammer!" The origin of the adorable moniker remains unclear, leaving room for speculation. Perhaps the star is savvy with a hammer around the house or nails everything she embarks upon?
In response, Cox reciprocated the affection in the since-turned-off comments, sharing her own nickname for Aniston. According to CNN, Cox wrote, "I love you, Jenny Louise." This wasn't the first time Cox revealed this sweet nickname, as she previously used it in an Instagram post celebrating Aniston's 52nd birthday. "Happy Birthday, Jenny Louise! We've known each other so long, I don't even remember why I call you that," Cox quipped under a couple of heartwarming photos of them.
The real-life connection between the two "Friends" stars also includes their third on-screen pal, Lisa Kudrow, who also has a set of her own nicknames. Aniston lovingly refers to her as "Floosh," as she disclosed in a birthday post, while Cox affectionately called Kudrow "Loot" under an Instagram carousel of their smiling faces.
Jennifer Aniston and Courteney Cox hit it off upon meeting on the set of Friends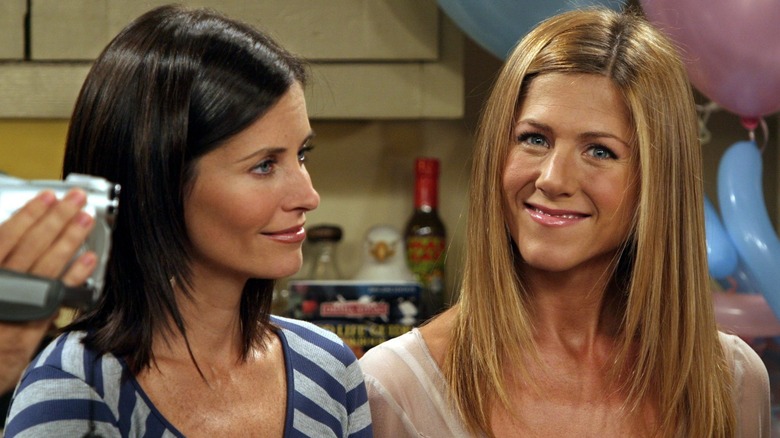 David Hume Kennerly/Getty Images
While "Friends" fans might be going wild over Jennifer Aniston and Courteney Cox's reunions, the truth is that the two are really close friends in real life. Their "Friends" characters, Rachel and Monica, were childhood friends, and despite not sharing their friendship origins and meeting later in life, Aniston and Cox have been there for each other through the ups and downs.
During a 2014 interview with More, as per E! News, Aniston revealed that Cox has been a constant support in her life, sharing, "Without giving away too much of my private stuff, all I can say is [Cox's] been there for me through thick and thin." She noted that Cox is always there to lend a listening ear and a shoulder to cry on without passing judgment, no matter the situation.
In a 2023 talk on the "Best Friends Energy" podcast, Cox also gushed about their friendship, emphasizing that they instantly clicked when they first met. Reflecting on the entire main cast of "Friends," she said, "That was such a lucky time in our lives that we met, and we just liked each other." Nonetheless, the three women, Cox, Aniston, and Kudrow, had a special relationship that transcended the show and is still going strong. Given their history and ongoing bond, it's safe to say their connection will continue to thrive, undoubtedly bringing joy to fans of the iconic sitcom.