Friends Fans Are Going Wild Over Jennifer Aniston And Courteney Cox's Reunion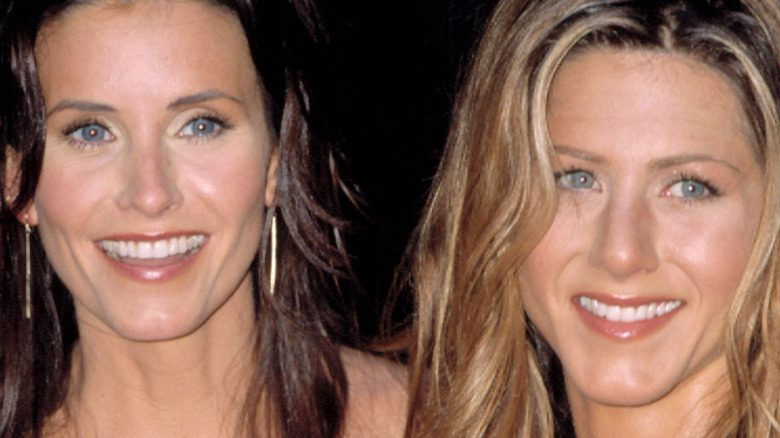 Everett Collection/Shutterstock
Between the clever jokes, '90s fashion, catchy theme song, and NYC setting, it's no wonder that "Friends" is one of the most beloved sitcoms in television history. "Friends" is currently streaming on HBO Max (via Instagram), and adults of various ages view the program as a comfort show because of its relatable plots and humorous antics.
Of course, much of the show's popularity comes from the likable, goofy characters and their many predicaments. Two of the show's most prominent characters are Rachel Green, portrayed by Jennifer Aniston, and Monica Geller, depicted by Courteney Cox (via IMDb).
While "Friends" helped launch Aniston and Cox's careers, both stunning leading ladies continued to find success on-screen after they finished filming the sitcom. For instance, IMDb notes that Aniston has acted in a wide range of movies, such as "Horrible Bosses," "We're the Millers," "Cake," and "Murder Mystery." Additionally, Aniston passed on a role in "Serendipity," an iconic romantic comedy (via IMDb). Meanwhile, Cox has been in various TV shows, including "Dirt" and "Cougar Town," and has always been a staple in the "Scream" franchise (via IMDb). 
Although the two actresses have gone their separate ways in their careers, they recently surprised fans with a reunion.
Their adorable Instagram post is giving us nostalgia
Although Jennifer Aniston and Courteney Cox no longer work together every day, their recent combined Instagram post makes it clear that they're still friends. In fact, the "Friends" actresses posted a one-second video on Instagram of them smiling together. It was captioned with "friends forever" and a red heart emoji.
In the charming video clip, Aniston wore a white T-shirt with "Friends Forever" printed on it, and Cox rocked a black top with the same phrase. They also pleasantly surprised us by saying that you can shop for "Friends" merchandise through the links in their Instagram bios. The Represent website is selling limited-edition merch from Seasons 7, 8, 9, and 10 for four weeks, so fans should hurry and buy some fun t-shirts, sweatshirts, hats, and other items before they're no longer for sale. The actresses also tagged Americares and EBMRF in their joint posts to support these causes.
Their cute reunion sparked tremendous excitement from fans, earning over 18.5 million likes on Instagram and more than 8,000 comments at the time of writing. Some of the many enthusiastic comments include, "What an iconic duo," "RACHEL AND MONICA," and "I LOVE YOU AND THIS." Like these other cheerful fans, we're so happy to see these "Friends" stars reunited!