How Simone Biles And NFL Hubby Jonathan Owens Handle Long Distance Marriage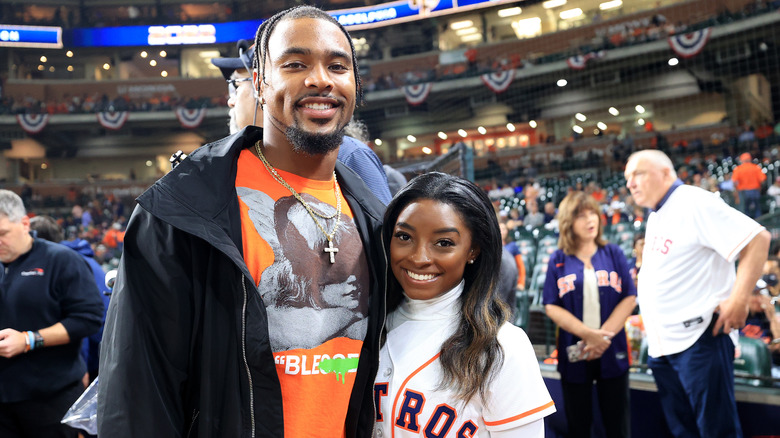 Carmen Mandato/Getty Images
Jonathan Owens and Simone Biles seem like a match made in heaven, so it's no wonder they had a rather fast-paced relationship. In March 2020, Biles met her boyfriend on the celebrity dating app Raya, where she reached out to him first simply because the Olympian thought he was cute. As professional athletes, they both found it difficult to set time aside for love, but when the pandemic hit the couple had the opportunity to get to know each other and fell in love without any external pressures affecting them. 
In February 2022, Owens popped the question, and Biles took to Instagram to gush that it was "the easiest yes" of her entire life. The happy couple got their marriage license in April 2023, and just a week after that, they had a courthouse wedding with only their closest friends and family in attendance. Owens and Biles saved their grand ceremony for Cabo, where nearly 150 guests watched them get married. But, thankfully, their union came with zero compromise on the athletes' promising careers. 
Biles informed People that Owens is her number one supporter. There are times when she doesn't feel like training or going to therapy, but Owens always reminds the gymnast of her dreams and encourages Biles to follow through with her plans. The decorated competitor also wants Owens to thrive professionally, and the couple's long-distance marriage allows them to balance their relationships and careers. But the newlyweds' love was put to the test just a week after their ceremony when work took Owens away.
Distance made their hearts grow fonder
During a 2023 appearance on "Today," Simone Biles shared why her new hubby, Jonathan Owens, couldn't stick around with her for too long immediately after their Cabo wedding. "Right after Cabo he went to Green Bay and signed, and two days later, he was up there, so it's been different," she admitted. However, the champion athlete also acknowledged, "At least we're both busy and focusing on our respective sports. It's been nice," (via People). 
While distance was naturally difficult for the newlyweds, Biles clarified that it also helped their love grow deeper because they better appreciated every moment together. Biles' Instagram feed has also given us glimpses into their long-distance relationship. In August 2023, she posted a photo of them sharing a kiss before a game, sweetly captioned: "Distance isn't easy, but seeing you play your heart out is so worth it. I'm so proud of you baby." 
A month later, she shared a shot of her hand beside Owens'. Sadly, they couldn't stay together for too long. A few days later, Biles shared an Instagram Story promising to meet her husband in six weeks as she left for the 2023 World Artistic Gymnastics Championships and he departed to play for the Packers. Then, she posted a Story about how much she missed him. Despite Biles' busy schedule, she regularly attends Owens' games to cheer him on. 
The couple supports each other through texts
While speaking to "Today" in 2022, Simone Biles revealed that when she and Jonathan Owens were first getting to know each other, they stayed in touch through texts, but then the pandemic changed everything. "We're with each other 24/7, so I feel like now when we're not with each other it's almost weird. We're always texting or calling each other. It's kind of gross in a way," the Olympian noted. They continued doing so to supplement their long-distance marriage. While Owens cannot physically be present at Biles' competitions, he privately supports her. 
In fact, August 5, 2023, was an important night for their careers. For Biles, it marked her return to the US Classics after a two-year hiatus, and for Owens, it was his first Packers "Family Night," where he practiced with the team and got some face-time in with the fans. Biles cheered him on via texts before he got on the field. However, once Owens started playing, he couldn't help but wonder about how Biles was faring at the championship. 
So, he ran back to the locker room to check her scores the first chance he got and screamed with joy when he saw Biles' stellar performance. Owens immediately texted her, but he knew she'd be busy celebrating with her family, so the athlete gave her the space she needed and let her know he would love to talk whenever she had a free moment. Despite Biles' phenomenal scores, she was equally excited for Owens' performance in the game.