Here's How Simone Biles Met Her Boyfriend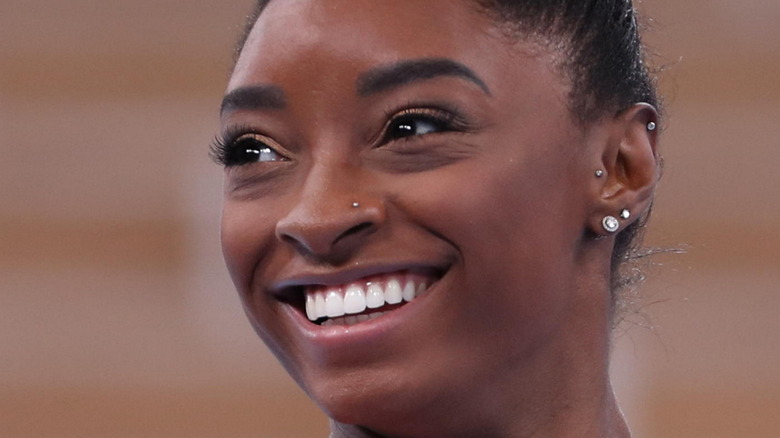 Xavier Laine/Getty Images
Simone Biles shocked the world in the summer of 2021 when the woman who was set to be the Tokyo Olympics star suddenly pulled out of the U.S. gymnastics team finals — and then several of her individual finals — before finally making a comeback on the balance beam to win a bronze medal. She said she did so for her mental health after experiencing a phenomenon called the "twisties" that caused her to lose her mind-body connection during her team floor performance, in which her planned 2 ½ twist vault turned into a 1 ½ twist vault (via Washington Post). 
While the world offered an outpouring of support for Biles, perhaps none was so important to her as the support she received from her boyfriend, NFL player Jonathan Owens, a man she met in a very 21st-century way.
After Biles withdrew from the competition, Owens posted a melt-your-heart message to Instagram, praising his superstar girlfriend who made the mental health of athletes and everyone else a central issue during the Olympic games. "Imma ride with you through whatever baby. Your strength and courage is unmatched and you inspire me more and more everyday SB," he wrote. "You always gone be my champ baby and don't you ever forget that, I love you so much and I can't wait till you come home and I get to see that beautiful smile again. You know I'm always here for you baby."
Simone Biles and boyfriend Jonathan Owens are quite the modern pair
While that message makes it seem like Simone Biles and Jonathan Owens have been together for years, they're actually a fairly new couple — a "quaran-couple," as she told Bustle. Biles and Owens met in early 2020 on the dating app Raya, just days before the world shut down due to COVID-19.
Thanks to lockdown delaying both the NFL training season and the Tokyo Olympics, the athletes got to know each other very well, which only made them fall in love more. "We got to spend a lot of quality time to see if we really liked each other, and we did!" Biles told Bustle. "It was like, 'OK, we have to be careful.' I would go to his house one weekend, and he would come over to my house the [next]."
However, the couple had to use the modern method called FaceTime to communicate when Owens would be out of town. While he lives in Biles' home state of Texas playing for the Houston Texans, he still had to travel with his team as professional football didn't much of take a break for the pandemic.
Quarantine made Simone Biles and Jonathan Owens' bond stronger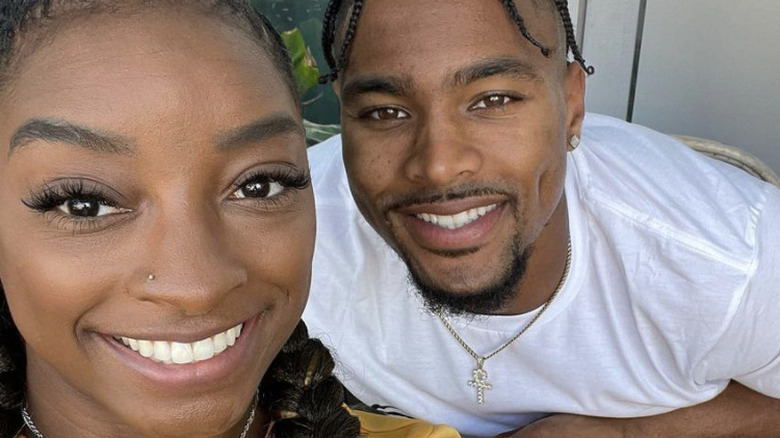 Simone Biles/Instagram
The love between Simone Biles and Jonathan Owens shines through on social media and in interviews. Owens told Texas Monthly that he wasn't even aware he was talking to the world's greatest gymnast when they first 'met' one another on Raya. "I didn't know who she was," Owens told Texas Monthly. "I just hadn't heard of her, and when I told her that, that's one of the things she liked."
Like Biles, he credits the pandemic-altered world with bringing them together. "It was one of the few times in her life where everything was just shut off and she couldn't do anything. So we used it to get to know each other — really get to know each other. It created our bond and made it stronger. Now I'm so thankful."
When life did get back to semi-normal again and Biles had arrived in Tokyo a year later than originally planned, she posted a birthday message to Owens on Instagram. "Here in Japan it is already my favorite person's birthday. HAPPY 26th BIRTHDAY BABE. @jowens_3 I love you so much," she wrote. "Can't wait to celebrate you when I get home! thanks for keeping me sane during the craziest times. an ear to vent too, someone to share fun times with and make the best of memories not sure how I got so lucky & what I'd do without you! But I hope you have the best day ever. Not too much fun without me tho."