Mariah Carey Has Some Criticism For Mattel Over Her Personalized Barbie Doll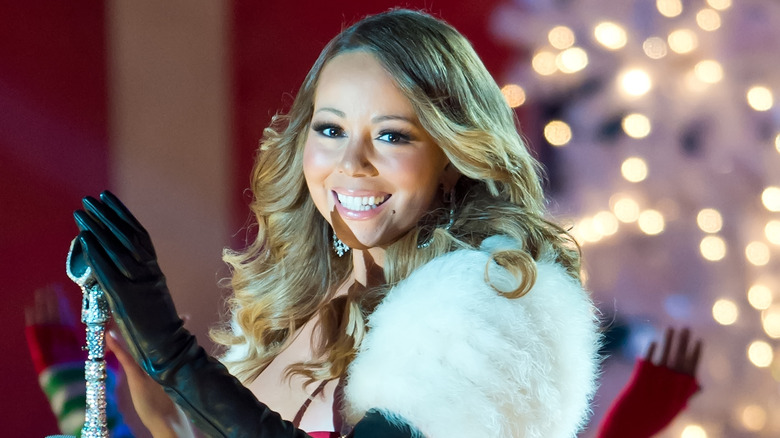 Gilbert Carrasquillo/Getty Images
Fans of Barbie and Mariah Carey are getting their Christmas gifts early this year. On November 17, Mattel released their exquisite Barbie x Mariah Carey Holiday Celebration Doll, a breathtaking Christmas collectible decked out in one of the legendary singer's famous red dresses. The holiday doll, which comes complete with silver accessories, has been a smashing success. Mattel sold out of dolls just a few short hours after they were released. However, there is one person who has a few points of critique for the fast-selling collectible. 
Carey herself isn't quite as obsessed with her personalized Barbie doll as the rest of the world seems to be. The "We Belong Together" singer had some criticism for the beloved brand Mattel after she saw the design they made for her Christmas doll. As Carey put it, Mattel was a little too conservative in the cleavage department, as the doll's dress is much less revealing than its real-life counterpart.
Carey teases that her Barbie is too 'demure'
Mariah Carey is known for her iconic outfits, especially her holiday-themed looks. The Queen of Christmas is famous for her vivid red gowns which have become a staple in her holiday music videos. Everyone knows her for them, so it was important that the Barbie x Mariah Carey doll did her dress justice. The superstar songstress revealed that she did work with Mattel to make her doll as true to life as possible. There was just one tiny detail that caught her eye that made the dress not as lifelike as it could have been.
Speaking with People, the vocalist said that the doll's V-neck dress wasn't as low as it needed to be. "They wouldn't let the 'V' in the dress be quite as low as it is in the video," she admitted with a laugh. According to Mattel's website, the doll's dress is based on the gown Carey wore in the 2019 "Make My Dreams Come True Edition" of the "All I Want for Christmas is You" music video. Sure enough, the 'V' in the real-life dress dips much lower than the Barbie's dress. Still, Mattel wouldn't budge on the matter. "I understand because it's a holiday and everything else," Carey breezed, before adding, "But I'm like 'Oh, Barbie, very demure.'"
But overall? Carey thinks the Barbie-fied version of herself is adorable. Judging by how fast the holiday Barbie sold out, her fans are with her on this one.