How Queen Of Christmas Mariah Carey Preps For The Holiday Season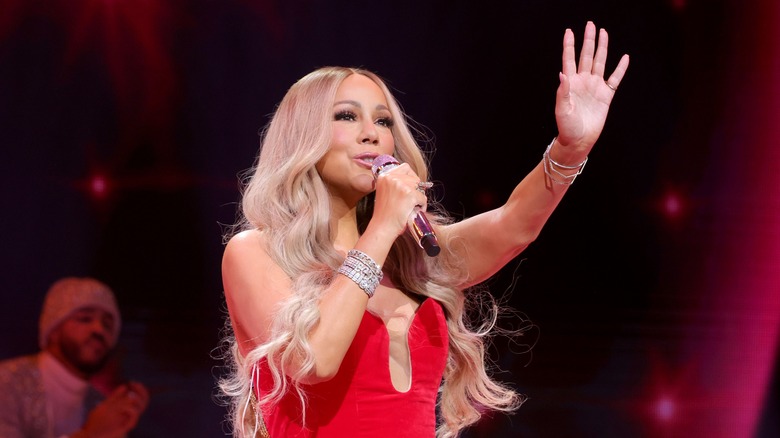 Kevin Mazur/Getty Images
In the winter wonderland of musical royalty, there's one diva who reigns supreme over the festive season: Mariah Carey. The undisputed "Queen of Christmas" has become synonymous with the holiday spirit, earning her yet another well-deserved crown in pop culture. Her chart-topping anthem "All I Want for Christmas Is You" isn't just a song; it's a jingle that heralds the arrival of the most magical time of the year. As such, it's no surprise that Carey loves Christmastime, and goes to great lengths for each year's festivities.
Sitting down on "The Jennifer Hudson Show," the pop diva revealed the strict holiday season rules she maintains in her household. Carey said that she exclusively immerses herself in Christmas music and movies during this time. Her favorites are films like "Elf" and the original "Miracle on 34th Street." Known for lavish decorations that she debuts each year, Carey described how she adorns her home with numerous Christmas trees, each serving a unique purpose.
"In the main part of the house, there will be a nice, tall Christmas tree with gold and silver — not actual gold," she told host Hudson. "Then I have a smaller multicolored-lights tree, like the Charlie Brown tree, with some ornaments that my fans made for me and different stuff like that." From her star-studded Christmas special to annual winter tours, it turns out that Carey's love for the holidays goes far deeper than fans would expect.
Why Mariah loves going all-out for Christmas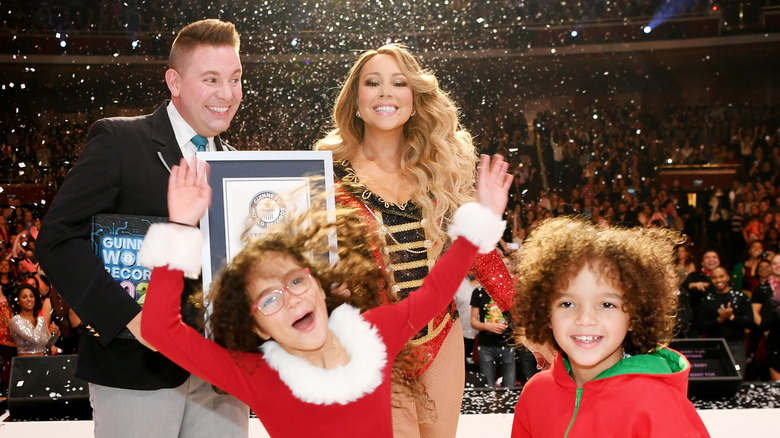 Denise Truscello/Getty Images
Mariah Carey is obsessed with Christmas for one heartwarming reason: She wants to give herself and her kids an experience she never had. The "Emotions" singer shares twins Morrocan and Monroe Cannon with her ex-husband Nick Cannon. Looking back on her own challenging childhood, Carey opened up to Elle about her complicated family that often disrupted the joyous moments.
"I think it's just that longing that I had as a child, that I always wanted things to be perfect for the holidays," she explained, recalling her family's problematic dynamics. "It was always somebody ruining the moment, always these dysfunctional family members who came around and foiled everything."
Now a parent herself, Carey has made it her mission to shield her children from the holiday heartaches she endured. Ever since they were little, Carey has been open about spoiling Morrocan and Monroe with the childhood experiences she didn't have. "I create my own Christmas moment. I mean, Santa Claus visits us. He comes with his reindeer. I am not exaggerating — this is the truth," she told Us Weekly. "I love giving them gifts because the act of opening up a ton of presents is something I wasn't able to do as a child."
Mariah makes millions off of All I Want For Christmas is You every year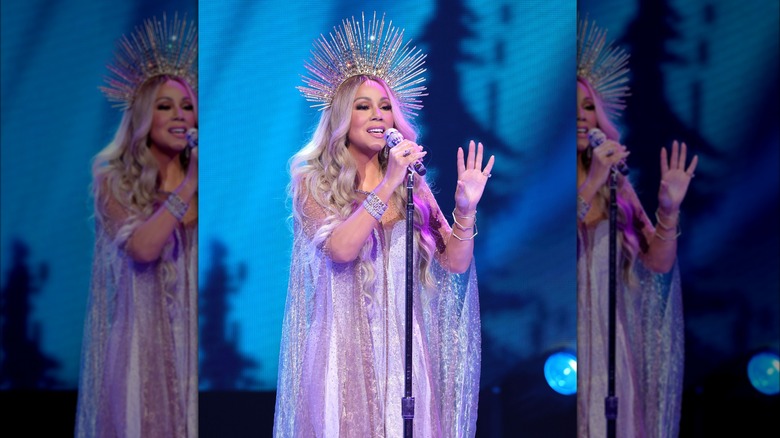 Kevin Mazur/Getty Images
"All I Want for Christmas Is You," is a global phenomenon that continues to dominate the charts and fill the airwaves every festive season. Since its release in 1994, Mariah Carey's No. 1 holiday anthem has sold over 16 million copies worldwide. It has become one of the best-selling singles of all time and has earned Carey a reported $60 million in royalties over the past 29 years, per Newsweek.
From radio airplay to commercials, the song has proven to be a lucrative asset, ensuring that Mariah Carey's pockets jingle all the way to the bank each holiday season. Estimates suggest that she earns nearly $3 million each year solely from royalties and streaming of the festive hit, Parade reports.
Carey knew what she was doing when she wrote the hit — she purposely aimed to create a traditional Christmas song that would live on. "When I first wrote it, I wanted it to be timeless. I didn't want it to be something that felt like a specific year," the pop songstress told KTLA 5 Radio. "I was just like, let me do something that makes me feel like I'm getting the experience of listening to a classic."