The Untold Truth Of Nate & Jeremiah By Design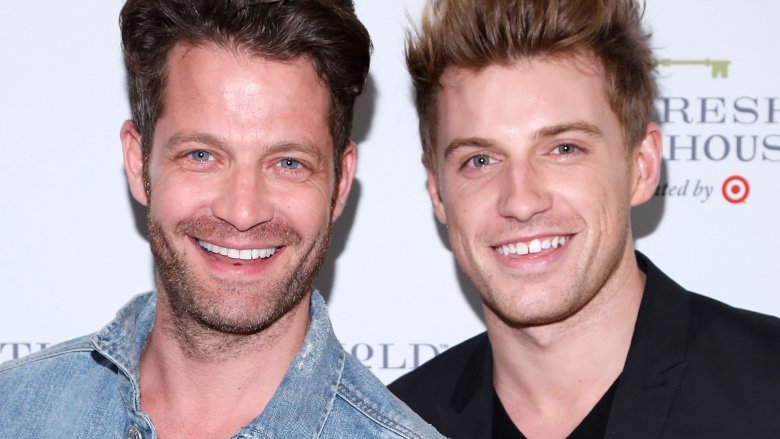 Cindy Ord/Getty Images
In 2017, TLC launched Nate & Jeremiah By Design, a reality design series that follows along as real-life couple Nate Berkus and Jeremiah Brent work with struggling homeowners to turn nightmare renovations into stunning residences. The pair — who have made separate careers as interior designers — focus on finding a middle ground for couples who have gotten in way over their heads.
But the show is just as much about the dynamic between Berkus and Brent and how their personal lives have helped shape their professional perspectives. Throughout the course of the show, the couple has listed the sprawling California home they described to Architectural Digest in 2017 as "a place we could put down roots," they've welcomed a second child into the family, and they've set out to become a real voice for the LGBTQ community.
So how did they become the design sensation they are today? And what exactly does it take to get on their show? Here's everything you haven't heard about Nate & Jeremiah By Design.
Coming together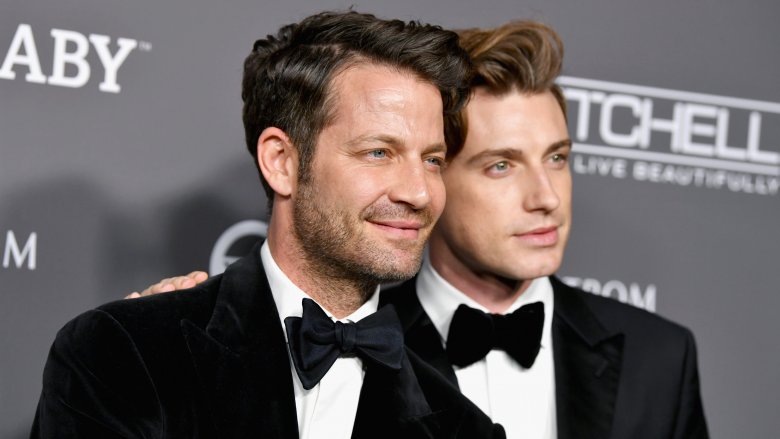 Emma Mcintyre / Getty Images
Berkus and Brent had a years-long friendship before they were ever actually romantically involved, but they were in completely different places in their lives. For Berkus, his design empire began at an auction house in Chicago. He told Colorado Homes and Lifestyles that nearly being fired as an assistant led to him being put in charge of monthly auctions. He wound up later appearing on Oprah, which was the real beginning of his television career.
Brent, meanwhile, was busy actually getting fired from his position as a styling assistant for Rachel Zoe. The incident led to two things. According to Bustle, Brent was inspired to start his own design firm because of his experience with Zoe. She's also the person responsible for bringing him and Berkus together. He told A Drink With, "There was a moment when I thought, 'What's the point of this? Why did I start working here? Why am I in fashion?' but then the truth is I met my husband because of that." A few years later, the now-married couple decided to take the leap into TV together.
Married to Design
When the show was first announced in 2016, it went by the name Married to Design: Nate & Jeremiah. At the time, both Berkus and Brent were excited to be able to bring audiences into their everyday lives. According to the series press release published by Houzz, Brent recalled the joy he and Berkus felt at their daughter's first birthday. He said, "To invite people to see that side of us, it just feels right." 
Berkus also emphasized how excited they were to be in the perfect position to give back to struggling homeowners. "They're lost," he said. "We're not. We know where to save, where to spend, where to shop... it's what we love most." 
Since the beginning, "saving" has been a huge focus of the show. Its press release noted how the couple would work with homeowners to redesign their space "with a tight budget in mind, of course." But just how tight is that budget expected to be? A 2018 casting call for the show posted to Backstage notes a $65,000-plus renovation budget as a must in order to be considered.
Finding compromise in spaces
Finding compromise in design is a big part of working with struggling homeowners. Luckily, being able to design for couples with different aesthetics comes pretty naturally for Berkus and Brent. In his interview with A Drink With, Brent explained how their approach to interior design is based around creating moments. He said, "Every space is this opportunity to create a moment for these people to live in beautifully." 
The pair's own individual experiences have shaped their approach to design, both personally and professionally. In fact, it's this balance between personal and professional that makes Nate & Jeremiah By Design so appealing in the first place. Bustle compared the couple's "design entertainment romance" to HGTV's Chip and Joanna Gaines, which is kind of like saying they hit the reality TV jackpot. Fixer Upper ran for five successful seasons before the Gaineses chose to leave the network. If Berkus and Brent can continue to tug at audiences' heart strings while simultaneously creating incredible homes, Nate & Jeremiah By Design could someday surpass Fixer Upper in the realm of home improvement empires.
An unexpected design source
You would think because the couple regularly deals in redesigning multi-million dollar homes (including their own in Los Angeles) that their go-to home decor source would be something equally unaffordable for most of their viewers. You'd be absolutely wrong. Brent revealed to People that one of their favorite resources for interior design is actually T.J. Maxx.
"We are huge fans of T.J. Maxx at our house," he told the magazine. "But we've been using it even more frequently because of the show." He emphasized how important it is for them to be able to show homeowners that they don't need to be spending millions of dollars to make their spaces look and feel high end. Brent has actually partnered with T.J. Maxx as part of its Maxximize campaign, which is meant to show people that they can design their own spaces with as much style as he and Berkus do on Nate & Jeremiah By Design.
All about love
From the beginning, Berkus and Brent have approached Nate & Jeremiah By Design from the perspective of wanting to share their love with the world. But the show isn't just about Berkus and Brent as a couple and as parents. And it isn't just about their design makeovers, either. The thing that the series has really managed to do successfully is strike a balance between both. It's as much about the couple and their personal lives as it is about what they do professionally. And it's something that hasn't been seen very often on television. 
Brent explained to Larry King for Ora's Larry King Now, "A lot of people don't see anything that looks like us, that, you know ... raising children. And we show love through design." Berkus went on to say that they're able to translate love through design by giving struggling families "a soft place to land." By transforming their space into something positive, tensions are eased and stress is lowered. As he put it, "We have an opportunity to sort of step in and write a new chapter for their lives."
Letting the world in
As Nate & Jeremiah By Design progressed over its first two seasons, audiences were exposed to more and more of the couple's personal lives. As its third season began, that window into their lives expanded. Not only had they just made the decision to sell their LA home, but they'd also welcomed their son, Oskar, into the family. Both of Berkus and Brent's children, Oskar and older sister Poppy, have filmed quite a few appearances on the show's third season, according to People.
During their interview for Larry King Now, Brent described the series by saying, "We wanted to create a show that was really about love and exposing people in the rest of the country to our love story." Berkus told People that doing the show has been wonderful for them because it's served as documentation of their own lives over the past three years. "We've watched them unfold," he said of seeing their kids grow up on camera.
The biggest issue with homeowners
When Berkus and Brent go into a family's space to take it over on Nate & Jeremiah By Design, the homeowners are at their wits' end with their renovation projects. The couple told People that there's one big mistake people in that position have made, and it has to do with overconfidence.
"It's the first decision," Brent said. "People grab a sledgehammer and swing at a wall and think that they're going to be a 'weekend warrior,' and, you know, get this house fixed, and it doesn't work like that." He stressed the importance of educating yourself before you jump head first into a huge renovation project. Ultimately, if you don't have a plan in place, you'll likely wind up in need of a real professional.
The couple does advocate for doing cosmetic stuff on your own, but that's about it. According to Berkus, the big stuff should always involve someone with a license. "The minute you start cutting wires and dealing with electrical, the minute you try to weld a pipe or change where a toilet is, leave that to the professionals," he said.
Responsibility to the LGBTQ community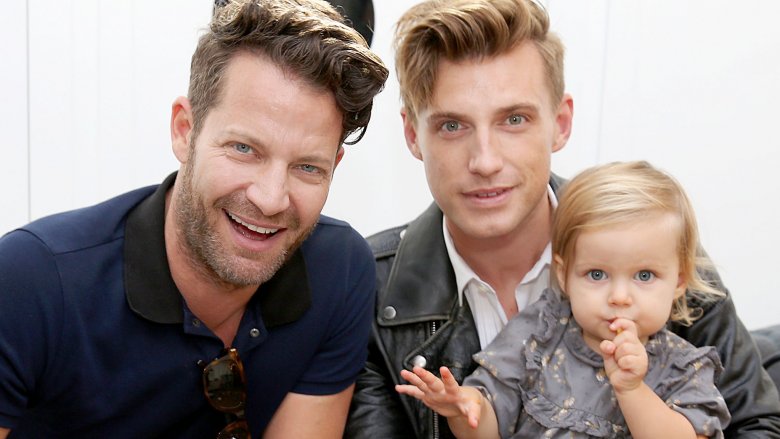 Rachel Murray/Getty Images
The impact the couple have on the LGBTQ community hasn't been lost on Berkus and Brent. Particularly in the current U.S. political climate, they feel a need to speak up for kindness, acceptance, and love. In their interview for Larry King Now, Brent said he felt a responsibility to continue in the footsteps of advocates who have come before them. "To be able to create a different narrative as a family that is rooted in love, that are working hard, and doing their best to raise kids, it's just nice to showcase that," he said.
Berkus explained how important it is to them that Nate & Jeremiah By Design has expanded visibility of the LGBTQ community in such a positive way. "We're the only family currently — gay family like us, with two fathers — on TV with two kids right now," he said. "So there is an inherent responsibility built into that." But for him, the importance of being on camera is to show the human element, as opposed to just the political one.
Fighting back against homophobia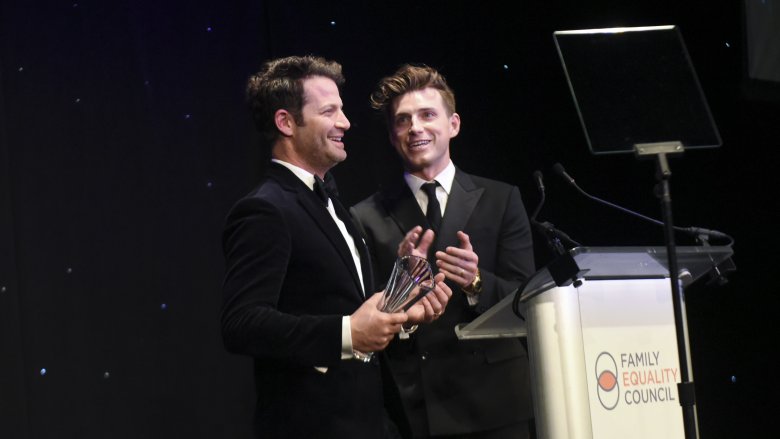 Vivien Killilea / Getty Images
Unfortunately, fame still comes at a cost. That level of visibility on TV has certainly opened the couple up to harsh criticism from those on the opposite end of the political spectrum. In 2018, People reported on former TLC star Derick Dillard, who responded to a TLC tweet promoting Nate & Jeremiah By Design by saying, "What a travesty of family. It's sad how blatant the liberal agenda is, such that it both highlights and celebrates a lifestyle so degrading to children on public television as if it should be normal."
Berkus and Brent approached the online hate the same way they've approached everything else related to their show — with love. Berkus appeared to respond with the tweet, "My hope with having a show like #NandJByDesign on @TLC, where we go into people's homes and welcome viewers into ours, is that we can start to break down barriers & normalize the way our family looks & the way our family loves."
At the time, TLC had already fired Dillard on account of his personal statements against the LGBTQ community.
The Living Spaces diss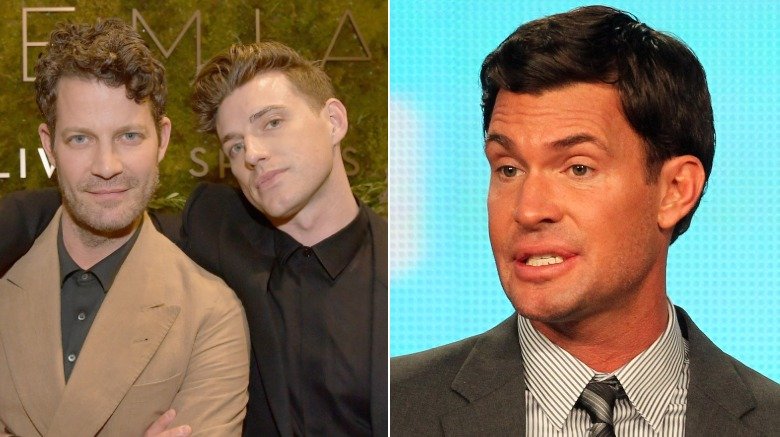 Amy Sussman, Frederick M. Brown/Getty Images
Because of Berkus and Brent's design expertise and approachability, their on-screen appeal has easily translated to the real world. In 2018, the couple launched their first furniture line for Living Spaces. The collection emphasizes everything they're known for on Nate and Jeremiah By Design — it's "elevated, timeless and livable."
But the collaboration wasn't without its cynics. Reality TV star and former Living Spaces designer Jeff Lewis took to Instagram to "caution" Berkus and Brent on working with the company, and, in the caption, he included the hashtag "#sloppyseconds." According to People, Lewis said the post was never meant to be a diss against the couple. He told the magazine, "I have nothing against Nate and Jeremiah, but I have everything against Living Spaces. I was fortunate enough to land in a better position working for a nicer and more professional group of people. I just hope Nate and Jeremiah will, too."
For their part, Berkus and Brent haven't allowed the bad blood to affect their working relationship with Living Spaces — they released another collection in April 2019.
Reality TV crossover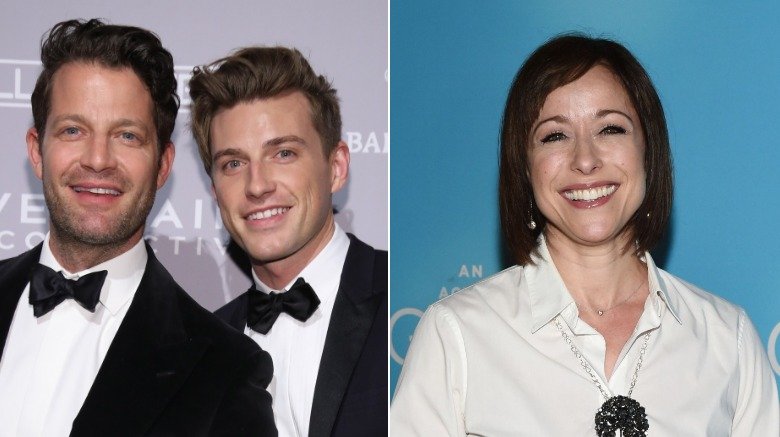 Randy Shropshire, Ilya S. Savenok/Getty Images
In 2018, Nate & Jeremiah By Design went into its second season on TLC. As in its freshman run, the show's followup focused primarily on telling the stories of the families it selected. But TLC threw in a twist for one of the season's episodes. In January 2018, Deadline announced the series would have a crossover with TLC's "most-famed design show," Trading Spaces.
For a pair used to working with at least a $65,000 renovation budget, the experience on Trading Spaces — where, according to People, they'd have to abide by a strict budget of $2,000, only their homeowners and a carpenter could help do the work, and they had to get it all done in 48 hours — was an adjustment. After the experience, Brent told People, "Everything you've seen on that show, it's so true ... they're really strict with the budget." Berkus, on the other hand, spent most of his time trying to figure out how to get around the restrictions. "I was like, there's got to be a loophole," he said.
Teaming up with the Property Brothers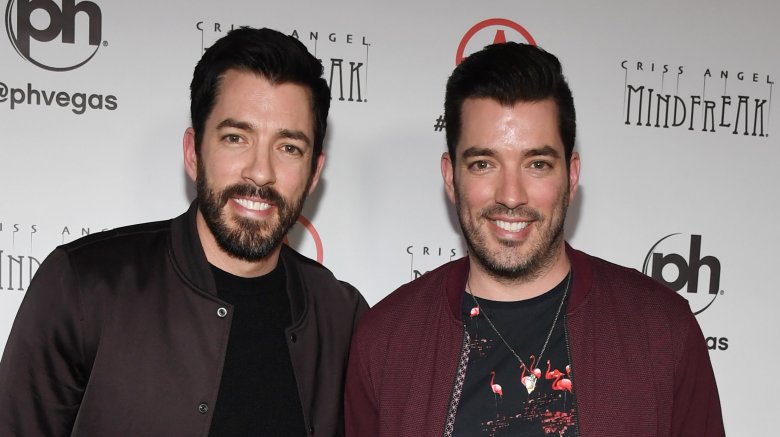 Ethan Miller/Getty Images
Trading Spaces isn't the only home design series that Nate and Jeremiah By Design will team up with. The third season of their show will actually be produced by Scott Brothers Entertainment, which is owned and operated by HGTV's very own Property Brothers stars Drew Scott and Jonathan Scott. Drew expressed to People how excited he and his brother were to be involved with the show's third season, saying, "...we're always inspired by their dedication to giving families something we all fundamentally deserve: a space that feels like home. It's an amazing thing to be able to help as many people as they do."
The twins also seem hopeful that Berkus and Brent will someday consider doing a Brother vs. Brother-style show. The Scotts interviewed the couple on their website Drew and Jonathan and pitched the idea. In response, Brent said he'd love to do it: "It would be interesting (and so fun) to see us compete against each other. We have complementary skill sets in design so it'd be quite a match if we went head-to-head." Now we just have to petition TLC to make it happen.
An emotional third season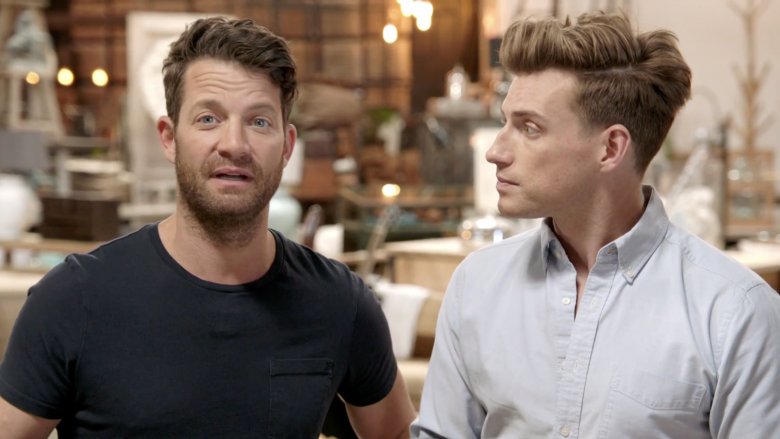 TLC
Fans of the first two seasons of Nate & Jeremiah By Design have already become accustomed to the high level of emotion that accompanies each episode. But the designers say Season 3 is their most emotional one ever — and not just because Brent will cry at the drop of a hat. Berkus told People that sharing these moments with homeowners is especially moving for them, saying that "when they realize that this is where they can raise their family, or this is where they can reconnect with their family, and that a new chapter is starting for them ... it's a really powerful moment."
Brent reiterated how important each job the couple does for homeowners is to them, especially because, for many of the families, they've reached a point of total hopelessness. "It's the best job in the world when you get to stand next to somebody and dream a bigger dream for them than they even knew was possible and validating when people see that they've been heard and that somebody cares," he said. Coupled with the increased visibility into the stars' own family life in the third season, fans might want an extra box of tissues when sitting down to watch.
Behind the Design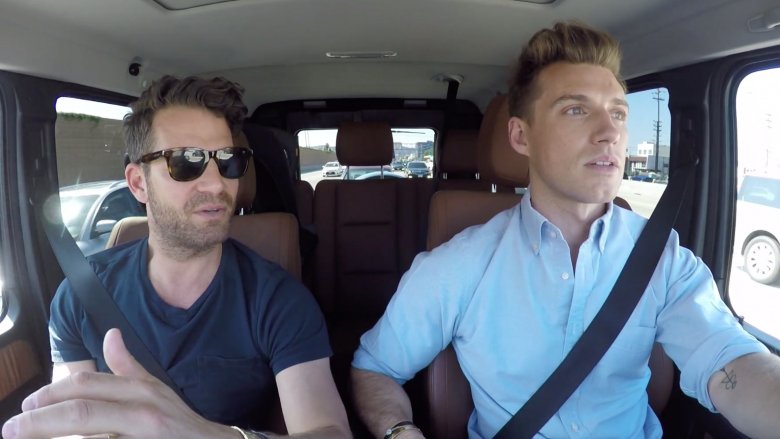 TLC
If watching Nate Berkus and Jeremiah Brent rescue homeowners an hour at a time isn't enough of a fix, TLC has also introduced Nate and Jeremiah: Behind the Design. The behind-the-scenes series began in 2018 as a way to offer viewers an inside glimpse into how the duo comes up with the designs that are shown on TV, all in a matter of a few minutes.
Behind the Design not only highlights the designers' personalities in a way viewers don't always get to see on Nate & Jeremiah By Design, but it also gives a little extra background into just what some of the homeowners they've helped have had to actually live through. In its first episode, Berkus describes how the family of the California modern home they redesigned had a plumbing issue so bad they were unable to actually clean their kitchen properly, leaving the entire back half of the house with a weird, mold-like smell. "It wasn't a body," Brent joked, "which is the good news."