This Is Who Tiger Woods' Ex Is Currently Dating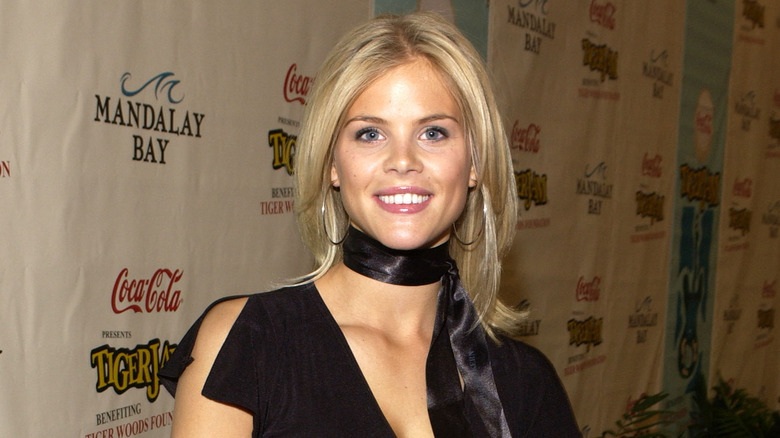 L. Cohen/Getty Images
For Tiger Woods, the year 2009 wasn't a very good one. The bad news started when the golf juggernaut got into a serious car crash that left him badly injured. Then news of his marital infidelity surfaced, which led to the dissolution of his marriage to Swedish model Elin Nordegren. Woods' reputation took a hit, too, from which he only recovered years later with a pretty impressive comeback.
After the divorce, Nordegren moved on. She dated billionaire Chris Cline for a while, and remained, for the most part, out of the headlines. But she once again became front page news in June of 2019, when photos of her with a visible baby bump broke the Internet for a hot minute.
As it turned out, the rumored baby daddy was football hunk Jordan Cameron. The pair had been dating for a while but had done their best to keep a low profile — too late for that now. So what's the deal with Cameron? Here's everything we know about the man Tiger Woods' ex is dating.
He played for the NFL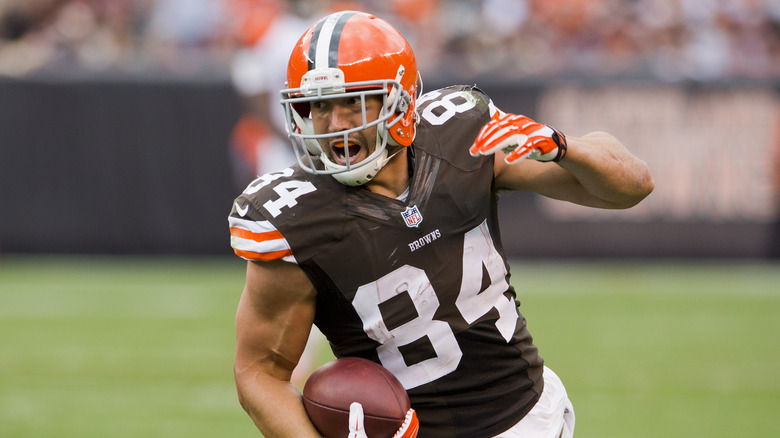 Jason Miller/Getty Images
Plenty of people dream about playing for the NFL, but only the best of the best end up making the cut. Fortunately for Jordan Cameron, he turned out to be good enough for the big leagues when he was drafted by the Cleveland Browns in 2011. For the first two years, he was under the wing of Ben Watson, working hard and perfecting his game. But in time, he developed into one of the NFL's most talented tight ends. "I just had to maximize my abilities and work my butt off the last four years, and it's starting to pay off," he explained in an interview with Cleveland.com. "I'm not even close to where I need to be, but at least we're getting some production and winning some games."
Cameron played for the Browns for four years before inking a deal with the Miami Dolphins and played with them until his retirement in 2017. All told, he reportedly made $15.9 million during his tenure in the NFL — not a bad haul at the end of the day.
He was a college football star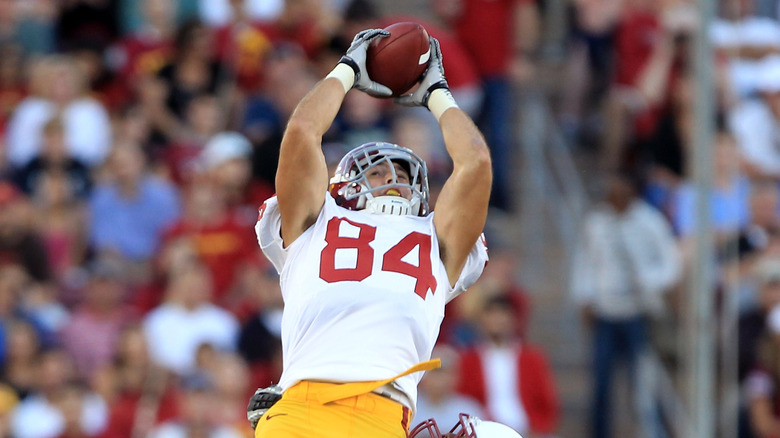 Ezra Shaw/Getty Images
Before Jordan Cameron was a professional football player, he played on the college level, as many pro players often do. But his journey to the University of California was not exactly a smooth one. For starters, he was already a student at Brigham Young University in Utah. However, when the opportunity came knocking for him to play for the Trojans, he jumped at the chance and was ready to make the big move.
Unfortunately for Cameron, there were some hiccups in his transition when he found out that most of his academic credits didn't transfer. While that put a crimp in his plans, the footballer didn't give up and pack it in. Instead, he enrolled at a junior college for a year and racked up enough credits to play for USC the following year. Way to not give up!
Looking back, Cameron knows he made the right move. "It was definitely the toughest decision I ever had to make and I just had to tune out a lot of what was being said," Cameron recalled in an interview with Cleveland.com. "If I didn't make that decision, I definitely wouldn't be here today." 
He used to be a basketball player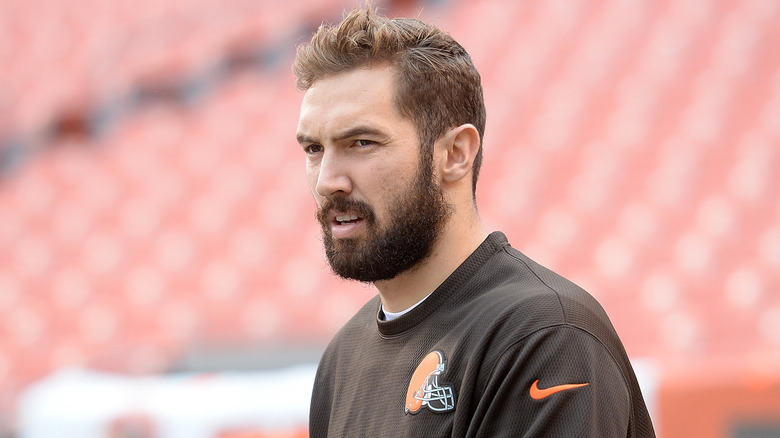 Jason Miller/Getty Images
Interestingly enough, Jordan Cameron didn't start his college career playing football. Rather, he was an active member of the Brigham Young University basketball team, which makes sense given that he's 6 feet, 5 inches tall. It's a lot easier to make buckets when you're that height.
But all of that changed when on one fateful day Jordan's sister Brynn Cameron convinced him to go run routes with his younger brother, who was about to audition in front of college football coaches. All he wanted to do was nap on the couch, but eventually, Brynn won and Jordan got up to help his brother. That's when he was spotted by USC coaches, who were impressed by his abilities. Soon after, a scholarship offer was on the table.
The improbability of it all is not lost on Jordan, who could hardly believe what had happened. "Crazy, right?" he asked in an interview with Cleveland.com. "What are the chances? You think about fate and whether things are meant to be. If I don't get up from that couch it's crazy to think how my life would have worked out." What an absolutely wild story.
He suffered multiple concussions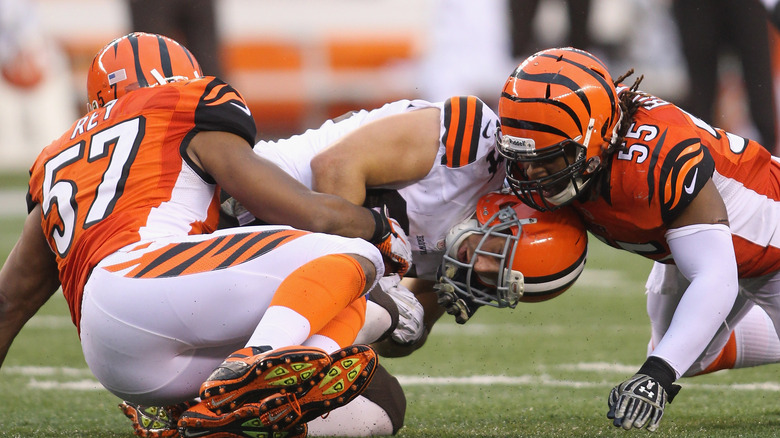 John Grieshop/Getty Images
It's a well-documented fact that the NFL has a concussion problem. With concussions comes a multitude of health problems, ranging from memory loss to severe conditions like dementia — so a concussion is definitely not something to be taken lightly. While the NFL reported a significant drop in concussions in 2018, they remain an issue that the league has to reckon with.
Jordan Cameron himself was not spared from being concussed, either, as he suffered not one, not two, not three, but a whopping four concussions over the duration of his career, according to ESPN. His first one was in December of 2012, and his second happened a year later in December of 2013, the year he played well enough to go to the Pro Bowl. He had a third concussion in 2014, which was so bad that he wound up missing his next five games. The last one was in September 2016 against his former team, the Browns. That does not sound pleasant in the least.
Fortunately for Cameron, he was able to receive adequate medical care for his concussions and has made a full recovery. 
He said goodbye to football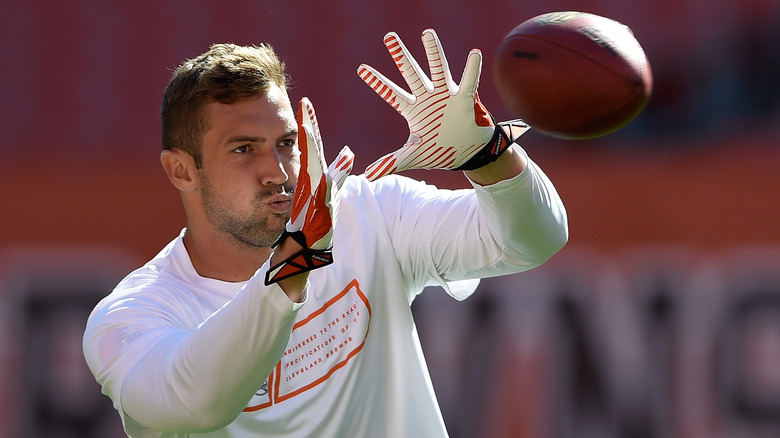 Jason Miller/Getty Images
In 2017, after a serious amount of soul-searching, Jordan Cameron decided to retire from the NFL for good. Unsurprisingly, his reason for doing so should shock no one: he was thinking about concussions far too often. Thinking about his health meant Cameron wasn't able to truly enjoy playing football without worrying about severely damaging himself.
This decision was in spite of the fact that Cameron had been given a clean bill of health. But there was no way to ensure that he would be safe from getting concussed down the road, something Cameron took seriously. "I can't risk my mental health in the future," he confessed in an interview with ESPN. "I'm not risking that at all. There's nothing more important than your health." We have nothing but respect for his decision, which couldn't have been easy.
Still, it's a shame that Cameron had to call it quits so early, as he obviously had a lot of good years left in him. "If I didn't get concussions, I'd probably keep playing," he noted. But he stands by his decision.
He wants the NFL to educate players more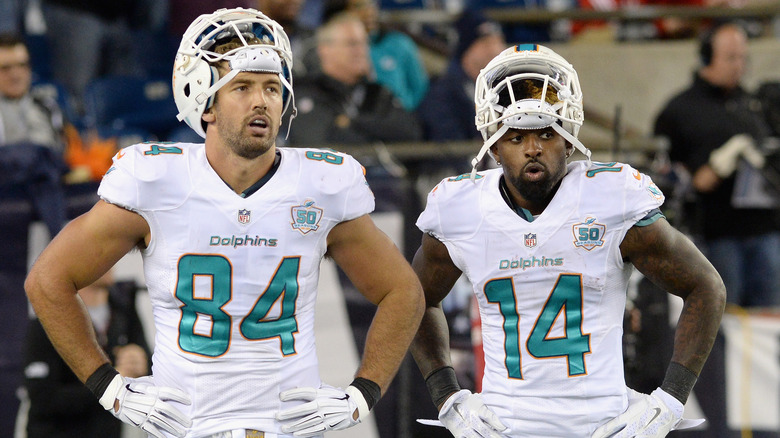 Darren Mccollester/Getty Images
Even though Jordan Cameron is officially retired from the NFL, he still hopes that the league will do more to educate players about the risk of concussions. "It's such an issue in the NFL, and it should be," he told ESPN. "I think the biggest issue is guys were not informed how serious these things can be if unattended." You can see how a little information would go a long way, especially when the stakes are so high.
That's not to say that Cameron is mad at the NFL or that he thinks they've held back vital information from players. "They didn't know," he continued. "I want to say I hope they didn't know the serious implications of these things." Fortunately, all of that has come to light, so it must be addressed.
But going forward, you can bet Cameron will have his eye on what the NFL does. "Now I feel like seven years later people know how serious this can be," he added. "Unfortunately it takes people dying to figure that out. That's the saddest thing in the world to me." 
Sports are in his family's DNA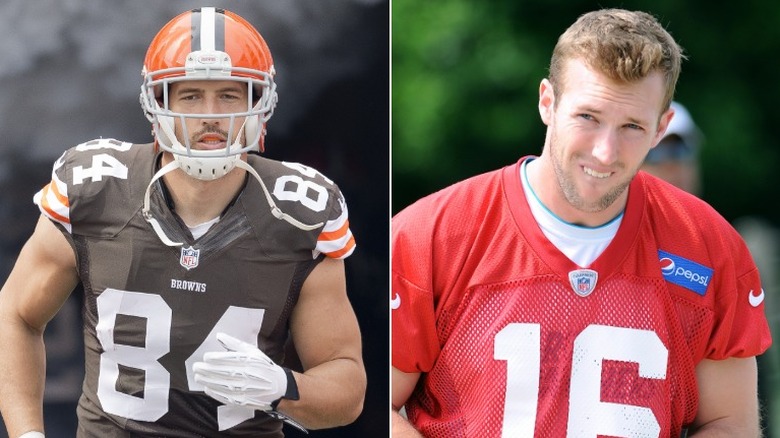 Jason Miller/Getty & Lance King/Getty Images
Jordan Cameron isn't the only person in his family to have the strength and the talent to play sports on a professional level. In fact, his cousin is none other than pro footballer Su'a Cravens. 
Also, remember that younger brother Cameron helped out by running routes? That would be Colby Cameron, who, like his older brother, played football on a college level, specifically as a quarterback for Louisiana Tech. He was later drafted by the Carolina Panthers in 2013 but was cut when they reduced their roster that same year. He ultimately went on to play for the X-League in Japan, as noted by The Japan Times.
That's not all, either. Cameron's sister Brynn Cameron played basketball for USC, and a number of their cousins and other relatives show significant athletic prowess. Apparently, sports are just an intrinsic part of the family's DNA.
His faith is important to him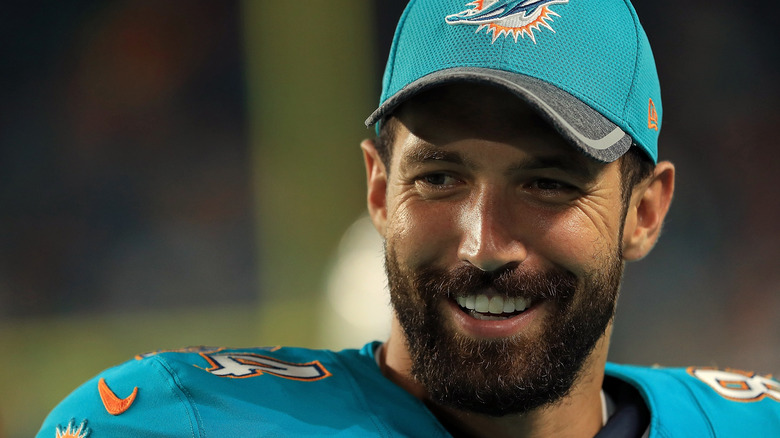 Mike Ehrmann/Getty Images
If you're familiar with Brigham Young University, which is where Jordan Cameron started his college studies, you'd know that it's a Mormon institution. In fact, BYU is basically the biggest Mormon university out there, and religion is central to both their curriculum and student life. So chances are, if you attend BYU, you're a member of the Church of Jesus Christ of Latter-day Saints.
Indeed Cameron is a Mormon, though he has his own approach to his spirituality. "I don't go to church every week, but I believe in the church and the values," he revealed in an interview with Cleveland.com. "It's big on family and I'm a family guy. Religion is huge on service, and I try to help in the community as much as possible." So he's solid in his guiding principles.
While most Mormon men go on a two-year mission, which Cameron had planned on doing, he had to give it up in order to play football — something that people judged him for. But Cameron made his choice after deep contemplation with the blessing of his family, and stands by his decision.
He and Nordegren have been together for years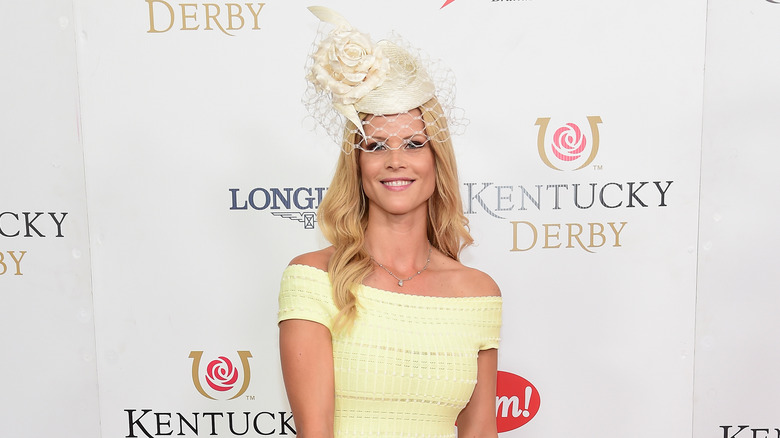 Frazer Harrison/Getty Images
News of Elin Nordegren's pregnancy and Jordan Cameron's paternity broke in a big way in June of 2019. But that wasn't the unintended result of a whirlwind romance or a one-night stand. In fact, Nordegren and Cameron have been together for quite some time and were reportedly quietly living in her Florida home as a family. "Elin is very private, she has been dating Jordan for a number of years, and they have kept their relationship very under wraps," a source told Page Six in 2019. "Her friends are so happy for her because he is wonderful."
Additionally, Cameron and Nordegren were pleased as punch about her pregnancy, as were their kids. "Both Elin and Jordan have previously said they'd love to have more children, and Elin's kids with Tiger, Sam and Charlie are really excited about having a new little brother or sister," the source continued. 
He has a child from a previous relationship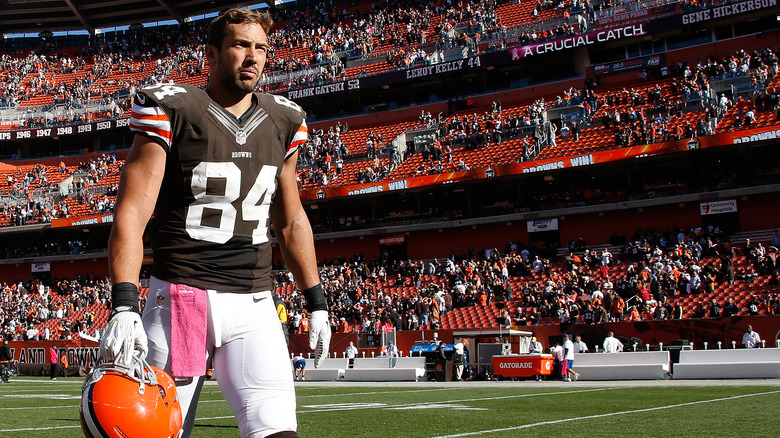 Gregory Shamus/Getty Images
Even though Jordan Cameron and Elin Nordegren were expecting their first child together in 2019, both of them were already parents. Nordegren has two children with Tiger Woods, and Cameron has a child from a previous relationship — Tristan, whom he considers in all of his decisions. For example, after his third concussion, he decided to keep playing, but only because he was comfortable with the information the doctors gave him. "If I didn't feel comfortable playing I wouldn't be out here, knowing I have a son," he told Cleveland.com in 2014. "Obviously he's a big part of my life. Those are the things you think about, but after I talked to the neurologists I feel a lot better about the situation."
Cameron also cited his son as the reason he retired several years later. "I want to be there for him," he revealed in an interview with ESPN. "And I want more kids, and I want to be present with them." That's parenting done right.
Cameron and Nordegren have two children together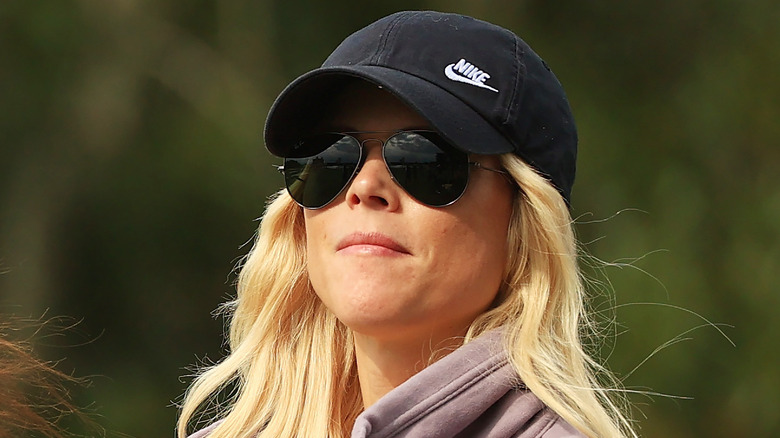 Mike Ehrmann/Getty Images
Elin Nordegren and Jordan Cameron welcomed their first child together, Arthur Nordegren Cameron, in October 2019. Arthur wasn't the couple's first choice of name for their baby boy, though. They initially named their son Filip, filing to change his legal name just a couple of months later. A reason for the name change was not disclosed.
Nordegren reportedly gave birth to another son in December 2022 but kept the announcement under wraps. The news broke a few days later after Tiger Woods, who was playing at the PNC Championship with his and Nordegren's son, Charlie, requested to give a special shoutout to his ex on TV. As golf writer Jason Sobel tweeted, "Before the round started, Tiger asked NBC/Peacock to have a camera by the first tee. After he and Charlie hit their tee shots, they looked into the camera and congratulated Elin."
Nordegren hasn't revealed her newest baby's name as of publication.
There's one thing Jordan Cameron doesn't want his children to do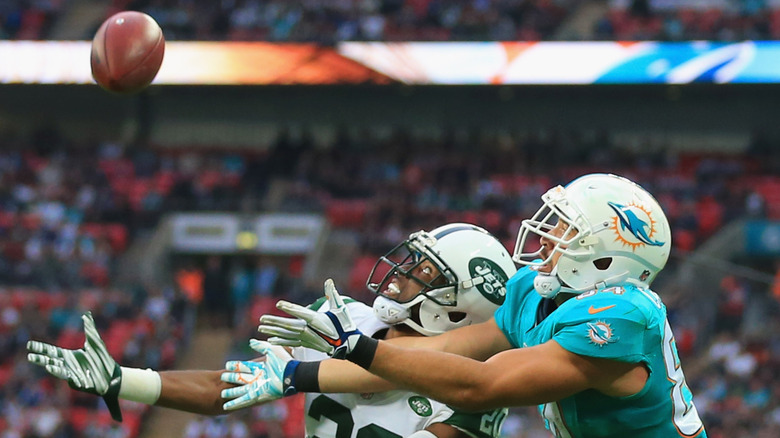 Stephen Pond/Getty Images
Lest you think Jordan Cameron is bitter about football because of his early retirement, that's just not the case. "Football is the greatest sport. I really believe that," he shared in an interview with ESPN in 2017. "It's the most difficult. You learn the most about yourself in football. It's a hard sport. You have to be very comfortable with being uncomfortable." Clearly, he remains passionate about the sport, and he believes that it's truly valuable.
That doesn't mean he wants his children to shoot for the NFL as a career goal. "All that being said, I really do not want him [Tristan] playing. If he's playing the right way and he's playing in pee wee and high school, that's fine," he continued. "But I know what goes on and the hits you take. Everything past the high school level gets more serious, and it's not as much, I would say, fun anymore after high school." So while professional basketball or other sports may be on the table, chances are Dad will nip the football bug in the bud.
Jordan Cameron's son has some thoughts on his relationship with Elin Nordegren
While Jordan Cameron and Elin Nordegren keep their personal lives out of the public as much as they can, they do let some details slip from time to time. Cameron has an X account, formerly known as Twitter, that he rarely updates, but he did give the public a hilarious insight into his home life with a 2020 response to a tweet from a user who asked the social media platform, "Wtf is a simp?" Cameron replied, "Dude my kid calls me that when I kiss my lady or if I hug her. And he's dead serious."
The term, typically used insultingly, was explained by digital strategist Connor Howlett to CNN as "slang for a person (typically a man) who is desperate for the attention and affection of someone else (typically a woman)." Howlett added that the word is "typically playful [but] there are definitely undertones of toxic masculinity since it's related to showing too much emotion."
Problematic subtext aside, Cameron's tweet shows that he and his partner are affectionate with each other, in spite of the ribbing they may get from their kids about it.
Parenting as a team with Tiger Woods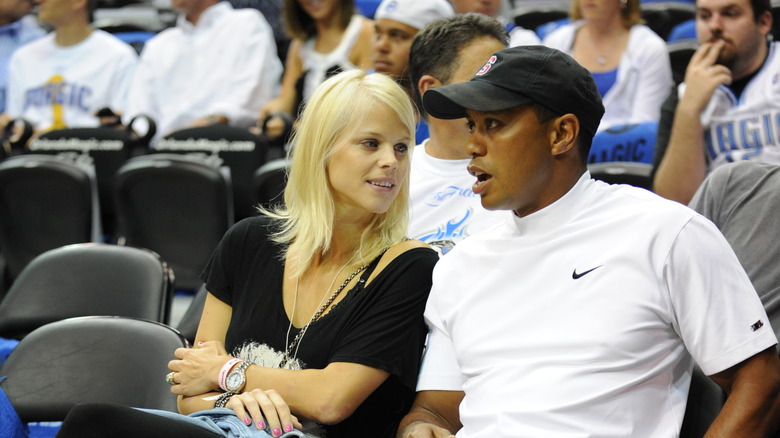 Stan Honda/Getty Images
Tiger Woods and Elin Nordegren were tabloid fodder for many years after the dissolution of their six-year marriage. So how do they manage to co-parent their two kids, especially if there's a new partner in the mix? After going through such a personal and devastating life change in such a public way, you'd assume the couple wants nothing to do with each other, especially given the scope of Wood's infidelity. 
But that's not how things played out. In fact, Woods called Nordegren his "best friend" on The Late Show with Stephen Colbert. "We have Sam and we have Charlie, and we love them so much that we are going to do whatever it takes to make that work," Woods shared in the interview. "[Elin has] been one of my best friends and I've talked to her about so many different things and she does the same thing with me. We go back and forth." 
Additionally, their personal relationship has improved dramatically. "We communicate so much better now, it's incredible," he continued. "I wish we would have done that earlier on." Sounds like a positive family dynamic for all adults involved. 
The couple moved into a swanky new mansion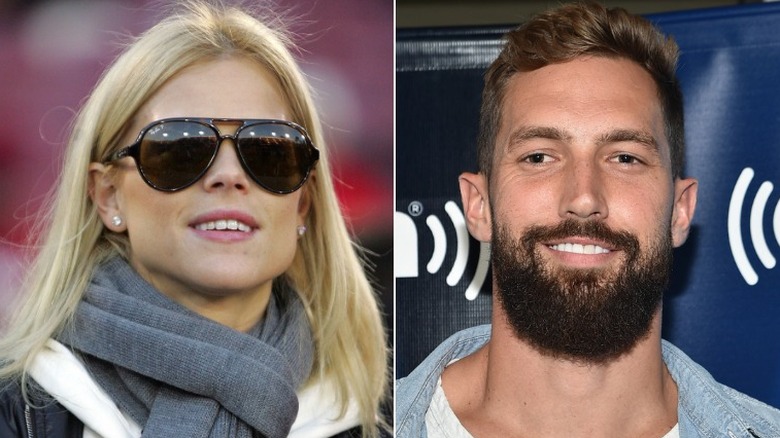 Mike Coppola/Getty Images & Ezra Shaw/Getty Images
In 2020, Elin Nordegren sold her North Palm Beach home in Florida for a hefty $28.6 million. While that sum is staggering, the buyer actually got the estate at a steal, as the former model originally listed the property at $49.5 million. A few days after she sold the estate, the Palm Beach Daily News reported that she paid $9.9 million for a new home in Palm Beach Gardens. While her new home is smaller than her previous pad, it still offers her family plenty of space, boasting nearly 17,000 square feet and two acres of land. With six bedrooms, there's enough space for each of her and Jordan Cameron's children to have their own rooms.
Court papers obtained by The U.S. Sun in 2023 showed that Nordegren was making some big upgrades to the property, including adding a swimming pool and a spa to the already lavish abode.