Why People Believe Harry And Meghan Are Lying About Baby Archie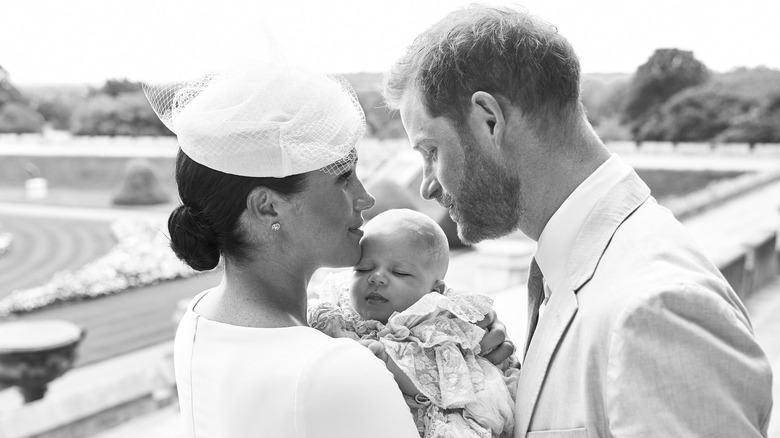 Chris Allerton/Getty Images
There have been plenty of rumors surrounding Prince Harry and Meghan Markle's son Archie Harrison Mountbatten-Windsor — and many of them started well before the little one was even born. As The List previously reported, some skeptics believed Meghan wasn't actually pregnant at all. That's right, that baby bump was totally fake; a prosthetic. Others believed Meghan was not carrying the child herself, but expecting a baby via a surrogate. Still others believed that Meghan was truly pregnant — not with one baby, though, but with twins. 
On May 6, 2019, the royal family announced that Meghan and Harry had finally welcomed their first child: a son. With the birth announcement's confirmation of one, singular child, the news effectively put an end to some of the more baseless claims — ahem, twins — out there. That's not to say all of the rumors went away. Au contraire. Within a few days of Archie's birth, a strange new rumor began spreading. And, unlike many of the more unbelievable tales spun about the young royal, this one seemed capable of growing legs. Could it be that, as many have come to suspect, Harry and Meghan are lying about Archie's age? Before we dig into this wild yet plausible conspiracy theory, you may want to grab your tinfoil hat. We'll wait.
Here it goes: Three days after the royal family revealed that Archie was born, the new parents introduced their son to the public, posed for photographs, and briefly answered questions from the press. This is when some started to question Archie's age. When a reporter asked which parent Archie most resembled, Harry seemingly replied: "Everyone says that babies change so much over two weeks, so we're sort of monitoring how this changing process happens over this next month really." SheKnows reported that some people think he actually said: "Everyone says that the baby has changed so much over two weeks." Did the prince actually slip up and reveal that his son was born some two weeks prior? Based on the interview alone, you might have some doubts. But, even if you don't think Harry made a gaffe when speaking to the media, there are a few other signs that point to Archie being older than we thought.
Two weeks prior to the interview would've been the last week of April 2019 — which is when many expected Meghan to give birth. In mid January 2019, Meghan herself confirmed that she was six months pregnant. According to Entertainment Tonight, Meghan even told one woman she was due in late April to early May. If Meghan did give birth in late April, it's also reasonable to believe that we might not have known. After all, Buckingham Palace (via CNN) revealed that Meghan and Harry would be keeping "the plans around the arrival of their baby private" and would share the news "once they have had an opportunity to celebrate privately as a new family." However, this plan seemingly went out the window when the royal family announced that Meghan had gone into labor on May 6. Later that day, Harry also met with the press for an interview. Of course, due dates aren't exactly a hard science and Harry and Meghan could've very well changed their minds about waiting to share details. But, there is more to this story.
On April 26, 2019, an ambulance, medics, and a helicopter were spotted near Harry and Meghan's home. Prior to the official birth announcement — but after the ambulance hullabaloo — Queen Elizabeth paid a visit to Harry and Meghan's home. Was she just visiting her grandson and granddaughter-in-law's new digs or was she perhaps there to meet the seventh heir to the throne? According to Express, royal custom stipulates that the monarch is the first person to be notified of a royal birth. That's not to say this brief must take place in person, but it would make sense that Queen Elizabeth would be among the child's first visitors.
Although there are many compelling signs pointing to an earlier birthday, Archie's official birth certificate puts a kibosh on the conspiracy theory. According to the official record, the young royal was born at Portland Hospital in London, England not in late April, but on May 6, 2019 — just as the royal family claimed.