How Bindi Irwin Plans To Honor Dad Steve Irwin At Her Wedding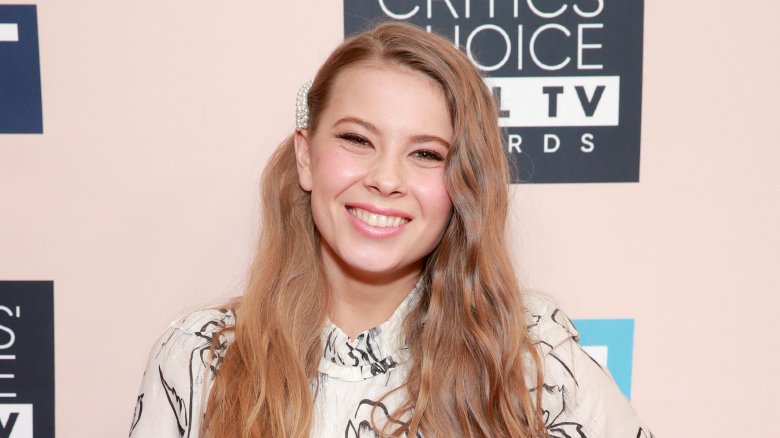 Rich Fury/Getty Images
Bindi Irwin made headlines when she announced her engagement on Twitter on July 24, 2019. The 21-year-old revealed that she had said "yes" to her boyfriend of nearly six years, former professional wakeboarder Chandler Powell.
The engagement was bittersweet as it stirred up memories of Irwin's father, Steve Irwin, the wildlife conservationist known as the "Crocodile Hunter" who passed away in 2006 while filming a documentary about Australia's Great Barrier Reef. Irwin was just 8 years old at the time. Irwin's mother, Terri Irwin, wrote about the engagement on Twitter saying, "I am so very happy, and I know Steve would be too."
It's not just Irwin's mom who is paying homage to the late Steve Irwin. Since the Crocodile Hunter can't be there to walk his daughter down the aisle, Bindi Irwin wants her younger brother, Robert, to step into his place. Irwin spoke to ET Online about her upcoming nuptials a couple days after announcing her engagement and said that she's been dreaming about her wedding day since she was "a little girl."
"I think that for me, it'll be really important that Robert walks me down the aisle," Irwin said. "That's something that I really want to do."
The loss of Steve Irwin left a hole in the family, but Bindi Irwin, who has followed in her dad's footsteps as a conservationist, said that she's always been able to count on her brother for support. "I'm always so grateful that Robert is there, and he has been such a big part of my life and he's always stepped up and been the one to give me a hug when I need it and encourage me forward in life," she said. 
Irwin added that she thinks having her brother walk her down the aisle is what their dad would have wanted.
Another wedding tradition Irwin will miss having her dad around for is the traditional father daughter dance. For this, however, she plans on having another special person fill in for her father: her mom. "My mom and I are so close," said Irwin. "She's my pillar of strength in life and I love her beyond description."
Bindi Irwin and Chandler Powell haven't set a date, yet, but they plan to get married sometime in 2020.